Kiss of Leather 1
by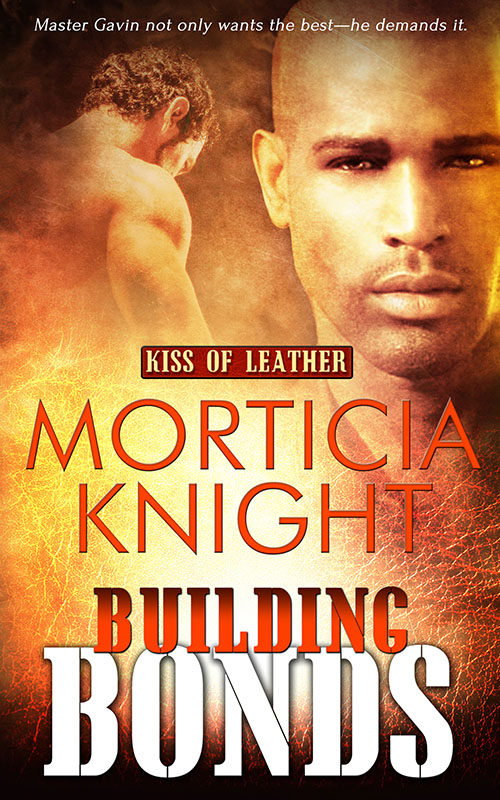 Editions:
Kindle

-

First Edition

ISBN:

1784306738

Pages:

221
ePub

-

First Edition

ISBN:

1784306738

Pages:

221
Paperback

:

$ 13.99

ISBN:

978-1784307127

Pages:

220

Kyle is a natural sub who builds dungeon furniture, yet has no interest in BDSM. It takes a hunky Dom to show him just what he's been missing.
After Kyle's partner of five years abruptly leaves him for another man, the shy early thirties carpenter needs to do a serious reassessment of his life in addition to raising some serious cash. With no one else to help him pay the lease on his Los Angeles condo, he worries how he'll survive. His best friend sets up a meeting with one of the Doms and partners at Kiss of Leather, a gay BDSM Club being built as a premiere destination for those who want the best of the best.
Master Gavin not only wants the best – he demands it. When he meets Kyle, he assumes that part of the builder's reticence to share anything personal with him must be due to his experiences with an abusive former Master. Not one to back down from a challenge, Gavin determines to break through the walls surrounding the beautiful man he can't get out of his mind. He's certain that once he convinces Kyle to sign an initial contract, Kyle might be the first sub to open up his heart.
Misunderstandings and accusations almost destroy everything between them before it has a chance to begin. However, the true obstacle becomes not only whether Kyle will embrace BDSM as a lifestyle, but whether he can handle a fulltime D/s relationship with a big bad scary Dom who's as sexy as hell.
This book is on:
2 To Be Read lists
4 Read lists
Published:
August 11, 2015
Publisher:
Pride Publishing
Editors:
Cover Artists:
Genres:
Pairings:
M-M
Heat Level:
4
Romantic Content:
4
Ending:
Click here to reveal
Character Identities:
Gay
Protagonist 1 Age:
36-45
Protagonist 2 Age:
26-35
Tropes:
Age Difference, Alpha Character, Bad Breakup, Hurt / Comfort, Interracial Relationship, Love Can Heal / Redemption
Word Count:
57041
Setting:
Los Angeles, CA
Languages Available:
English
Series Type:
Same Universe / Various Characters
Excerpt:
Gavin pushed off the bathroom counter then ambled over to a large built-in cabinet to the left of Kyle. When he opened a frosted glass door, Kyle noted the piles of fluffy towels on the shelves, as well as every manner of hair products, washes, soaps, shaving accessories…
Condoms. Lube. Hot wax kit. Enema. Nipple clamps. Oh boy.
Gavin retrieved a large jar filled with what Kyle assumed to be bath salts as well as a small bottle of slick. He closed the door then carried the items over to the side of the tub, the edges generous enough to hold plenty of objects. He set it down before leaning over to run the bath. Kyle shifted from foot to foot. He knew it would take time, that they'd establish a routine. It was just that he really, really wanted to please Gavin.
"Shouldn't I be helping you with that? Or, maybe doing it for you?"
Gavin peered over his shoulder as he wiggled his fingers under the heavy stream of water.
READ MORE
"I'm taking care of you now, boy. This is for me to do."
"Oh. Then thank you."
Gavin's eyes crinkled as he smiled. "You're very welcome." His gaze raked Kyle's body. "Hmm. You need to be shaved. I'll do that now too."
Kyle ran his palm over his cheeks then down his chin. "Yeah. It's late enough in the day that my beard might be a bit scratchy."
Gavin's eyes lifted to Kyle's face. "I'll take care of that as well."
"You'll…? Wait. Did you mean…?" He cupped his balls as he recalled the hot wax kit.
Gavin bit his lip as if trying not to laugh. "Kyle. I like my boys bare and I've shaved plenty of genitals and assholes—"
"Assholes?"
"Please don't interrupt."
"Sorry, Master. Surprise factor. But those things in there—" He let go of his nuts long enough to point to the cabinet. "There was hot wax." He swallowed as he gripped his sac again. "And other things."
Gavin let out a snorting chuckle. "Okay, Kyle. Let me clarify things for you. I do like to wax my boy's hole, but I won't do it tonight. I also occasionally want a completely waxed sub—pits, arms, legs—if I'm doing a public scene. Body hair can ruin the aesthetics of a rope demonstration or distract from marks left by canes or whips."
Kyle placed a hand to his forehead.
He said he'd go slow. Just keep reminding yourself of that and you'll be fine.
"Look at me, boy."
He lifted his gaze.
"You have safewords, right?"
Kyle nodded. "Right."
"Then you know everything stops if you use one. I'm never going to force anything on you. I will, however, push your boundaries, attempt to take you places you've never been before so that you can soar." Gavin's smile lit up his face. "You have no idea how much I look forward to that."
Kyle grunted. "I probably do too, but I just don't realize it yet."
COLLAPSE
Reviews:
Wendy

on

Hearts on Fire Reviews

wrote:
Love was in the air when I read the blurb for this book. I couldn't wait to get it into my grabby little hands, and hallelujah, the real thing more than lived up to my fantasy!

In my opinion, Master Gavin is the ideal type of Dom. He's strong and controlling (obviously), but even more, he's caring, honest, fully invested, and has the utmost sincerity in terms of ethics within the lifestyle. It also doesn't hurt that he has a Denzel face and the body to go with it! As for Kyle, my heart ached for him. He was so painfully shy and had been treated like crap by his former boyfriend. His actions and demeanor screamed natural sub, but he clearly had many misconceptions about what that meant that made him hold back.

These two guys were a perfect pair. They had some key misunderstandings that nearly ended them before they had barely begun, but thankfully, Master Gavin's determination (to be with Kyle and to communicate) got them through. The pace was a slow build which felt very appropriate give Kyle's inexperience and initial reticence. The chemistry, however, was immediate and smokin' hot.

It was so rewarding for me to see Kyle's progression over time into someone more settled and comfortable in his own skin. Some of his revelations made me very emotional. For example when Kyle realized that no one had ever really cared what he felt before (whether he was happy or satisfied) and no one had ever cherished him before, I had the strongest urge to break his ex's fingers, among other things, for the crap he piled on Kyle and then I wanted to roll up in a ball and cry.

Gavin and Kyle's final scene together was definitely enough to do me in. Their connection and love were so apparent. When Kyle came undone, that was it for me. That scene will stick in my memory as a favorite for a long time.

Since this book looks like the start of a new series, I'll be lining up for all the rest of them. This one imbedded itself in my heart and I highly recommend it!!!
Kimberley

on

Love Bytes Reviews

wrote:
This is the first book in Knight's Kiss of Leather BDSM series and I must tell you that I've enjoyed reading about Kyle and Gavin.

Unceremoniously dumped by his ass of an ex-lover, Kyle, a sweet and very shy man who builds furniture enters into a business deal to make the furniture for Kiss of Leather, thanks to his best friends who is a member of the club. Kyle is a natural submissive, he's not expressed interest in the lifestyle before and really has no idea of how it works outside of what his friend tells him and what he sees in cache of online porn.

Sparks fly when he meets Gavin, a Dom and one of the co-owners of Kiss of Leather to iron out the details of the deal.. They're immediately attracted to each other but Gavin mistakenly thinks that Kyle is a part of the lifestyle and instead of Kyle correcting Gavin's assumptions, he doesn't say anything. That is the only tiny thing I didn't like about the story. I felt that added a lot of unnecessary drama and misunderstanding when it could've been cleared up immediately. That was to me, a minor little thing and didn't detract from my enjoyment of the story.

I loved how these characters interacted with each other. Gavin was patient with Kyle, understanding that Kyle was naïve about the lifestyle and wanted to ensure he knew exactly what he was getting into with it. I particularly liked how he explained everything prior to doing anything with Kyle and didn't just make the decision to tell Kyle what he was going to do. He made sure that he had Kyle's total consent to everything he was entering into.

I also love the fact that it was an interracial relationships, those are one my favorite types of reads in this genre.

The story flowed along nicely and the series is definitely a must read.