by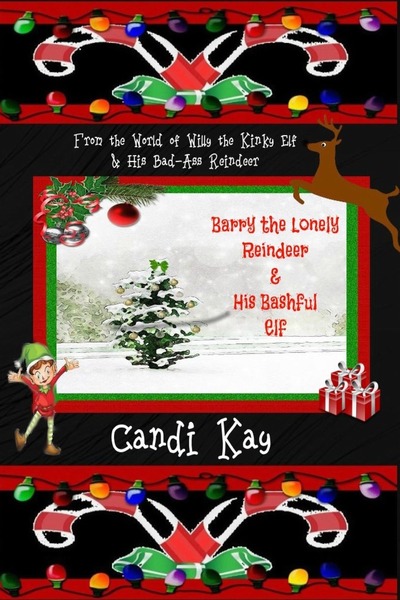 From the world of Willy the Kinky Elf & His Bad-Ass Reindeer.
The North Pole isn't exactly as it appears in fairy tales. It has the elves and Santa and his reindeer, but Santa and Mrs. Claus aren't the jolly couple the world believes them to be. Far from it, actually. The reindeer are all shape-shifters who transform into gorgeous beings in human form and are respected by all.
Reindeer Barry Simpson leads a simple life. He works, comes home, then does it all again the next day. Once upon a time, he was outgoing and social. That changed after he became involved with an abusive reindeer. It's been a year since Barry ran and he's finally getting over his fears, eager to start living again.
Ricky is a shy elf who blushes at every turn. One accidental touch and Barry's convinced he's finally met his mate. He's never been with an elf before but he knows in his heart that this is the man he's been waiting for.
Between meddling parents, an overprotective brother, and even a sad Santa Claus, Barry and his elf are pulled in several directions. When his abusive ex-boyfriend starts getting violent, Barry has to fight to protect not only himself but also those he loves, including his newfound mate.
Approximately 50,000 words.
Available for pre-order for November 1, 2017 publication.
Published:
November 1, 2017
Publisher:
Independently Published
Editors:
Genres:
Pairings:
M-M
Heat Level:
4
Romantic Content:
5
Ending:
Click here to reveal
Character Identities:
Gay
Tropes:
Fated Mates / Soul Mates
Word Count:
50000
Setting:
North Pole
Languages Available:
English
Reviews:
Jay

on

CockyReviews.com

wrote:
"Barry's a little more serious than the other books in the series. Guys have partners who beat and bully them IRL which a lotta guys don't talk about. Blake wanted to make up to his bro which anyone can understand. Santa gets a reality check. Mrs. Claus is Mrs. Claus. Ricky's small and shy and the sparks fly when he touches his reindeer. That's how they know they're mates, plus the sex is extra fiiine for them. Willy is funny and silly and Randy is large and in charge and Barry goes green spandex loving! I hardly read much in the way of Xmas stories but the Willy series is my yearly time spent with the North Pole posse!"