The Promotional Series Boxed Set
by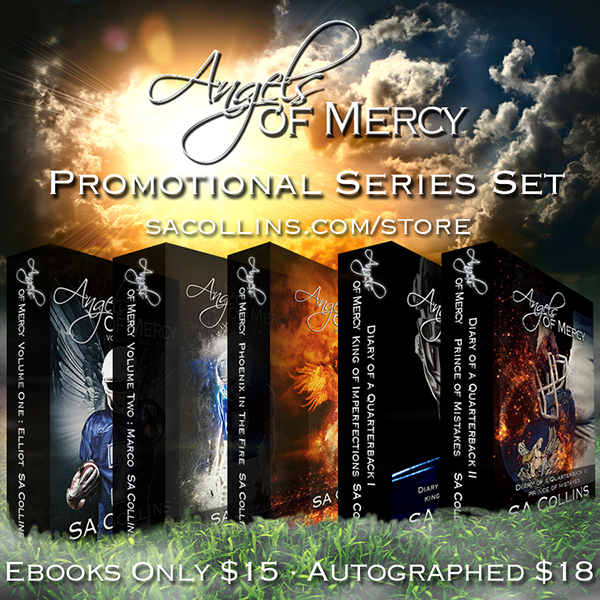 Part of the
Angels of Mercy
series:
Angels of Mercy - The 5 Book Promo Series
Special promotional ONLY offered at sacollins.com! Volumes 1 and 2 of the 5 star rated Angels of Mercy series! Along with Angels of Mercy - Phoenix in the Fire (companion to Volume Two: Marco) and the Marco Sforza prequel series Diary of a Quarterback Parts 1 and 2.
Note: I also offer PERSONALIZED AUTOGRAPHED ebooks for sale from my site. As they are one-off editions made personally for you, I need a tiny bit of time to turn them around. Just order them from the website and I'll get an email notification to turn it around - just be sure I have the correct email for you to ensure delivery once their done. See the link at the top of my webstore page to get a handle on how it works and how you'll see it in the final product.
Published:
November 1, 2017
Publisher:
Akwekon Media
Editors:
Cover Artists:
Genres:
Pairings:
M-M
Heat Level:
5
Romantic Content:
4
Ending:
Click here to reveal
Character Identities:
Gay, Pansexual, Straight
Protagonist 1 Age:
18-25
Protagonist 2 Age:
18-25
Protagonist 3 Age:
18-25
Tropes:
Cheating, (Hits) Close to Home, Coming of Age, Coming Out / Closeted, Families/Raising Kids, Famous / Not Famous, Forbidden Love, Geek and Jock, Most Mindblowing Sex Ever, Opposites Attract, Star-Crossed Lovers
Word Count:
1,173,195
Setting:
Mercy, California, USA
Languages Available:
English
Series Type:
Continuous / Same Characters
Excerpt:
I died.
READ MORE
Well, I think I did. How can you endure that much pain from a homophobic beat down and not die? That was rhetorical, I didn't have an answer for that.
All I knew was, it was dark, at times oppressively so.
There was a period where I think my brain was outside my body. In a drawer. Tucked away. In a quiet place.
That didn't last long.
Pain began to eke in. Like an eternal flooding, rivulets of pain poured through me. From every part of me, too. I'd feel what were supposed to be gentle touches along my skin that felt like fire. I wanted to scream for it to stop, but found I had no voice. Torture in a sound proof box – a stifling test of endurance.
At times I felt like I had a reprieve from that torture. It was brief, and fleeting, but fuck me did it burn when it would come back – wave after wave of it, too.
What I wondered throughout all of it was: where was Marco? Without his light, it was dark and painful and I never felt so alone. If I died, wasn't there supposed to be light? Wasn't it supposed to be warm? And most of all wasn't it supposed to be peaceful?
Unless ...
I didn't want to think about the alternative. Maybe all those uptight Christians were right. Maybe religion was right.
I heard voices. Voices I knew. They were distant. So far away in the dark, but they sort of held my attention, a lingering thread of hope. They appeared like threads glowing in the darkness that caught my attention. That was a new revelation, that voice could have color.
"That's it, babe. C'mon Els. Come back to me ... you want me to call it, so I'm calling it ..."
I knew that voice. It called to me like a beacon in the darkness. Orange-yellow, like the warmth of the sun. I tried and tried to get to that warmth, but it was always just out of reach.
Marco! Baby! I'm right here! I tried to call out to him, to let him know I heard him. He didn't seem to notice.
COLLAPSE
Reviews:
Patricia Nelson

on

Amazon

wrote:
***** - FIVE STAR REVIEW

SA Collins has continued the powerful, poignantly bittersweet, emotionally charged, gritty, gripping, and enthralling saga started in Volume One. I was hooked from the very first page, and ended up with a book hangover because I just couldn't put it down. I am eagerly looking forward to reading the next book in this awesome series.
Patricia Nelson

on

Amazon

wrote:
Oh my god. This book is such a powerful, vivid, gritty, and emotionally charged story. It is a masterful combination of fly on the wall and Elliott's internal dialog, and I felt like I was right there in the moment. I cried, laughed, raged, screamed, jeered, and cheered. The cliffhanger ending broke my heart, but left me eagerly looking forward to reading the next entry in the Angels of Mercy series.
Angels of Mercy - Volume One: Elliot - On the cusp of his senior year at Mercy High, Elliot Donahey, an out but terminally shy gay young man who keeps to the shadows – never wanting to be seen or noticed – suddenly finds himself in the arms of the highest profile jock on campus, local star quarterback, Marco Sforza. Their lives, and those closest to them will never be the same.
---
Angels of Mercy – Volume Two: Marco, picks up the timeline from the climatic ending of Volume One. How will these boys cope with Elliot recuperation as well as find a way to bring justice for the heinous crime committed against Elliot? Deception, lies and intrigue begin to thread their way into the boys lives as they struggle to just hold onto one another. All is not quite what it seems as we reach yet another climatic ending that will turn their whole world upside-down. The hate crime Elliot suffered was just the beginning of their woes. Is Marco and Elliot's love for one another strong enough to see them through? Read Angels of Mercy – Volume Two: Marco to find out.
---
Angels of Mercy - Phoenix In The Fire, a companion novel to Angels of Mercy - Volume Two: Marco, as told by his boyfriend, Elliot Donahey. The climb out of the homophobic beat-down that Elliot endured at the hands of Marco's teammates is only the beginning. In Angels of Mercy - Phoenix In The Fire, Elliot has a choice to make: withdraw further into himself and risk losing the one person who loves him unconditionally, or find a way to rise above it and become stronger. Which one will he choose?
---
Diary of a Quarterback – Part One: King of Imperfections Born in America but reared in their father's home of Torino, Italy, Marco Sforza has led a fairly idyllic life. The Sforzas are an ancient and powerful family with a strong ducal past. They run a vast global empire that allows Marco to enter halls of power that most men only dream of. Yet, Marco is a boy who lives in a bubble of his family's making.
When Marco returns to America to attend high school he grooms himself to become a rising star quarterback of the Mercy High Avenging Angels. He thinks his focus is his burgeoning football career. He is all to aware he is a boy made of pure light that is meant to be seen and noticed. He is comfortable there. Until he meets a boy who shines brighter than him. Elliot Donahey is that boy. But Elliot is a boy who craves shadow and darkness to keep himself safe through another hellish day of high school.
Before he realizes it, Marco's world becomes undone by this boy. Trapped in a script all jocks are meant to follow, Marco does his best to fit in and play along so he can play the game he loves, but this boy who hides in the shadows begins to consume his every thought and emotion.
Despite the script he's been given to date girls, have sex, and hang with his teammates and follow along, Marco finds himself on an emotional pendulum where following that jock script only brings him further away from that world to circle the boy hiding in the shadows. Can Marco find it within himself to push against what others expect of him to find his way into Elliot's arms? Even with all the fame, money and prestige his family brings to the table, will it be enough to gain the interest of a boy who only wants to hide from everyone?
---
In Diary of a Quarterback – Part Two: Prince of Mistakes, Marco has decided to put all of the jock laden toys away. He knows what he wants: Elliot Donahey and nothing – not his family, not his friends or the townspeople of Mercy – will get in his way. But others are watching and taking notice and not liking what they see. Darkness begins to circle the boys as they find their way to each other.
Will Marco find happiness in the arms of Elliot? Or will those around them who seek to tear them apart stop Marco from finding true love? Set against the rugged coastline located just outside of Big Sur, these boys and their friends lead surprisingly dramatic lives. Mercy is a town full of secrets. Some of them have the ability to destroy lives. Will Marco and Elliot have the strength to find a way to happiness and true love? Or will a meddlesome cheerleader and Marco's teammate, Beau, find a way to tear them apart?