1st book of the After Hours Series
by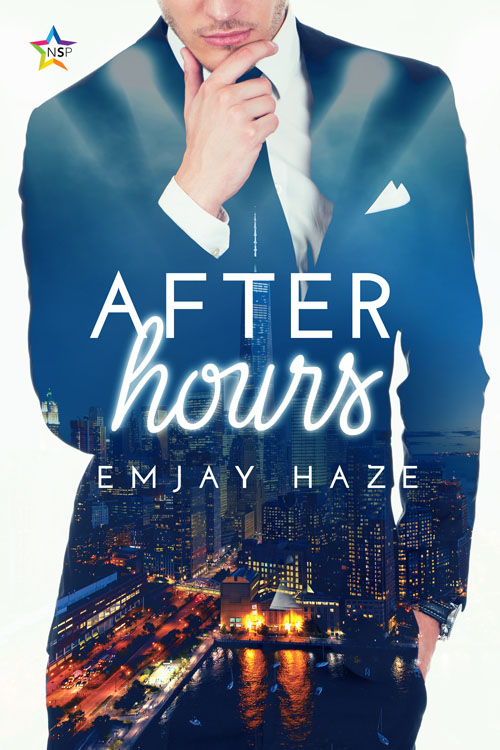 Editions:
Paperback

-

First Edition

: $ 14.99

USD

ISBN:

978-1948608435

Pages:

287
Kindle

-

First Edition

: $ 6.49

USD

ISBN:

978-1-948608-39-8

Pages:

304

Alex Michaels is a successful manager for a Wall-Street financial firm and lives in a beautiful hi-rise apartment overlooking Central Park. Anyone looking in from the outside would say Alex has it made, especially his working-class parents who wanted more for their only son.
Nick is working his way through graduate school with dreams of becoming a teacher so he can help kids like himself. With his parents cutting him off and leaving him with nothing but a student apartment and low self-esteem, he's determined to make something of himself in spite of them.
Even Nick's club friends think Alex is too good for him, but Alex keeps showing Nick how worthy he is. Alex learns a lot from Nick, too—how not to give up on his dreams.
Published:
April 9, 2018
Publisher:
Ninestar Press
Editors:
Cover Artists:
Genres:
Pairings:
MM
Heat Level:
4
Romantic Content:
4
Ending:
Click here to reveal
Character Identities:
Gay
Protagonist 1 Age:
26-35
Protagonist 2 Age:
18-25
Word Count:
91242
Setting:
New York City
Languages Available:
English
Series Type:
Continuous / Same Characters
Excerpt:
ALEX GAVE HIS keys to the valet and followed Belinda and the others up the walkway to the trendy gay club, After Hours. This wasn't usually Alex's scene. In fact, this was the first real club he'd been to since he moved to New York City five years ago. Why did he never go out? Because you work too much. It wasn't like he'd never dated at all.
They walked inside the club and were checked at the door by a burly man who didn't even hide his intense stare at Alex as he took his ID.
The bouncer nodded his approval to the group and gave Alex a hearty grin as they passed by him. They found a table with a visual of the dance floor. "Well," Belinda started. "He couldn't keep his eyes off you."
"Not my type," Alex said, dismissing the statement.
"So, what is your type, Alex?" Jill asked, taking the seat next to him with a good view of the hard bodies grinding together on the dance floor. She gawked, fanning herself.
READ MORE
Alex, with the same view, watched one couple plastered together, each of them groping the body they were clinging to. One guy was tall with a muscular build and the other was several inches shorter, slender, and had his head thrown back, grinding against his partner as though they were having sex right on the dance floor.
"Um." His pants tightened as he tried to answer. Instead, he shrugged. "I don't know."
"Oh, come on, Alex," Hannah said. "I've seen the way you scope out Justin on my floor. I think you go for twinks." She gave him a shit-eating grin that made Alex want to slap her. He didn't perv over Justin, the junior accountant—much, anyway. He certainly never did it in front of Hannah.
He called her bluff. "Nah, not my type, sorry to disappoint you."
"Justin is pretty cute, though," she continued. Yeah, she hadn't caught him. She was fishing. Okay, so he was cute and definitely Alex's type, but dating employees was off-limits for someone in management. He ignored her.
"Hey, Alex," Belinda said, sitting on the other side of him. She tapped his shoulder, thankfully redirecting Alex's attention. "Check out that guy."
Alex viewed a moderately handsome guy with golden blond hair that kept flopping in his face. He'd flip it out of the way as he ground against his dance partner. The other guy had his hands all over Blondie, who seemed to enjoy it. Alex felt his pants tighten again at the sight. Belinda knew him so well.
"I guess he's cute," he replied, looking away.
"He's gorgeous. Why don't you go over and talk to him?" Not gorgeous, but more than okay.
"First of all, he's already dancing with someone, and second, I want to hang out with you guys, all right?"
A waiter came over at the same time to take their drink orders. "What can I get you, ladies?" He flirted with them but stared intently at Alex. Now, this guy was hot. He had dark brown hair, short in the back and sides with the front longer and slightly wavy and parted on the side, like a sexy mop. God, he'd love to rake his fingers through that hair. The waiter remained focused on Alex, so he saw his eyes, which were brown pools of sex. Glancing down, Alex was mesmerized by his pink, pouty lips, and all he wanted to do was kiss the guy. He smelled amazing too. God, what is that? He wanted to sniff him so bad but restrained himself. Then he noticed the guy's "uniform." He wore only low-ride, black skintight shiny pants, and a black silk vest with a bow-tie. Holy cow. The guy's flat abdominals were seriously lickable. Alex gulped, hoping his gaping went unnoticed.
COLLAPSE
Reviews:
Louise

on

A Little Fool Reads

wrote:
The moment I saw this gorgeous cover on Netgalley, I knew I had to read it. The summary sounded like the perfect read, the type to curl up to on a gloomy day, and I was not disappointed.

From the first page, Haze sets up this character to route for, Alex Michaels, as he works for an incredibly successful company and gradually moves up the ranks in his firm. Alex is dedicated to his job, yet devoted to his friends and coworkers, and the fact he wears his heart on his sleeve means it's impossible not to fall for him. The dialogue between himself and his friends is heartwarming to read, adoring the banter among the group.

When the mysterious Nick Covington enters the picture though, the novel just seems to get better. Nick's character was a personal favourite; I adore his flirtatious remarks at first before revealing the insecure man beneath. His history was explored in detail, my heart aching for the man and justifies his paranoid thoughts throughout the story. However, I would have liked there to be more dialogue explaining their childhoods, rather than mostly description; I think it could provoke more opportunities to explore their characters via reactions to each others lives. The romance between Alex and Nick bloomed beautifully, regardless of how it was the dreaded insta-love, as the interactions between the pair justified their instant spark; it was believable. Plus, the sex was well-written and interesting throughout; nothing was repeated, their boundaries gradually lessening each time and highlighted their trust of another.

Although, I don't think there was any dislikable character, (minus Nick's parents) Andrea was another personal favourite. I adored the instant connection between her and Alex, setting up another lovable character whose own story progressed beautifully to the romantic climax for herself. She deserved that happy ending too!

Overall, 'After Hours' is a heartwarming story of romance and discovering your true self. The characters are adorable, the plot is engaging and Haze's writing makes for a perfect one-sitting read.
Ricardo

on

Good Reads Review

wrote:
The M/M romance genre is full of novels based on contrived angst, fake misunderstandings, main characters with stunted emotional development acting like 5-year olds, and dialogue so unbelievable that even the writers of "Gone With the Wind" would have laughed at it. Now... why did I like this book so much? Because it had none of the things I've mentioned above. This book was such a fresh departure from all those 10-page short stories padded with fluff to make them into a book. When I started reading and saw how long it was I thought it was going to be the same but I was absolutely wrong. The book covers no more and no less than necessary, the writing is very good and is full of humor and heartfelt moments at the same time, the characters are likeable and believable, and the pace of the story is excellent.

The plot may not be original (man meets man, they fall in love, they become a couple) but that is to be expected since there is a very limited number of outcomes for this type of story. However, despite the predictability of the story, it is handled with so much honesty and finesse that I didn't mind at all, I just wanted to keep turning pages and continue reading. I realized how much I had enjoyed the book when I realized I didn't want to put it down, when I finished it and immediately wanted to check what else the author had written, and when I had a BIG smile on my face when I saw that there is a follow-up book that continues the story of the main characters.

I am sorry this review is so long, I don't normally write so much. I hope you give this book a chance because it is definitely worth it, I sure recommend it