by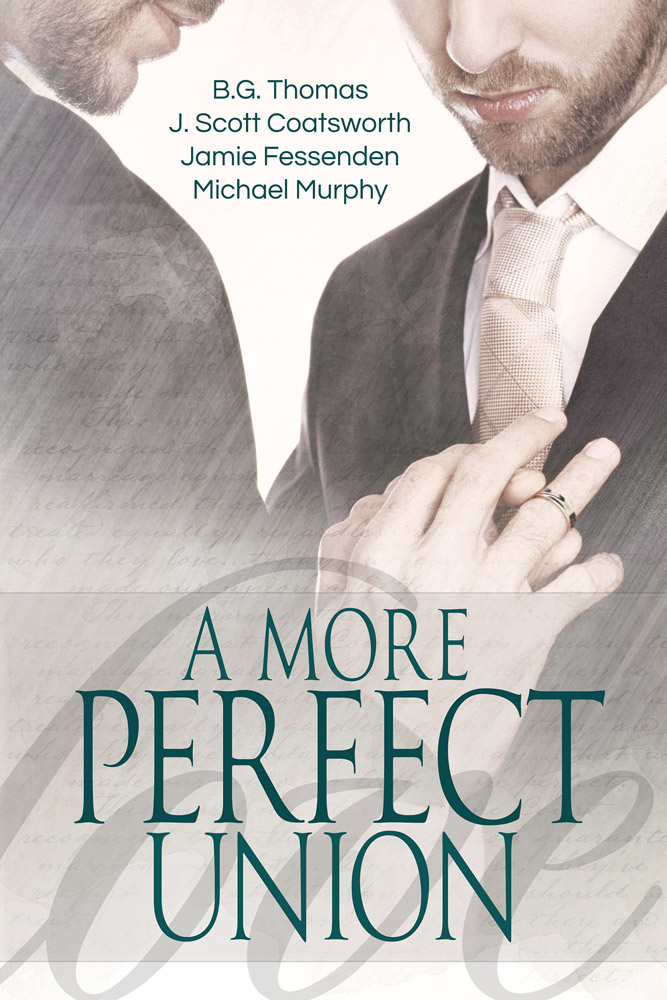 Editions:
Kindle

-

First Edition

:

$ 5.38

ISBN:

B01GMDKIQ4

Pages:

350
Paperback

-

First Edition

:

$ 17.99

ISBN:

978-1634773317

Pages:

350

On June 26, 2015, the Supreme Court of the United States made a monumental decision, and at long last, marriage equality became the law of the land. That ruling made history, and now gay and lesbian Americans will grow up in a country where they will never be denied the right to marry the person they love.
But what about the gay men who waited and wondered all of their lives if the day would ever come when they could stand beside the person they love and say "I do"?
Here, four accomplished authors—married gay men—offer their take on that question as they explore same-sex relationships, love, and matrimony. Men who thought legal marriage was a right they would never have. Men who, unbelievably, now stand legally joined with the men they love. With this book, they share the magic and excitement of dreams that came true—in tales of fantasy and romance with a dose of their personal experiences in the mix.
To commemorate the anniversary of full marriage equality in the US, this anthology celebrates the idea of marriage itself--and the universal truth of it that applies to us all, gay or straight.
Destined by
When Jay and Wallace first meet at an LGBTQ group, they have no idea they'll be dating six years later. In fact, they quickly forget each other's names. But although fate continues to throw them together, the timing is never quite right. Finally they're both single and  realize they want to be together… but now they can't find each other! With determination and the help of mutual friends, Jay and Wallace can finally pursue the relationship they've both wanted for so long.
It's only the beginning of the battles they'll face to build a life together.
From disapproving family members all the way to the state legislature, Jay and Wallace's road to happily ever after is littered with obstacles. But they've come too far to give up the fight.
Flames by J. Scott Coatsworth
Alex and Gio had a big fight, and Alex ran away. Then a fire at home destroyed the life they had built together, and threatened to take Gio away from him.
Alex had always thought love was enough to keep them together. Why did they need wedding rings or legal certificates? But now, with Gio lost in a coma, his mother has banished Alex from his side.
What if Alex's voice is the only thing that can bring Gio back from the brink? Their memories are all Gio has left, and the urge to just let go is getting stronger.
Still, nothing can keep Alex from Gio's side. If it's against the rules, he'll break them. In stolen moments alone together, Alex fights to bring him back, one memory at a time.
This book is on:
5 To Be Read lists
3 Read lists
Published:
June 26, 2016
Publisher:
Dreamspinner Press
Cover Artists:
Genres:
Pairings:
M-M
Heat Level:
3
Romantic Content:
5
Ending:
Click here to reveal
Character Identities:
Gay
Tropes:
Amnesia, Friends to Lovers
Word Count:
107655
Setting:
Varies
Languages Available:
English
Reviews:
Sue Brown

on

Sue Brown

wrote:
This anthology contains four different stories reaching the same joyous conclusion, marrying the man they loved, and I have to say, even this cynical old heart melted a little. From each tale I could see elements of news stories that hit the headlines over the last few years - a real ripped from the headlines. But each individual story tackles the couples journey in a different way. It's not just about dealing with bigoted officials and family. These stories are about the our heroes attitudes to marriage as well.

J. Scott Coatsworth made me cry with Flames. I was shouting at Alex, rooting loudly for him and Gio, cursing as Alex was banished and sobbing like anything as good people conspired to help him. Yes, sir, you made me cry tears of joy.

Jeordi and Tom was a tale of two small-town boys, faced with a rejecting family and finding a more loving wider family in their quest to get married. This beautiful tale clearly showed the legal hoops gay people have to go through just to say "I do," in the face of great opposition. Michael Murphy show that family comes in all guises, not necessarily blood.

I firmly believe that some couples are destined to be together, and in Jamie Fessenden's Destiny, Jay and Wallace took their own sweet time but eventually they were together, marriage, house and dog - just the way it should be. I had to grin as they met over a coffee machine. My kind of meeting.

B.G. Thomas, you made me seriously ache for Lucas in Someday. This young man never gave up hope of loving and marrying his best friend. I yelled at Dalton to notice him and then... well, read the story. This was a sweet tale and well worth my hurting heart as Lucas waited for so long.

A lovely 5 stars from me.