by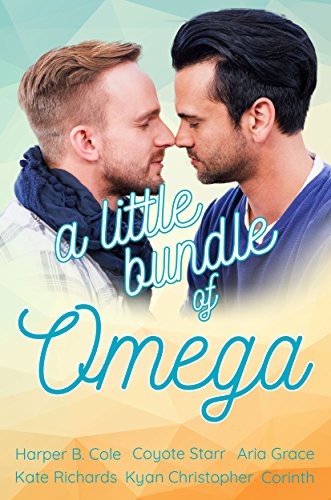 A little sexy, a little sweet ... and a lot of MPREG!
A Little Bundle of Omega features six new MPREG books for the MPREG fan.
Get this hot new set at 66% off the price of the books sold separately and get the best in new MPREG fiction!
With both shifter and non-shifter MPREG stories, this collection has something for every omegaverse lover in almost 500 pages of hot Alpha/Omega action.
Featuring shifter wolves, mountain lions and dragons from authors Harper B. Cole, Kate Richards, Kyan Christopher, Coyote Starr and Corinth Panther. And introducing a brand new book by Aria Grace set in the Cafe Om world.
You'll find sweet and heat in these stories from familiar and new authors alike.
Get your copy and fall in love with A Little Bundle of Omega today!
Mated to My Omega by Kyan Christopher
Griffin's been running from his family heritage ever since he can remember, but when sexy Omega Keegan walks into his office, something inside Griffin begins to change. Will Griffin be able to accept his true self and become mated?
Published:
October 19, 2017
Genres:
Pairings:
MM
Heat Level:
4
Romantic Content:
5
Ending:
Click here to reveal
Character Identities:
Gay
Tropes:
Mpreg
Languages Available:
English