Word Count:
37,000
Character Identities:
Gay
Summary: Sheriff Avery O'Rourke has tried to obey his strict Christian faith and lead a "normal" life. In 1923 in a rural East Texas town, "normal" means heterosexual. A cholera outbreak has made Avery a young widower, so he is married to his job. When a murder investigation forces him to confront his truth, will he finally be able to accept being gay? Veterinarian Garland Sands has returned from Europe to take over his father's practice. Struggling with shellshock (PTSD) and heartbroken by the suicide of his French lover, he resigns himself to a quiet, solitary life as a country vet. But the murder of the town doctor brings the sheriff to Garland's doorstep looking for help with the investigation. Seeing Avery awakens dormant feelings. Can he love a man who hates what he is? This isn't the lavish 1920s of The Great Gatsby. This is the flip side of that coin—rural East Texas. No electricity. No indoor plumbing. No flappers. In 1923, the timber barons have left and racism, homophobia, and sexism thrive. A Little Sin is a realistic mystery with unlikely heroes and a timeless romance between lovers caught in a world where their love is forbidden. This book contains steamy sex scenes and is intended for adults only.
A Little Sin
Pairing: M-M
February 24, 2018
Word Count:
22000
Character Identities:
Bisexual, Gay
Summary: Catch up with Kirkby residents Scott and Davis as they navigate through the ups and downs of fatherhood, relationships, and juggling... balls. In two years, it's clear love can last, just as it can grow. Davis's business remains successful, Scott's clinic is going strong, and Libby is happy and content. But that doesn't mean real life is always perfect, nor does it mean fatherhood isn't as exhausting as it is wonderful. Needing a break from their daily routines, Davis and Scott head away for a weekend of uninhibited fun. With lots of laughter and dancing, Davis has never seen Scott so relaxed and comfortable in public. And he's not quite sure how to handle that. Worried that life in Kirkby is holding Scott back, Davis nearly makes the biggest mistake of his life. But Scott has other ideas. He doesn't need saving. What he needs is his man to step up and fight for their family and their future. And he has just the plan to do it. A True-Blue novella. I've Got You MUST be read prior to reading this story.
Becoming Us
Pairing: M-M
November 23, 2019
Word Count:
97000
Character Identities:
Bisexual, Gay, Polyamorous
Summary: A night of passion with a Cat Shifter escort becomes everything for a man with poor self-esteem. To mend his broken heart, Seth purchases a date with a Cat Shifter Escort. The sex was so amazing, it let him forget his pain. Seth never expected to see him again. Nao couldn't forget the client who'd cried in his arms, so destroyed from love gone wrong. He wanted nothing more than to help the beautiful, broken man. Their night was supposed to be a onetime thing, but six months later, everything changed when they met again.
Cat Escort
Pairing: M-M
February 6, 2020
Word Count:
80000+
Character Identities:
Gay
Summary: A True Mates Novel Can he let himself believe in true mates after his past has left more than one scar on him?  Wolf-shifter Seth moved to a small town to settle into a, hopefully, peaceful life, but that peace is short-lived after he meets the local sheriff. Kasey takes an immediate dislike to him and he wonders if he will ever find a real place to call home. When an accident exposes Seth's secret, Kasey insists they're fated to be together sending Seth running. Previous experience has shown him mates aren't all they're cracked up to be and he can't trust Kasey enough to change his mind. But Kasey isn't giving up and Seth finds his resolve weakening. How can he open his heart to someone again? Chasing Seth is the first in the True Mates series. Features slow burn MM romance with wolf shifters, rejected true mates, a determined alpha who won't give up easily, grown up content and a HEA. 
Chasing Seth
Pairing: M-M
September 15, 2020
Word Count:
69000
Character Identities:
Bisexual, Gay
Summary: When a single dad and a newly outed veterinarian meet by chance, it takes red-cheeked conversations, a tentative friendship, and the willingness to put their hearts on the line to show these men they're made for each other.   Single dad Davis Jackson is busy balancing his coffee shop and being the best dad he can be. That doesn't mean he's not lonely. After a fumbling encounter with a man who looks as gorgeous as he does unhappy, Davis is left wondering who the mystery man is.   All Davis knows is that he has never felt such an instant attraction to anyone before, but when he discovers the brown-eyed man's identity, it's clear the recently out-of-the-closet veterinarian is lost and quite possibly broken.   A swoon-worthy low-angst stand-alone contemporary M/M romance featuring characters from LET ME SHOW YOU. 
I've Got You
Pairing: M-M
July 2, 2019
Word Count:
55,000
Character Identities:
Bisexual, Gay
Summary: A telltale knock on a quiet winter night is a sound no husband wants to hear. Sébastien Osaki has spent the past three years surviving the loss of his beloved Henry. When Seb lands in Amalfi, Italy, for their would-have-been tenth-anniversary trip, he's haunted by the memory of the man he loved. Following Henry's notebook leads him to some breathtaking coastal views but also right back to his despair. Seb's there to get his groove back, not let the past wrong-foot him at every turn. Enter Andrea Sorrentino, chauffeur, part-time pet whisperer, a Bernini statue in a soccer tee and tight shorts. From the moment Andrea picks Seb up from the airport, he knows just how to soothe Seb's case of the sulks. But Seb isn't sure he's ready for Mr. Right Now, let alone a potential Mr. Right, in a part of the world where all roads lead back to Henry. Can sun, sea, and eating your weight in pasta mend a tragedy-stricken heart? Will wine-soaked Amalfi nights and long walks through lemon groves work their magic on Seb's wounded soul? Or will he slink back into the shell of his grief once his grand Italian adventure is over?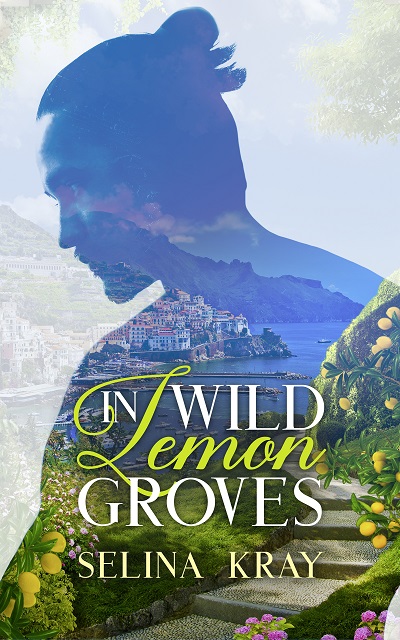 In Wild Lemon Groves
Pairing: M-M
February 8, 2018
Word Count:
62000
Character Identities:
Bisexual, Gay
Summary: Alone on his mountain, the kitsune Tadashi only wishes to be left in peace so he can mourn his lost lover and take care of his temple. Unfortunately, several townsmen who have no idea of Tadashi's true nature have different plans for the "Jap on the mountain" and his land. When they push the kitsune too far, he reacts with horrific violence, leaving tragedy in his wake. Broken and terrified of himself, Tadashi represses his natural drives and shuts himself off from the world. The intrusion of a lost little girl and her persistent veterinarian uncle, Berg, stumbling into Tadashi's life, though, and turn his carefully ordered world upside-down. The reluctant hero needs to decide whether he is truly happier alone or whether he can once again embrace a truth he used to know, that life is for the living. Please Note: This is a re-edited, second edition with 4 illustrations. No changes have been made to the story. There will be B&W and Color print editions released.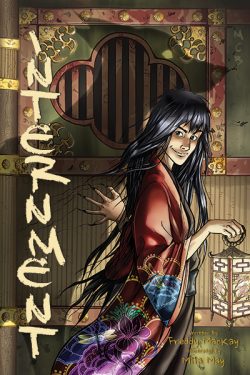 Internment
Pairing: M-M
February 15, 2017
Word Count:
60000
Character Identities:
Gay
Summary: When a veterinarian and a construction worker connect, it takes mishaps, mistakes, and a Rhodesian Ridgeback named Rex to show them they're made for each other. Dr. Carter Falon is content living a quiet life in a small town caring for his animal patients. That doesn't mean he's not looking for a distraction. After finding himself precariously wedged… naked and at the mercy of a drop-dead gorgeous construction worker, Carter hires his savior to renovate his home. When Tanner Grady's best friend and new niece needed him, he uprooted and relocated without a second thought. His life has since been centered on work and spending time with his family, but when he comes to the rescue of a cute vet, Tanner finds he's a lot more interested in the homeowner than the house he's renovating.
Let Me Show You
Pairing: M-M
May 18, 2019
Word Count:
71000
Character Identities:
Bisexual, Gay
Summary: Even with six beloved cats at home, Thom Fletcher can't help opening his heart to a little injured stray he finds at Pride. Luckily, the generosity of the veterinarian who helps him means he doesn't have to open his wallet. Thom's budget is stretched pretty thin, between his struggling start-up and medical expenses for his Crohn's disease, so the free cat care helps a lot. Thom may have fallen for the little feline, but he's also intrigued by the attractive vet in the bi-pride bracelet. Dean Edwards went to Pride with his colors on his wrist, hoping to find community after his divorce. Instead, he's pulled into a cat rescue by an appealing man. Dean likes Thom's kindness to strays, his blue-gray eyes, his intelligence, and his perspective from decades as an out gay man. Maybe with Thom, Dean will finally feel able to explore his long-neglected attraction to men. They're not a perfect match. From Dean's cat-hating dog to Thom's chronic health issues and preferences in bed, going from a casual date to something more will be a challenge for both of them.
Love and Lint Rollers
Pairing: M-M
October 9, 2018
Word Count:
45645
Character Identities:
Gay
Summary: (Beginnings Book One) Animal Control Officer Derek Williams is a wolf shifter and not one inclined to long-lasting relationships. Not only does he take animal abuse personally, he has a temper and isn't afraid to show it. However, he changes his tune when the newest veterinarian starts working for the Animal Services Center. Recovering from an abusive relationship and hiding supernatural abilities of his own, Brian O'Donogue wants a fresh start and a new place to call home. Quickly dubbed the "animal shrink" by co-workers, Brian doesn't know what to make of Derek at first. Then he manages to confront Derek during one of his rages, and they both see each other in a new light. Eventually they take a chance on their feelings and the ensuing relationship is better than either of them could have hoped—until a rogue wolf shifter attacks Brian. The abrupt attack forces Derek and Brian to confront their secrets and whether their relationship can weather the storm heading their way. The rogue shifter is out there, and he's hunting them. BONUS STORY: Celtic Warrior and Wolf Spirit Derek and Brian are celebrating their first Christmas together, and Brian is determined to show Derek a Christmas like those he shared with his family back east. A wolf shifter, Derek has never celebrated a traditional Christmas before—his pack would usually shift on Yule and hunt down prey. But the unexpected appearance of Brian's abusive ex-boyfriend on Christmas Eve threatens not only Brian's holiday plans but his future with Derek. Second Edition with updated and revised text.
Psychic Moon
Pairing: M-M
April 6, 2021
Word Count:
36,140
Character Identities:
Gay
Summary: (Scrolls Book Four) After a year together, wolf shifter Derek Williams and vet Brian O'Donogue decide to marry. All Brian wants is to be legally part of Derek's family, after his own disowned him for being gay. As far as Derek is concerned, he already belongs to his mate, heart, body, and soul. But their plans are put on hold when Derek discovers an injured young shifter, Tommy, one night while running as a wolf. When they learn the truth behind Tommy's presence in Washington, they are quickly drawn into a war that has waged in the shadows for decades. Brian, Derek, and their allies must fight against the Knights and their leader, Arcas, to prevent them from attaining an ancient scroll, one piece of a weapon that can destroy all shifters. When worlds collide, no one will be spared. Second Edition with revised text.
Shifting Moon
Pairing: M-M
August 24, 2021
Word Count:
15898
Character Identities:
Gay
Summary: When Shawn rushes his daughter's pet to the local vet, he isn't expecting to meet the hottest guy in town. His shyness starts to trip him up, but thankfully his daughter is there to invite the man over for cookies. New in town, veterinarian Logan is excited to move out of the hotel and into his new house. He just needs to pick up the keys from his new neighbor before the snowstorm sets in. If only he could quit thinking about the sexy single dad that showed up in his clinic earlier. Can a precocious little girl, a lazy hamster, a dog named Bailey, and a snowstorm conspire to prove two men belong together?
Snowed In: Shawn and Logan
Pairing: M-M
February 23, 2019
Word Count: Information not available
Character Identities:
Bisexual, Pansexual
Summary: No space adventure is complete without a cat Abby prefers animals to people, which comes in handy since she's a vet working long hours at a cat rescue. She can't say no to a critter in need, so when she's offered a quick and well-paid job to look after a pregnant leopard, she accepts it. Problem is, she didn't read the small print... Sahra has travelled to Earth to find a healer who can help with the animals back on Kyven. But how do you persuade a human to leave their planet without revealing that you're an alien? It's time to twist the truth a little and abduct an unsuspecting vet. Throughout the journey, their ability to work together is tested. When a storm and a dangerous beast threatens their lives, can they make it out together? An out-of-this-world f/f romance with a cat-loving human woman and a determined alien female willing to do anything to find her mate. Part of the Aliens and Animals series. This is a standalone book with a happily-ever-after.
The Alien's Veterinarian
Pairing: F-F
November 10, 2021
Word Count:
40000
Character Identities:
Gay
Summary: Grady Summerville is facing a slow and agonizing death, but has come to terms with his disease and doesn't fear dying. However, fate has other ideas, presenting him with a future thanks to Max Steele. Grady owes his very life to Max, and as his health improves, finds himself falling head over heels with his savior. Max Steele has been forced to leave his pack and everyone he knows to move to the West Territory to be a blood donor for Grady. He knows it's the right thing to do, but it doesn't mean he has to like it. As tensions escalate between the two packs, Max finds his loyalty tested and is torn between following his alpha, or following his heart. If Max doesn't make the sacrifice then it will be Grady making the ultimate sacrifice and paying with his life.
The Ultimate Sacrifice
Pairing: M-M
April 28, 2022
Word Count:
111000
Character Identities:
Gay
Summary: Now a Free novel in ebook: For a hidden shifter, falling in love with a man may be the death of them both. Simon Conley knows about being an outcast. Born into a secret werewolf pack, he's the lone gay wolf, an outsider even among his packmates. The top wolves consider him a perversion, a failure, and a security risk. To survive in the human world, werewolves rely on absolute secrecy, and any breaches of their code are dealt with swiftly— and violently. So when Simon falls in love with Paul, a human man, even his Alpha's grudging tolerance won't protect him. He must keep Paul from discovering the truth about him and the secrets the pack jealously guards, or it's not just their love that'll end up dead. (re-released 2021 with light editing and the 1.15 short story included)
Unacceptable Risk
Pairing: M-M
October 14, 2011
Word Count:
100K
Character Identities:
Bisexual, Gay
Summary: I fled Boston and my cheating jerk of an ex with three hundred dollars and a lip gloss in my pocket. Waking up the next day in Burlington, Vermont, with a crick in my back and a frozen ass wasn't exactly in the plan. If there was one. Which there wasn't. Story of my life. Three hours later and I've been hired as temporary help in the local veterinary and grooming clinic, which is kind of impressive since I know zip about animals and even less about grooming. But one thing I do know—I'm crushing hard on the sexy, absent-minded vet I work for. My life is a hot mess. The last thing I need is another relationship. Emmett pushes all my buttons, but he isn't out. He's overwhelmed with a business to run and a son to look after and the kind of domestic life I never thought I wanted. I should walk away. But Emmett believes in me, and I might just be starting to believe in myself. As different as we are, is it possible we're exactly what the other needs?
Unguarded
Pairing: M-M
May 6, 2021
Word Count:
37000
Character Identities:
Gay
Summary:
He'll get by with a little help from his mate. When Paul's long-buried past reaches out for him, having Simon at his back should make all the difference. The shy, studious teen who ditched his hometown is now a grown man with a good life, an honorable profession, and a werewolf boyfriend. So why is still so hard to go home? A new 37,000 word novella in the same time frame as book 6 in the Hidden Wolves series brings challenges, pain, love, and their HEA for our favorite guys. Content warning for assisted suicide.
Unplanned Coda
Pairing: M-M
October 23, 2021
Word Count:
14000
Character Identities:
Gay
Summary: Trevor Carson's life changed the day his father died. After working as a small-animal vet in the big city, Trevor's now back in his remote hometown, trying to keep his dad's practice afloat while he figures out his next step. He expected he'd want to sell up and flee back to civilization as fast as possible, but the town is beginning to feel like where he belongs. Except every day he spends there is a day away from his partner Michael, back in the city. As Christmas approaches, with a much-anticipated visit from Mike, Trevor's going to have to decide what "home" really means. (This warm, established-couple holiday romance is a lightly-edited rerelease of the 2011 story. Content warning for veterinary-related pet loss. 14,000 words.)
Where the Heart Is
Pairing: M-M
December 2, 2021