Word Count:
47570
Character Identities:
Gay
Summary: Nigel wouldn't mind if Asher called him Daddy if the age-gap didn't bother him so much. Nigel Blackburn has lived a full like as a private investigator. His job means he travels solo a lot, which is something he enjoys. He's a grouchy, stubborn dragon shifter who is better off alone. The last thing he wants is a mate and certainly not one so young. It doesn't matter that he finds little bobcat shifter, Asher Burkhart, sexy. But all Nigel's dragon wants to do is protect, which is good because danger drives into town. A Little Unsteady (Wingspan #4) is a continuation of Solid Ground (Wingspan #3). For the best reading experience, read them in order.
A Little Unsteady (Wingspan 4)
Pairing: M-M
October 9, 2020
Word Count:
50,000
Character Identities:
Gay
Summary: Kink and wedding vows can't stop danger, but love gives a Dom and his sub courage to fight. After too much time apart from his lover and sub, Brian Harrison is thinking kink, a cowboy hat, and one more marriage proposal. When Jackie Vasquez finally says "yes" to a wedding, he also says, "why wait?" But their vows and the toasts to the happy couple have hardly faded when a phone call reminds them that trouble still awaits. Despite his best intentions, Brian broke the law in his efforts to stop a powerful criminal from harming those he loves. He could go to prison, or he could risk his life going undercover to help bring one of Europe's most nefarious citizens to justice. Friends and smart thinking can help him do the right thing. But only love can supply the courage he and Jackie need to prevail against schemes and guns and, if they're lucky, stay alive to enjoy a honeymoon.
A Shot of Courage
Pairing: M-M
July 30, 2020
Word Count:
48000
Character Identities:
Gay
Summary: Deep love, hot kink. Secrets call for a shot of trust when true danger lurks in LA's hidden places. __________ Brian Harrison wants to keep everyone safe -- especially his beloved sub, Jackie Vasquez -- and he's convinced the only way to do that is to dig ever deeper in a forbidden investigation. Keeping his activities secret from the State Department means keeping them from his own boss, Luki Vasquez, and keeping secrets from Luki means Jackie can't know either. Meanwhile, Jackie keeps his own secrets as his kind heart and indomitable spirit drive him to find and help a mysterious homeless woman, who may be connected to a kidnapping. Both men dance around dangers lurking in LA's hidden places. Love continues to grow, adventurous kink heats up, and a marriage proposal still hangs in the balance. Can a willing shot of trust keep them together and alive when secrets collide?
A Shot of Trust
Pairing: M-M
April 24, 2020
Word Count:
56000
Character Identities:
Lesbian
Summary: New Hopeland was built to be the centre of the technological age, but like everywhere else, it has its dark side. Assassins, drug dealers and crooked businessmen form a vital part of the city's make-up, and sometimes, the police are in too deep themselves to be effective. But hey, there are always other options … For P.I. Cassie Tam, business has been slow. So, when she's hired to investigate the death of a local VR addict named Eddie Redwood, she thinks it'll be easy money. All she has to do is prove to the deceased's sister Lori that the local P.D. were right to call it an accidental overdose. The more she digs though, the more things don't seem to sit right, and soon, Cassie finds herself knee deep in a murder investigation. But that's just the start of her problems. When the case forces Cassie to make contact with her drug dealing ex-girlfriend, Charlie Goldman, she's left with a whole lot of long buried personal issues to deal with. Then there's her client. Lori Redwood is a Tech Shifter, someone who uses a metal exoskeleton to roleplay as an animal. Cassie isn't one to judge, but the Tech Shifting community has always left her a bit nervous. That wouldn't be a problem if Lori wasn't fast becoming the first person that she's been genuinely attracted to since splitting with Charlie. Oh, and then there's the small matter of the police wanting her to back off the case. Easy money, huh? Yeah, right.
Honorable Mention: Rainbow Awards 2017 - Lesbian Sci-Fi Category
Addict
Pairing: F-F
May 8, 2017
Word Count:
105000
Character Identities:
Gay
Summary:
The Larkspur Mysteries Book 3
"Despite your adversities, Mr Blaze, you remain unbroken because of who you are, not what you can or cannot do."
Mrs Norwood, October 1890
Shakespeare, the Bible, Edgar Allan Poe… What could a series of random quotes have to do with a masked ball and eight unsolved murders? Archer, Lord Clearwater, is hosting a masquerade at Larkspur Hall, and Prince Albert Victor is the guest of honour. The vitally important event is miles away from London, where Jimmy Wright has enlisted the help of Dalston Blaze and Joe Tanner in solving two mysteries: Who has been sending Archer cryptic notes, and who has murdered eight men on Bodmin Moor? Dalston finds himself the only one who can solve both riddles, but self-doubt, his concerns for Joe, and his newly found admiration for Jimmy Wright are obstacles he must overcome if he is to prevent Lord Clearwater's downfall. But what if the killer isn't after His Lordship? What if the plan is to assassinate the prince? Or worse, someone much closer to Dalston's heart? Agents of the Truth is the third novel in
The Larkspur Mysteries
, and the stories are best read in order. The Larkspur Mysteries follow on from
The Clearwater Mysteries series
, and both feature gay main characters, and are set at a time when homosexuality was illegal. They are a combination of MM/romance, mystery and bromance, and are inspired by historical fact.
Agents of the Truth
Pairing: M-M
February 2, 2022
Word Count:
61725
Character Identities:
Bisexual, Gay
Summary: Just when Trevor accepts being bisexual, his life is turned upside down when he discovers he's a new dad. Two years after Peter lost his fiancée, he's convinced love isn't in his future. At least until sexy new father Trevor and his very opinionated infant son step into his life. As their relationship begins to blossom and grow, the baby's disapproving grandparents decide to intervene. Will Trevor and Peter have the strength to overcome the obstacles they face to have another chance with love?
Another Chance With Love
Pairing: M-M
July 31, 2020
Word Count:
83400
Character Identities:
Gay
Summary: Artists use all manner of materials to express their vision, to interpret the world around them, to affect the hearts and minds of their audience. But what if the artist himself were the medium? And what if artistic inspiration weren't the only force at work? If painter Stefan Cobbe and art investigator Luke Morganstern don't answer those questions fast, they stand to lose their reputations, their relationship — and their lives. **Omnibus edition contains both The Artist's Touch and Tested in Fire
Art Medium
Pairing: M-M
June 18, 2018
Word Count:
86500
Character Identities:
Gay
Summary: One of you, one of me… As a private investigator, I have a perfect record when it comes to closing cases…as long as you don't count the only one that ever really mattered to me. Even after a decade, the memory of the foster boy I once shared a room with continues to haunt my dreams. For five years, Riley helped me laugh when there was so little in our lives to laugh about. His gentle touch and stormy gray eyes were the only thing that could calm the swirling and turbulent thoughts and emotions within me. But in the blink of an eye, the safe harbor my best friend provided was ripped from my life without warning or reason. His unexplained disappearance set sail to a lonely and hopeless journey. Now, I am no more willing to let the memory of my best friend go than I am ready to give up the search for him, as hopeless as it may seem to those around me. And then a client asks me to locate a stolen treasure box. Clues have me heading from the city of Atlanta to a small, picturesque town in South Carolina called Reedsport. There, I hope to find the missing box; what I never expected was to find something else that I'd been missing for far too long. Could I have finally found a beacon of hope that would lead Riley Tanager back to me?
Back To You
Pairing: M-M
September 13, 2018
Word Count:
53660
Character Identities:
Gay
Summary: Kyle's best friend Marshall resurfaces and he's in a lot of trouble. Can the men at Kiss of Leather convince a former Dom to take on the mouthy sub? Master Derek and his new sub Corey have signed a contract and enjoy their first scene together. The love between them is strong and Derek is as protective of his boy as ever. The only thing left that would make their world perfect would be to bring Corey's ex-Dom and abuser to justice. The legal firm that represents Kiss of Leather is charged with hiring a private investigator to flush out the man who orchestrated Corey's gang rape. Stone Manning is hesitant to take the job, though. He was once wrongly accused in the death of a sub and swore never to enter a BDSM club again. But he owes attorney Glen Sharp his life after the lawyer got him acquitted. Their meeting is disrupted when Kyle's missing friend Marshall calls for help. Master Josh promises to help the mouthy Marshall get back on his feet under one condition—Marshall must sign a six month D/s contract as a full-time sub and prove he can fully submit to a man as well as learn to respect those around him. Stone Manning suddenly finds himself charged with taming the brattiest sub ever. In truth, the bigger the brat, the more his heart races with excitement. Marshall promises to be just the type of challenge to inspire Stone to be a Master again. As Stone learns more about him, he sees the pain that Marshall has always tried to numb with drugs and alcohol. Stone also sees a man he could love—if he can ever reach him. In the meantime, Stone and his investigative partner, Chuck, continue to search for Corey's attacker. The abusive Dom appears to have gone underground. But what they don't realize is that the closer they get to their prey, the more dangerous he becomes.
Bondage Rescue
Pairing: M-M
February 16, 2016
Word Count:
56000
Character Identities:
Bisexual
Summary: In a near-future United States where slavery is alive and controlled by an organization known as the Circle, Avery Tulano is up for sale yet again—and it might very well be his last time on the auction block. As a young man, he signed his life away in a contract willingly, driven by the desire to escape his life. Now, eight years later, he's broken, battered, and sick from a life of unspeakable horrors. When the bidding starts as low as $200, it may as well be a death warrant. Enter Conrad Fisher, a corrupt ex-cop discharged from the force who runs a failing private detective business. His wife died chasing one final high and he's been in a state of isolated depression ever since. He's only at the auction to help his journalist daughter Christina get a scoop on the Circle. When he sees Avery up for bid at such a low price, however, it's an offer he can't refuse and before he knows it, he's walking out of the auction house as Avery's new owner. It's a mistake. Slavery is wrong. Conrad can't afford to keep him anyway, no matter what strange connection they find in each other. But even if a real relationship was possible, a life of drugs, alcohol, and bad decisions is rapidly catching up with both of them—if the Circle doesn't kill them first.
Break The Chains
Pairing: M-M
March 27, 2019
Word Count:
40926
Character Identities:
Bisexual, Gay, Transgender
Summary: Nick Fabian never made it as a CSI. His idealistic vision of the police as an institution dedicated to serving justice died in the harsh light of day, and he quit to become a freelance private investigator, taking on cases nobody else wanted to touch. Enter Emily Bright, a woman with a score to settle. Her best friend Sabrina was murdered, but local law enforcement is dead-set on ruling it a suicide. Determined to get justice, she turns to Nick. Nick feels the pain of one of his own and takes on the mantle of finding Sabrina's killer.But Point Clear has skeletons in its closet. A married local school teacher, Connor Long, had an affair with the victim and isn't above threatening Nick to keep his secret safe. Local man Roy Constas took Sabrina home that night, but he swears nothing happened between them. Emily herself raises suspicions when she reveals she was in love with Sabrina, a sentiment that was not returned. If Nick wants to get to the truth, he'll have to cut through the small-town prejudice and lies surrounding Sabrina's death, but that's not easy when the entire system is determined to bury the case and chase Nick out of town...
Clear Motives
Pairing: M-M
November 13, 2020
Word Count:
40671
Character Identities:
Bisexual, Gay, Transgender
Summary: Nick Fabian has settled into life in the small Maine town of Point Clear with his boyfriend Roy Constas, but work in the P.I. business is slow. Struggling for money and a sense of purpose, he considers working at the local laundry with Emily, but the news that his old crush Lieutenant Scott Mordis has been murdered in Philadelphia ignites a deep yearning he'd been trying to snuff out. With their last parting a bitter one, Nick is conflicted about returning to Philly, but is driven by the force of his emotions to obtain justice for Scott. Roy insists on tagging along for the ride, refusing to be left behind. He's jealous of Nick's affection for his former mentor and boss, and the two men face their first major hurdle as a couple. Nick's journey will plunge him back into a cold case—that of Aiden Winters, the murder that drove a wedge between him and Scott in the first place—and he'll unearth connections between the two cases better left buried in the past…
Cold Winters
Pairing: M-M
June 30, 2021
Word Count:
60000
Character Identities:
Gay
Summary: Justin Warfield ran away to Italy to put the events of last summer and a certain dark-haired private eye behind him, to no avail. If anything, he can't help but rehash what happened over and over. When he finally returns to South Carolina, the hotel he runs with his brother has suffered a series of incidents that are starting to look less accidental after a death threat is received. Not satisfied that Moses Lee and his local police will find the culprit, Peter Warfield calls in the services of his good friend Marcus Drummond to help. Marcus is torn. He wants to help his friend, but he also knows that if Justin has moved on after their failed flirtation last summer, he will be devastated. Tensions mount as danger seems to follow them at every turn, stalking them as they get closer to solving the mystery of who is behind the sabotage of the hotel.
Crashing Waves
Pairing: M-M
July 12, 2017
Word Count:
65000
Character Identities:
Gay
Summary: It takes a hacker to catch a hacker. But that's just the day job. At night, this "reformed" hacker has set his sights on catching a certain PI with a love of cowboy boots and no-strings hook-ups. >On loan from Ward Security, IT specialist Quinn Lake must work with detective Shane Stephens on a high-profile case. While Quinn might look like the perfect nerdy cliché against Shane's sexy confidence, Quinn knows how to push all Shane's buttons in the bedroom. The real trick will be getting Shane to stick around for more than one night before the hacker can end their snooping…permanently. Dantès Unglued is a standalone, opposites attract MM romance with sneaking, spying, a meddling silver fox father, a nosy ex-boyfriend, sexy times in an office chair, and all the feels.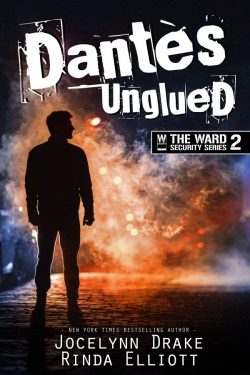 Dantes Unglued
Pairing: M-M
January 24, 2018
Word Count:
54750
Character Identities:
Gay
Summary: DOA becomes BRB when this client goes MIA… When I agreed to accompany my selkie boyfriend on a private boat trip, I didn't realize the invitation included a swim. In the Pacific. In November. Naked. And I certainly didn't expect to have our swim derailed the instant I got in the water—holy crap, that's c-c-cold—by a literal boatload of selkie clan leaders. Climbing out of the water in front of them—did I mention naked? Yeah, way to make a brilliant first impression. Then things get worse: I get served. Not in the metaphorical sense, either. Nope, I'm being sued. By Death. Well, not Death precisely, but an Ankou—a Celtic psychopomp who escorts the departed to their final destinations. This guy is miffed that his workload has increased exponentially, which he blames on my actions in Sheol on an earlier case. I'm not about to take the heat when eons of shady demon shenanigans finally come home to roost, but here at Quest Investigations, we aid any and all supernatural folk in need—especially if they'll drop their specious lawsuits against the agency's lone human. When the Ankou skips out on us, though, all hell breaks loose. Because without anyone to lead them on, the dearly departed become nearly departed and stick around to party hearty. Now it's not just the selkie leaders complicating my love life—it's the ex-living as well. And when one of the ex-living decides not to remain ex? Things get really complicated, not to mention deadly. Dammit. Death on Denial is the fourth in the Quest Investigations M/M mystery series, a spinoff of E.J. Russell's Mythmatched paranormal rom-com story world. It contains no on-page sex or violence, and although there is a romantic subplot, it is not a romance. The series is best read in order.
Death on Denial
Pairing: M-M
March 27, 2022
Word Count: Information not available
Character Identities:
Gay
Summary: Note: This edition of Delsyn's Blues is out of publication. It will soon be re-release in a new bundle, coming from Changeling Press. Watch for the new listing summer 2019. Sequel to Loving Luki Vasquez Vasquez & James: Book Two Sonny James and Luki Vasquez are living proof that the course of love never runs smoothly. Ambushed by grief, Sonny listens to a voice singing the blues from beyond the grave. While revisiting the sorrows and failings of his past, in the here and now he puts up a wall against love. Just when Luki chips through that barricade, the couple becomes the target of a new threat from outside: an escalating and unexplainable rash of break-ins and assaults. Thoughts of infidelity rise between them, a threat that may strain their newly mended love past its limits. To come through the trials alive and together, Luki and Sonny will have to unite against enemies who were once friends and overcome crippling hatred and overwhelming fear. If they succeed, maybe then they can rekindle the twin flames of passion and love. Cover Artist: Reese Dante
Delsyn's Blues
Pairing: M-M
February 2, 2012
Word Count:
769
Character Identities:
Bisexual, Gay
Summary:
In 2011 Delta Force Team Panther was the best of the best, a special forces team at the top of their game. When one of their team members was captured in Afghanistan. After the fallout from his rescue, the team was disbanded. Matt and Jonah were discharged from the army, Steele, Micah, Jason, and Grif were reassigned to other teams until they too resigned their commissions. Now five years later one of the team is missing, another is the target of a terrorist sniper.
Can the team put their differences aside to face a common enemy?
Delta Force - Team Panther Boxset
Pairing: M-M
October 17, 2018
Word Count:
81669
Character Identities:
Bisexual, Gay, Genderfluid, Questioning
Summary: Unearthing the past brings them closer together…and to danger. A maniac is on the loose in London, drugging young women and assaulting them before burying them in shallow graves. When Inspector John Cordiline asks Jake Chivis for his unique assistance as a Fire Elemental with the Cemetery Rapist case, he feels he can hardly refuse. What begins as a simple job—trying to get memories from a suspect to aid conviction—soon takes a darker turn when one of the victims dies and an offer of help comes from an unexpected and unwelcome source. Dr. Mari Gale is disturbed to find that his former lover Tomas Arregui is London and wants to meet with him. Despite his best efforts to avoid the man, fate seems to be pushing him onto a collision course with Tomas. And the impact will cast him into more trouble than he could ever have imagined. Digging deeper for the truth could be the death of them.
Digging Deeper
Pairing: M-M
August 28, 2018
Word Count:
51300
Character Identities:
Gay
Summary: Rene and his men are known as D.O.A., Dragons of Anarchy. They were created centuries ago, by the great Heck, to find and destroy serialists by any means necessary. Each member was gifted with a dragon that was connected to their soul. If one died, so did the other. The men didn't shift into the dragon, but they would call out and the maharishi would join them in the fight against evil. Not wanting their secret discovered, D.O.A. lived in a town called Drago, just outside Poconos Boulevard, and they hid behind their image as a bad ass motorcycle club Children were being murdered and Rene, otherwise known as Pit, along with his men were out to find out who was behind the copycat murders of a long time serial killer known as the Alphabet Killer. While questioning a victim's mother, Rene discovered his sentience, his mate. Now all he had to do was figure out how to tell the man he was not exactly human, and he better do it fast because his dragon heat was already kicking in. Bren was the local town veterinarian. He figured something was off about SI Rene Telkin. If not from the leather jacket with a large D.O.A. patch on the back, then maybe because he drove a navy Blue Harley Davidson CVO Street glider instead of a tan sedan. Bren was not the type to get mixed up with a biker club, even if the man was a cop. However, something kept drawing him to the sexy man and it seemed that nothing would break the bond they were forming. Not even when he discovered the secret all D.O.A. agents held. A large dragon for a partner. Now Rene needs to do his best to claim his mate and also track down a serial killer, because on the last body was a note threatening the good doctor of Poconos Boulevard.
Dragon Hearts
Pairing: M-M
July 1, 2017
Word Count:
57000
Character Identities:
Gay
Summary: As he approaches his fortieth birthday, Justin Warfield feels alone, drifting like the sand that blows along the beach near his family's hotel. He has done exactly as his father wanted. Married the right girl and carried on the family tradition of running the Warfield Hotel. On paper things seem perfect, but happiness hasn't been a part of his life for a very long time. Marcus Drummond once spent a summer with his best friend Peter at the Warfield Hotel and fell hard for Peter's much older brother. Five years later he's back, and this time hopes that Justin will see him as more than his kid brother's friend. Sparks fly when the two meet again, but there are a few things standing in their way. The closet that Justin has himself buried in and someone on a killing spree, dumping bodies on the Warfield beach . . . victims that indicate Justin may be involved in some way.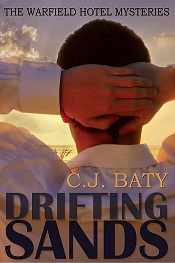 Drifting Sands
Pairing: M-M
July 12, 2017