Word Count:
71000
Character Identities:
Gay
Summary: Berlin 1933: When the parties stop...the dying begins The city that's been a beacon of liberation during the 1920s is about to become a city of deadly oppression. BBC foreign correspondent Simon Sampson risks his life in a bid to save thousands of gay men from the growing Nazi threat. This is the second in the Simon Sampson mystery series. The first, A Death in Bloomsbury, was hailed as 'a good old-fashioned John Buchan-esque mystery reworked for the twenty-first century'. Simon moves to Berlin where he meets British author Christopher Isherwood and his lover Heinz. He's also reunited with his banter-partner Florence Miles, better known to her friends as Bill. She's recruited him into the British intelligence services and he's got the task of hunting down communist spies. But when Simon is ordered to spy on an old college friend, his loyalties are brought into question. Who are his real enemies? And how much can he trust his masters?
A Death in Berlin
Pairing: M-M
September 28, 2022
Word Count:
50000
Character Identities:
Gay
Summary: Three stories of gay bears living their best lives, including: Rough Cut Football players can be gay, too. Chris Hodak, a former college football defensive lineman, never came out. He didn't think big, burly football players could be gay, but he also never got over his crush on Rohan Moore, a hunky teammate with whom he had a fumbling make out session one night after a game. Twenty years after that fateful night, Chris, who is now in his 40s, again meets Rohan, an out and proud big, gay hairy bear who owns a barber shop catering to bears. Rohan is still beautiful but isn't interested in Chris because he hates closet cases. For Chris that spark is still there, and it gets even stronger when he sits in Rohan's chair for a shave and a haircut. In order to get Rohan back, Chris must be braver and tougher than he ever was on any football field. Twinks in Bearland Can a twink fall in love with a bear and keep his friends? The friends of pretty blue-eyed Dustin Garber are about to find out he has a secret. He loves bears, big hairy gay men. None of them know it, but he's just booked them all into the annual Gay Bear Ski week. Craig, beautiful, black and Jewish, is initially indifferent to the fact that he is spending a week with big hairy men. He already has a hook up planned of his own, although that man turns out to have a bizarre secret. Patrick and Ethan, two bear-hating twinks who have been secretly in love with each other for years, take much longer to come around to the idea that bears can be good guys too. Dustin isn't so sure his friendship with them will survive the trip. And then Dustin meets Nate, a big blond bear who is forever single but ready for something a little different. Nate's friends, Casey and Ryland, are fighting about Ryland's porn career. Nate's friend Gil is busy with a Canadian couple, but together Dustin and Nate get lost on a backcountry trail. Deep in the snow away from everyone they may just find the love they've been seeking and the understanding they didn't know they needed. Spooky Ginger Love In one scary weekend, love can set a man free. Keith Norwood, a handsome African American gay bear, came to Camp You-Mee's Bears Haunted Halloween Boo-Nanza Extravaganza for some cheesy holiday thrills and a little ass. A fan of the one-night stand, he thought all he wanted was to get laid. The camp's cute assistant manager with a fantastic butt was Keith's first choice. Instead, he loses his way in the haunted woods. He finds his way and himself with the help of Ronnie Gans, a big, friendly, hairy redhead. But he's unlike any one-night stand Keith has ever had.
Bearland Tales Boxed Set Books 1-3
Pairing: M-M
June 5, 2020
Word Count:
64,000
Character Identities:
Gay
Summary: Konner was looking forward to learning more about his family heritage. What he found was his entire life was a lie. Even the worst mistakes can be forgiven. Konner O'Flattery, a passionate amateur genealogist, has finally gotten back the results of the DNA test he took. He's been waiting months to uncover what mysteries his DNA has locked inside. But his results aren't anything like he expected, and he unearths a secret buried since birth. His heart becomes shattered leaving no room for forgiveness. Now, Konner feels compelled to go on a journey to find the truth of who and what he truly is. Through the miracles of modern technology, Konner meets his distant cousin, Aaron Kirschenbaum. Turns out, he knows exactly who Aaron is, yet they've never met. Aaron makes the girls and boys alike swoon from his stunning good looks and velvety voice. Unfortunately, he's picked up a bad habit of abusing his status for his own personal gain. Konner's story pulls on the strings of Aaron's heart. So, he offers to help Konner, in any way he possibly can. Aaron finds Konner to be incredibly attractive, so the two men are swept up into an intense romance filled with sensuous heat and passion. Distant Cousins is Eric Huffbind's second published novel, a Contemporary Gay Male Romance. Take a journey with Konner as he finds heartbreak, intrigue, love, passion, and the importance of forgiveness. If you want to rekindle the euphoric high of falling in love, Distant Cousins is the book for you.
64,000 words / No cliff hanger / HEA
This book is intended for mature audiences
Don't wait! Buy the book today and begin your journey to "Happily Ever After."
Distant Cousins
Pairing: M-M
September 28, 2018
Word Count: Information not available
Character Identities: Information not available
Summary: Noah Rothenberg spent the perfect summer with his first love, the charming and seductive Spiro. He fell head over heels in love from what started as a clumsy crush. But that was twelve years ago. His relationships since have been spectacular failures because of how things ended with Spiro. If he has any hope of moving forward, he needs to find Spiro and get some closure … even if he has to fly halfway around the world to a tiny island in Greece to do it. Love isn't an emotion Spiro Papadopoulos entirely trusts anymore. He's far too pragmatic for that. His focus these days has to be on his art and caring for his ailing mother. Being with Noah again is easy and feels so right … but is it love? Spiro isn't sure. Besides, with his entire life being tied to Greece and Noah's to New York, love might just be a luxury neither of them can afford. Can Spiro and Noah overcome the oceans and years between them—or will their second chance at love end as badly as their first?
Far Away
May 1, 2020
Word Count:
79,810
Character Identities:
Gay
Summary: Tom Weber has always been gay, and while he might be short, he's the ultimate leather daddy who takes no guff from anyone. Jack Jackson is a big man who's never doubted he was straight. In fact, he loves women so much, he's married three of them. At different times, of course. However, in spite of their diverse sexual orientations, in spite of time and distance that has separated them over the years, the two men are best friends. Now, that friendship will be tested, as Tom, having become intrigued enough to want to try bottoming, makes a request of his friend, and Jack agrees to fulfill it. After Tom gets what he wants, will Jack let their relationship go back to being just friends? Or will the two decide to forge something new and go from friends to lovers?
Friends and Lovers
Pairing: M-M
November 25, 2017
Word Count:
62407
Character Identities:
Gay
Summary: The 'Scattered Thoughts and Rogue Words' blog said this about Love's Glory: "In a way, Love's Glory is Janice Jarrell's gift to her reader's and this couple who have been through so much angst and pain and have now mostly emerged through the other side, intact and ready to move forward to the next stage in their lives." Ms. Jarrell's newest offering, Glory Days, enhances this gift with fifteen short stories set in the Love's Glory universe. The tales begin while Colin and Joshua are still on their honeymoon in Ireland and conclude just before Colin begins law school. Story topics range from the achingly romantic and sexy ("Walking In The Rain") to the hilariously comical ("Conversations At The Cabin"). Colin and Joshua aren't the only stars in Ms. Jarrell's latest work. All six Revolutionary Heart men are featured. David and Nate get their own story ("Playing The Part") and Trent and Jeff also get a piece exclusive to them ("Trent's Triplets"). The love is enduring, the humor is at once warm and side-splittingly snarky, and the lovemaking is intense. You won't be sorry you followed the passionate and deeply devoted men of Revolutionary Heart on their newest journey in Glory Days. This book contains mature content including explicit sexual relations between gay couples. + 18 years of age
Glory Days
Pairing: M-M
January 17, 2020
Word Count:
72855
Character Identities:
Bisexual, Gay, Questioning
Summary: What's a straight guy to do when he falls for his new friend? Paramedic Connor Devlin is a stressed-out tower of a man. Hoping knitting will help him unwind, he visits a local craft shop, where he's overwhelmed by the yarn selection but more so by his feelings for shop owner Judah. Judah Bissel is tired of falling for unavailable men. He can't help his crush on Connor, though, or wanting to get closer to the big, gentle bear. And that just might spell trouble because pining for straight guys is not Judah's style. As a blizzard pummels the city, the men hunker down together to wait out the storm. When the spark between them ignites, will the revelation that Connor feels more than friendship for Judah bring them together or tear them apart? Hooked On You is a 72.8K friends-to-lovers MM novel. It features a stressed-out paramedic who's figuring out he's not quite straight, a yarn shop owner with a bad habit of falling for unavailable guys, lots of knitting and snowdrifts, and a sweet, happy-sigh HEA.
Hooked On You
Pairing: M-M
February 23, 2021
Word Count: Information not available
Character Identities:
Bisexual, Gay
Summary: Student-Artificer Elijah Saloman discovers what he thinks could be a lost masterwork of the greatest Artificer ever born. He is determined to make it work, even though he has no idea what it is or what it is supposed to do. But when everything that can go wrong does, Elijah finds himself caught in an interesting predicament—trapped within the machine, and at the mercy of the whimsical plaything of a long-dead Artificer with a taste for the exotic.
Infernal Machine
Pairing: M-M
August 7, 2020
Word Count:
11000
Character Identities:
Gay
Summary: Jacob and Marcus, an interracial interfaith couple, are fighting about everything: coming out, monogamy and marriage. Then one dark night, they encounter the Golem who has protected Jacob's family for generations. The giant but handsome man made of clay and dirt saves their lives, and his kiss just may save their relationship.
Kissing the Golem
Pairing: M-M, M-M-M
June 2, 2015
Word Count:
109000
Character Identities:
Bisexual, Lesbian
Summary: Six more stories of women meeting the women of their dreams, having sex, falling in love and having sex again. Each story is also available individually from Amazon. Each book can stand alone. These lesbian contemporary love stories include graphic sex and are intended for adults only. The Beauty Queen Called Twice All Lauren Golden wants is to be the best journalist ever. The gorgeous redhead with pale white skin and hazel eyes wants the story and nothing else.  When an editor tells her to interview the CEO of a successful cosmetics company, she quickly realizes she has met the woman, Charlenae White, before, but never forgot her long black hair, dark brown skin and beautiful smile. Charlenae wants to give Lauren a second chance for love. All Lauren has to do is believe her and, most importantly, believe in herself.  Skating on Air Gigi Darnell, a beautiful African American physician, has reached her early 40s with a fabulous job, a beautiful home and a bevy of nieces and nephews who love her, but her life is incomplete. She wants a special woman to love. Then she meets Lyndsey Falk, a much younger skateboarding instructor with pale white skin and eyes the color of amber. Gigi falls hard for Lyndsey, but she fears being cut off from her family if she makes it clear that, yes, she is a lesbian and not just the reliable spinster aunt, sister and daughter her family has come to expect. Lyndsey has an ex-girlfriend following her around who threatens to interfere. Together, Gigi and Lyndsey learn that skating on air and being in love will require them to be more honest with those around them than they have ever been before.  Someone Like Her Nera Booker and Squeak McFadden are beautiful African American women in their early thirties, but that's where the similarities end. Nera, college educated with an upbringing in a comfortable suburb, makes a good living in health care IT. Squeak, with several small businesses, grew up in a rough city neighborhood and has hustled for every dime she's ever made. They're madly attracted to each other from the start. Nera admires Squeak's entrepreneurial spirit. Squeak envies Nera's suburban childhood, but wonders if maybe this accomplished woman is out of her reach. Together they learn that it's not enough to accept differences. They must embrace them if their love is to flourish. Roll With Me Chloe is a former runner turned wheelchair racer with MS who just wants to fall in love. When she meets Rachel, a fellow runner with long hair and beautiful legs, they initially fall for each other, but Chloe is not a regular wheelchair user, and keeps her disability a secret. This secret tears their relationship apart. For them to be together, Chloe has to let Rachel run past her denial and roll even closer to her heart. Stop and Go Krista Sutter has taken herself out of the dating pool after a bad breakup and moved to Southeast Asia. The beautiful brunette wants to heal her heart and enjoy everything Laos has to offer. She expects nothing more than a few extra temple trips when Yancy Douglas, her childhood crush, comes to visit her. Yancy has never deprived herself when it comes to relationships, but she thinks she wants to get off the dating merry-go-round she's been on for a while. Visiting Krista, her best friend's kid sister in Laos, is just the break she needs. She didn't expect to find her irresistible. Nice Jewish Girls Susan Hay just wants to find a nice girl. Is that too much to ask? Susan thinks it is until she meets Ali Sams. Susan, a long-haired femme, falls hard and fast for the cute and sexy soft butch who looks strangely familiar. Ali falls just as fast, but Susan realizes that the familiarity she feels is linked to a painful childhood incident that sends her running away. Ali needs to get Susan to see her as more than who she was in the past, but Susan is not about to make that easy.
Lesbian Light Reads Volumes 7-12
Pairing: F-F
December 30, 2017
Word Count:
630005
Character Identities:
Gay
Summary:
In October of 2017 cocky, alpha-male Irishman, Colin Campbell, Sergeant in Charge of the Special Assault Unit of the University of Virginia Campus Police Force, dove in front of a bullet meant for a University of Virginia student. The bullet shattered his thigh and severed his femoral artery, a wound which nearly took Colin's life and left him temporarily disabled. His infirmities robbed him of the strength and athletic prowess which had been his for most of his life leaving him humiliated and bereft. When Colin was shot, his partner, Joshua Abrams, a Doctor of Psychology at the Rainier Clinic in Charlottesville, never once left his side. He poured every ounce of strength and love he possessed into healing the magical Irishman whom he adored and was overwhelmed with relief and gratitude when Colin was taken off the critical list. Thinking that they had survived their trial, he took Colin home, believing that their happiness was now assured. But like many injured police officers, Colin subsequently withdrew from his partner. Overwhelmed by feelings of shame and embarrassment, he devoted himself almost obsessively to the physical therapy with which he hoped to rebuild his strength and reclaim the life he had lost. Unable to share his pain and feelings of inadequacy, he shut Joshua out, leaving him to cope alone with the post-traumatic stress he suffered as a result of Colin's shooting. In the following months Colin and Joshua fought to keep their relationship alive. Although deeply in love, they felt powerless to cope with the after-effects of Colin's injuries both to his body and to his pride as a man, and to heal the emotionally devastating PTSD with which Joshua suffered. Love's Trials tells the story of this painful and challenging time in Colin and Joshua's life. As we join them now, Colin is still walking with a cane and still suffering the physical after effects of his injuries. But he and Joshua are both in therapy and are now dealing positively with the emotional and psychological damage they both endured. They face their future side by side, determined to stand or fall together, as soul mates and lovers. This book follows them on their journey as they move toward the happy future they both long to share. Love's Glory has moments of high tension and intense emotion, but you you can count on a happy ending. In fact, you can count on a happy read. In this book, Colin and his beloved Joshua have left their trials behind and now revel in Love's Glory.
Love's Glory
Pairing: M-M
June 29, 2019
Word Count:
74,890
Character Identities:
Gay
Summary:
Colin Campbell had been a champion all his life. Nothing had ever beaten him, not even a drug lord's bullet. And he approached law school the same way he approached everything in life, with cocky confidence fizzing through his veins like ginger ale. He had it all. He had the looks, the brains, the experience, the know-how and he also had the love of his life at his side. He couldn't be defeated. But he hadn't counted on the gravitas of law school, the reading, the preparation, the cases, the competition, the Socratic Method, the concepts, the grading curve, the expectations, the finals, memos, study groups, outlines... all of it piled and heaped upon those preparing for a career as an attorney until it wasn't surprising that some of them simply imploded under the weight of it all. Suddenly Colin was spinning out of control, scrambling to keep up, rarely ever seeing Joshua. His grades slumped as he tried desperately to balance the opposing forces in his life, but his only solution was stretching himself thinner and thinner, until he feared he'd be torn in two. Joshua pleaded with him to slow down, but Colin refused to lighten his load and the path before them grew darker and darker. They'd been through so much and survived. Would law school be the storm they could not weather? Would it do what a drug lord's bullet could not - hand Colin Campbell the bitter defeat he never believed he'd have to face? Or would the man he loved find a way to draw him back from the abyss.
Love's Lawyer
Pairing: M-M
May 1, 2020
Word Count:
82406
Character Identities:
Gay
Summary: Two unique couples, totally aware of each other's existence, are inexorably drawn together as chaos over campus assault erupts at the university which is the focus of their lives and work. Each man is affected differently, but for each it becomes the center of their world and the vortex around which their relationships spin out-of-control. David and Nate, professors at the university and a loving couple see their partnership torn asunder as Nate choose the path of activism after he is attacked becoming a leader in the 'End Assault' movement. David refuses to support his militant stance, fearing that consequences will destroy his career and Nate, feeling abandoned and betrayed, begins to doubt their relationship. Colin, an Irish Sergeant in the campus police force, is a legend on campus. A fierce protector of assault victims, he is merciless in pursuit of their assailants. Joshua is a Title IX consultant assigned to work with Colin to help resolve these difficult cases. Their relationship quickly becomes passionate but Colin clings to his independence fighting against the feelings which draw him to Joshua. Eventually, a dark secret from his past erupts into an explosive quarrel which ends their relationship and causes Joshua to flee, leaving Colin with no idea where he's gone or how to find him. It would take a miracle to resolve these issues and bring these men together. Or perhaps it would take Love's Magic.
Love's Magic
Pairing: M-M
May 10, 2018
Word Count:
795354
Character Identities:
Gay
Summary: After half a lifetime spent in short-term liaisons that allowed no intimacy, charismatic Irish police officer, Colin Campbell, found the love of his life. Dark-eyed, steady Joshua Abrams burned through Colin's emotional barriers and taught him to look at life through new eyes, eyes that made room for the love and closeness he had always denied himself. Deeply in love and completely happy, their life together remains idyllic and their fiery passion for each other seems limitless.
They survive the Charlottesville 'Unite the Right' riots, though not without scars. But later that month Colin's position with the campus police force places him in charge of an informant program designed to crack a dangerous drug ring. Fully aware of the risks, he swears to Joshua that he will oversee the program without becoming directly involved. But Colin's promise shatters when he becomes the only thing standing between a young Nigerian exchange student and a deadly drug lord.
Love's Trials
Pairing: M-M
October 12, 2018
Word Count:
25836
Character Identities:
Gay
Summary: Even after publishing Love's Magic I found myself unable to let go of Colin and Joshua. This dynamic couple insisted that they had more to say and they simply refused to be denied. I listened to their voices and the result was this collection of short stories which follow Colin and Joshua from the time Love's Magic begins through its emotional and dramatic climax. ​​​​​​​ Magic Spells is a novella of twelve short stories featuring charismatic, freedom-loving Irish police Sergeant, Colin Campbell and quiet, Jewish psychologist, Joshua Abrams. It is a smoking hot glimpse into Colin and Joshua's romance, following their story from the time they first meet to the time of Love's Magic's dramatic climax. In this book you get an intimate and deeply personal glimpse into the thoughts and feelings of two intensely passionate and single-mindedly devoted men. We watch them as their relationships grows, taking them from friendship to the ardent lovers they become by Love's Magic's end. I hope that the many readers who fell in love with this hot, sexy, amazing couple will appreciate having all their stories under one cover. The stories in this book contain mature content including explicit sexual relations between Colin and Joshua. + 18 years of age
Magic Spells
Pairing: M-M
March 17, 2019
Word Count: Information not available
Character Identities:
Gay
Summary: An acoustic music festival comes to Lacetown, and with it, another dead body—this one found at Fleishman's Funeral Home. Michael recuses himself from the autopsy, handing the job over to his arch-nemesis from a neighboring county. Luckily Michael and local hairstylist Jazz are closer than ever. Between a trio of funerals, a blowout BBQ, and a couple of trips on Beulah, Jazz's beloved scooter, Michael and Jazz do some sleuthing of their own. With the first gruesome murder still fresh in their memories, they can't help but wonder if notorious murderer and famous author Russell Withingham might be targeting them from jail, where he's awaiting trial. The festival, however, brings in a veritable lineup of potential killers, including a familiar—and most unwelcome—figure from their past. As the murderer circles ever closer to Jazz and Michael, Sheriff Musgrave is quick to remind them that everyone's a suspect until Sheriff Musgrave says they're not!
Murder Most Deserving
Pairing: M-M
March 17, 2020
Word Count:
89048
Character Identities:
Gay
Summary:
A killer at a small-town literary festival. Bumbling drug dealers. A kidnapped cat. Starting a romance among all this chaos might be the death of them.
Michael Fleishman is excited to meet his favorite mystery writer, Russell Withingham, at Lacetown's Literary Fest. He is not expecting to cross paths with sexy hairdresser Jasper "Jazz" Dilworth—or become embroiled in a real-life mystery. As Lacetown's only mortician and the county coroner, Michael is called to his first murder scene and is shocked to recognize the victim—Russell's young lover.
Jazz only wanted to confront his ex, Russell, over his cheating. Instead, he meets the adorably awkward Michael and becomes a murder suspect. Soon Jazz is teaming up with Michael to clear his name. Along the way, they are helped and hindered by Michael's sassy assistant, Kitty, the grumpy Sheriff Musgrave, Russell's creepy PR rep, Norbert, and Michael's lothario grandfather, who likes his manhattans strong and his women saucy. And of course, Mr. Pickles Furryton the Third….
Murder Most Lovely
Pairing: M-M
April 30, 2019
Word Count:
16000
Character Identities:
Lesbian
Summary: The past can cast a long shadow on a relationship. Susan Hay just wants to find a nice girl. Is that too much to ask? Susan thinks it is until she meets Ali Sams. To no one's surprise, Susan, a long-haired femme, falls hard and fast for the cute and sexy soft butch who looks strangely familiar. Ali falls just as fast, but Susan realizes that the familiarity she feels is linked to a painful childhood incident that sends her running away. Ali doesn't remember the incident, but that doesn't stop her from wanting to make things right. All Ali needs to do is get Susan to see her as more than who she was in the past, but Susan is not about to make that easy. Nice Jewish Girls is the twelfth book in the Lesbian Light Reads series, but each book stands alone. This lesbian contemporary love story includes graphic sex involving sex toys and is intended for adults only.
Nice Jewish Girls
Pairing: F-F
December 17, 2017
Word Count: Information not available
Character Identities:
Bisexual, Gay
Summary: Nate Kingsley is a master at messing up. Out of jealousy, he outed his best friend in a public and embarrassing way. Now he's doing his best to make up for his crimes, but it's left him empty and frustrated, unfulfilled even by his career as an opera singer and creative director. He enters an unsatisfying relationship he keeps hidden from his closest friends. When that ends on a disappointing note, he seeks solace in his crush on one of the drag queens performing at his favorite club. Izzy Kaplan is an EMT by day, a drag queen named TaTa Latke by night. He hasn't been in a relationship since his divorce from his wife, despite the best efforts of his mothers and his work partner. He avoids their suggestions in favor of attending the opera alone to see the gorgeous baritone who's caught his eye. He knows it's just a fantasy, but it's easier than starting over. A charity performance to benefit a local youth shelter and clinic puts them in each other's lives in an unexpected way. They begin to emerge from their relationship disasters, slowly building trust. But unknown to themselves or each other, they are facing separate health crises that might be enough to send them both running the opposite way. It will take drawing on the love and strength of their friends and families to bring them back together again. Notes from Boston is a series about four friends navigating the ups and downs of life, relationships, and their music careers in the historic city. Book Two follows Nate in the aftermath of Trevor Davidson's messy coming out as a bisexual Christian singer in Notes From Boston #1: Anthem.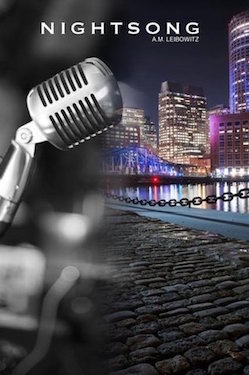 Nightsong
Pairing: M-M
May 1, 2017
Word Count:
95376
Character Identities:
Gay
Summary:
They'd been through it all and emerged victorious. Now they stood on the very brink of a whole new life bursting with possibilities and renewed hope for the future. Colin will take the bar exam and begin his promising career as an Assistant Commonwealth Attorney for the city of Charlottesville. Joshua receives his second Ph.D. and adds Forensic Psychologist to his list of achievements. What could possibly go wrong?
And then:
Three students are abducted from the University of Virginia campus. All three are recovered alive but have been sexually assaulted and brutally beaten. From his new position as Assistant Commonwealth Attorney, Colin partners with both campus and city police in a combined task force determined to solve these horrific crimes and put the perpetrator behind bars. But can they succeed before the 'campus abductor' strikes again? The abusive and volatile husband of one of Joshua's patients threatens his life. Suddenly Joshua is under siege as he is stalked both at work and at home by an unstable assailant. Entangled in both these life-threatening situations, Colin struggles to protect both the university he loves and the man he adores. But... "Oh god, Josh, my sweet love, if anything's happened to you..." his voice trailed off, unable to voice the unthinkable.
"NO! Joshua's mind shrieked. I can't give up! I won't give up! Colin will come! He'll come!"
Warning: This novel discusses sensitive material which may be distressing to some readers. Relevant Law explores themes of abduction, physical violence, and non-graphic sexual assault.
Relevant Law
Pairing: M-M
September 25, 2021