Word Count:
14000
Character Identities:
Gay
Summary: Espen Urso would rather stay inside and enjoy a nice, sweet cake than be out in the worst storm of the year. But there's a group of alpha shifters trespassing, and he needs to defend his territory and keep the people in his village safe. A group of wolf shifters he can scare off, but when he realizes they've hurt a defenseless little bird, he loses his patience. Arvid Rai is having a bad day. He's an omega on the run, with a group of alphas on his tail. If there hadn't been a storm, he could have easily flown away before the stupid wolves got their hands on him, or the angry bear noticed he was in his territory. But there is a storm, and the idiot who grabbed him broke his wing, so now he can't fly anywhere. Still, he deems it best to stay with the growly bear rather than having the other alphas fight over him. Espen has never believed in the myth of omegas, and it isn't until he takes Arvid in he realizes how much trouble he'll be in when shifters from near and far learn he has one in his home. Will he be able to keep Arvid safe from other shifters? Is it even possible to defend his territory with an omega in it?
Blown Away
Pairing: M-M
April 10, 2021
Word Count:
113000
Character Identities:
Bisexual, Gay
Summary: A twist of fate changed both their destinies. The wyrbears, once a long-lived species, were being lost to the forest in their prime. A people borne of a curse, their abilities not a gift but something wrongly taken, they nonetheless live in harmony with their animal spirits. But over time the curse they lived under changed, mutated, and now what once was a refuge from the world when they became too weary is culling mathan in their prime. Ewen mhic Friscalach, the leader of his peoples, lost his father too early and is now a widower with four children. The vow he made as a youth to break the curse afflicting wyrbears has been buried by grief and responsibility. Roi mhic Alric, a priest of Cerridwen and seer, watched his fellow priests slaughtered and his temple desecrated. The only thing that kept him going the last three horror-filled years was the vision Cerridwen had granted him of his emancipation. If freedom came at the cost of his life, well, he was more than ready for the Otherworld. A fated meeting upon a bloody field of battle. A wrong done long ago. Their choices could save a people… or send them into extinction. Either way, their love will be legend.
Caledonia Destiny
Pairing: M-M
July 9, 2018
Word Count:
57000
Character Identities:
Gay, Straight
Summary: Previously on Dragon War Chronicles, the first strike was made against their enemies, but the cost was heavy. Mourning their losses Danica still must prepare for dragons that will be coming to woo her. She already knows the dragon she wants to mate to, but will she convince Kollin that she's ready to commit? Of all the dragons going to Toulouse to meet Danica and see if they have a chance only one has a completely different agenda. He knows which dragon he wants and it isn't Danica. Will Xavier win the heart of Danica's brother? Anchin Luu, Danica's brother and manager of her Las Vegas casino, Dragon's Hoard, has spent his whole life alone due to his deadly nature. A broken experiment and retired assassin Anchin isn't sure what to make of the water dragon that has invaded his life. Love is in the air, but so is gunpowder. SLIPs going missing, Coyotes crashing parties, and a mating you'll never forget are all in store for you on the next exciting installment of Dragon War Chronicles. Attention: This book contains explicit sexual content between consenting dragons, depictions of relationships that are MF and MM with a dash of doublemint fun. Dragon War Chronicles is a continuous series. It is best read in order. SYN Consulting Secrets Revealed First Strike Dragon's Hoard
Dragon's Hoard
Pairing: M-F, M-M
September 26, 2019
Word Count:
58000
Character Identities:
Bisexual, Gay, Straight
Summary: Previously on Dragon War Chronicles, our heroes recovered and were preparing to take the fight to a still unknown enemy. Meanwhile, startling breeding experiments were revealed. Three sites are discovered in Russia that could hold all the answers they've been looking for. Three strike teams are assembled led by Xander, Kollin, and Tyler. Three simultaneous attacks are combined to make one devastating first strike against their hidden enemies. What horrors will they discover? What plans will be revealed? Why is a member of the Dragon Council showing up on Danica's doorstep with ultimatums? Find out in the next exciting installment of Dragon War Chronicles. Warning: This book contains explicit sexual contact between consenting adults. There are romantic, BDSM, and purely sexual relations shown that are MM and MF. There is also high sexual tension and alpha male posturing that will make you laugh and roll your eyes along with plenty of snark and definite teasing of dwarf-like dragons. Dragon War Chronicles is a continuous series. It is best read in order. SYN Consulting Secrets Revealed First Strike Dragon's Hoard
First Strike
Pairing: M-F, M-M
March 12, 2019
Word Count:
34000
Character Identities:
Bisexual, Lesbian, Questioning
Summary: Lucy found success as a writer, but now she's fighting to write any words at all. She's rented an old farmhouse to retreat and retrench. To keep her from trying to survive on a diet of Twinkies, her friend hires her a cook...and Lucy meets Rain. Rain is a bear shifter with a laid-back attitude towards life. She loves life, and food, and cooking. She also enjoyed casual sex with men...until finding herself unexpectedly pregnant. After giving birth to her child, nothing is casual anymore. She needs work, and cooking for a writer in a cabin surrounded by woods seems like the best chance to take care of herself and her cub. She never expected to get a mate out of the deal. But attraction blooms fast between Lucy and Rain. Can it work out between two women who previously thought they were straight? Or between a shifter and non-shifter, when Lucy learns the truth? Sweet (shifter) romance lesbian / bi – wlw romance ~34,000 words
Just Right
Pairing: F-F
January 28, 2021
Word Count:
49,620
Character Identities:
Bisexual, Gay
Summary: (Scrolls Book Six) Agent Poe loves being part of the Agency—an organization devoted to protecting shapeshifters—and he especially loves his mate of only a couple of months, Nordik, the nigh immortal master bear shifter. He has the best of both worlds—the man he loves and the job he loves. But when Nordik reveals he's ready to rejoin society and accompany Poe on his missions, Poe must take the next step and make them a full partnership. After the Agency intercepts a message from Arcas, the leader of the Knights of the Dawn—a cult bent on the annihilation of shifters—meant for his followers, their job gets a whole lot harder. The Knights don't bother keeping their activities hidden anymore, stretching the Agency's resources thinner than ever. After a near-fatal mission almost costs Poe his life, Nordik insists on a break for both of them. They visit Poe's family in Ireland and learn that true danger lies not without, but within. There's no greater betrayal than that of a loved one. Second Edition with revised text.
Kindred Truths
Pairing: M-M
September 21, 2021
Word Count:
88766
Character Identities:
Gay
Summary: Beta Donnell Ursus Arctos devotes his life to protecting his leader and defending every bear in his clan. Some call him overprotective, but Donnell prioritizes safety. When he's not working, Donnell has simple hobbies that others consider boring. Although Donnell is surrounded by family, wealth, and prestige, the bear shifter pines for Fate to pair him with the other half of his soul. For Joshua Brenton, little is going right. On the same day, Josh loses his job and his run-down apartment. But there is a bright light on the horizon—the annual retreat for mages. As an aqua mage, Josh has been disrespected since birth, but Fate has recently selected new leaders. After sweeping changes are made, Josh is randomly selected to prove his worth in the newly instituted mage testing. Josh is stunned when he meets the mage rulers and is invited to their home. Upon ringing the doorbell to the mansion, Josh meets Donnell, and they discover that they are mates. Although the pair are instantly drawn to each other, Josh learns he is more than a mage and must unravel a past he'd prefer to forget. It will be up to Josh and Donnell to chart a future while dealing with the surprises they encounter along the way.
Lockmage Legacy (D'Vaire, Book 24)
Pairing: M-M
July 29, 2021
Word Count:
54000
Character Identities:
Gay, Polyamorous
Summary: "Tell me of your homeworld…" "Nope. And that's the last time you watch that movie before bed, baby boy." Talos cut off Kikoi who pouted. "Fine. Then tell me about when Uncle Majid finally stopped being so grumpy and murdery all the time." Kikoi batted his thick eyelashes. "Okay, I can tell you all about that. Well, I don't think he'll ever stop being murdery as you put it." Talos settled into his customary story telling position. "Some would say that story begins well over two thousand years ago when I first met my best friend and powerful unicorn shadow. Some others would say it started a little over a thousand years ago when tragedy struck. But I think it starts when my eldest brother, the crazy half-giant vampire that he is, retired and went on a quest for redemption."  Kikoi draped himself across Talos as he closed his eyes. "Little did Majid and Odin know that Fate sent a tough, smart, wasn't going to take lip from them polar bear to cross their path when they needed it most…" Majid's best friend, Talos, has found his mate and finally recognized his lover of the past several hundred years as his other mate. The mate Majid had spent the last eleven hundred years trying to forgive was back in his life. Will Majid rescue one mate only to lose the other? Or will the fierce polar bear, Siku, give him a chance to redeem himself? Will Odin forgive himself for the actions that tore Majid from his life? And will the not so little bear find him to be a worthy mate? Or is he doomed to die on a quest for redemption? Will Siku find his place not only within the relationship his mates clearly already have but also the entirely different world that is city life? Or is he just fooling himself that he can get over the wall between him and his mates? Bloodlines of Fate is an urban fantasy series set in a world destroyed by humans and resurrected by supernatural beings. This book contains depictions of omega polar bears who will eat you in self-defense, sturdy hairbrushes that break naughty butts, timeouts for coloring and painting toes, and a family reunion for the history books. Majid is part two of a two-part story arch that tells the love story of two triads (MMM). It is necessary to read Talos to fully enjoy this book that does end in a HEA despite bickering chefs who try to burn the estate down. This is a type of omegaverse with mpreg.
Majid
Pairing: M-M-M
October 6, 2020
Word Count: Information not available
Character Identities:
Gay
Summary: (Beginnings Book Six) Just days after the Agency raided the headquarters of the Knights, an organization that killed, tortured, and experimented on shifters, Chief Anu sends Agent Poe on assignment: find Nordik, the powerful master bear shifter who guards Sanctuary, and offer alliance. Agent Poe already has his hands full with shifters who need help and a kidnapped agent who needs rescue. Poe has never failed a mission, but he finds members of the Knights inside Sanctuary, raising suspicions about Chief Anu. If that wasn't enough, Poe's goals change again when he discovers his attraction to Nordik is one he might not be able to resist. He becomes torn between his duty to the Agency and his need for Nordik as a mate. For his part, Nordik has no intention of letting Poe slip through his fingers. As Nordik and Poe battle wills, a new dawn is on the horizon, not only for them but for shifters, the Agency, and the world itself. Second Edition with updated and revised text.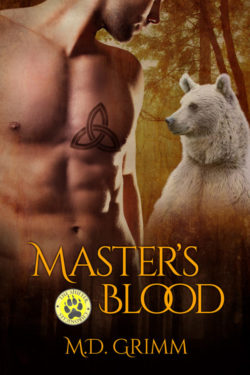 Master's Blood
Pairing: M-M
June 22, 2021
Word Count:
4800
Character Identities:
Non Binary, Polyamorous, Transgender
Summary: Tahl promised Enfys ice bears for Midwinter, but ey neglected to tell him that ey and eir kin were the ice bears. ___________________________ Written for the Rainbow Advent Calendar 2018
Midwinter Bears
Pairing: M-NB
December 22, 2018
Word Count:
55000
Character Identities:
Gay
Summary:
Jacob is a wolf shifter and a country boy, the alpha of a hardscrabble pack barely making ends meet.  He loves his home and family dearly, but times are tough.  It's a lot of responsibility to carry.
The newcomer to town, a handsome, shy bear shifter, has caught his attention in a big way.  Jacob has no problem with being gay.  He just wishes he could get Henry to talk to him for more than a couple of seconds at a time.  And maybe marry him tomorrow.  Henry's annoyingly hot friend keeps getting in the way, though...
Henry is a sweet, gentle baker who has problems of his own.  He isn't sure he'll ever be ready to commit to a mate, but he's definitely drawn to Jacob.  He daydreams about him, bakes for him, looks forward to his every visit...but wolves don't do casual, and Henry can barely make plans past next week, much less for his whole future.
Fox shifter Atticus, Henry's dearest friend, has complicated feelings of his own.  He loves Henry devotedly, even if his feelings will never be returned.  This new, prickling tension between him and the wolf shifter is no fun.  Does he have to keep feeling things for guys who will never be interested?  Besides, he plans to stay single for life.
Can Jacob, Henry, and Atticus each figure out what they want out of life—and what, if anything, they'll be to each other?
low heat
~55,000 words
a baking bears story
Of Bread and Boyfriends
Pairing: M-M-M
March 6, 2020
Word Count:
53000
Character Identities:
Bisexual, Gay, Polyamorous, Straight
Summary: Previously on Dragon War Chronicles, we left our heroes fighting for their lives in the midst of battle... Kollin races against time to get samples of the weapon used in Canada to their lab in Oslo. Kenshin races to get Danica back home in time to save her, Aiden and Xander. Danica's allies converge in Toulouse to prepare for what may come. Will Kollin be able to help save Danica, Aiden, and Xander before all is lost? Will Matt be able to track down who's responsible for a new weapon that threatens them all? What will happen when Danica's biggest secret is revealed? Secrets are revealed that will change the future for all dragon and SLIP kind alike. Warning: This book contains explicit sexual situations that are MM, MF, and MMMF. There are romantic relationships displayed that are MM and some depictions of loving and consensual BDSM relationships. There are also bad puns, a game of tag with an invisible dragon, and lions, jaguars, and bears. Oh my! Dragon War Chronicles is a continuous series. It is best read in order. SYN Consulting Secrets Revealed First Strike Dragon's Hoard (Coming Fall 2019)
Secrets Revealed
Pairing: M-F, M-M, 4+ or Other
November 2, 2018
Word Count:
110,775
Character Identities:
Gay
Summary: The Blackwood Pack saga continues… This is part of an on-going series by Amazon Bestselling Author, Mary Rundle, and catching up on previous titles is advised. Readers of the past books will enjoy meeting old friends once more as the pack does what it does best ̶ caring for one another and helping shifters everywhere. Brian, a.k.a. "The Loch Ness Monster" has searched for his Fated Mate in vain for more than 600 years until he scents Reif in the frigid waters of the lake. But his mate seems to be purposely eluding him, so Brian turns to the Shaman of the Blackwood Pack to help find him. Reif, one of a line of ancient shifters thought to be extinct is drawn to Brian but must focus on completing a mission to free his enslaved people from the clutches of an evil group. Despite his powerful attraction to Brian, he hides from him, believing it's the only choice he has. That changes when Reif surreptitiously kisses Brian while he's sleeping, setting off a chain of events that puts both of them in mortal danger, and the powerful Blackwood pack resolves to help them stave off the wrath of vampires and witches. Along the way, both Brian and Reif learn some hard lessons about the mutual trust necessary to achieve the happiness and fulfillment both have sought for hundreds of years. A heartbreaking confession, an action-packed rescue, a riveting courtroom battle and many unexpected twists and turns make this passionate love story by Mary Rundle impossible to put down once you've read the first page. Multiple POV, M/M, Shifters, Fated Mates, MPREG, HEA
Serpent's Teardrop
Pairing: M-M
May 29, 2019
Word Count:
82000
Character Identities:
Gay, Pansexual
Summary: Does a bear shift in the woods? Well, partially. That was what got grizzly shifter Ted Farnsworth into trouble. He wasn't trying to break the Secrecy Pact. He just wants people to see the real him. So he signs up with the mate-matching service Supernatural Selection — which guarantees marriage to a perfect partner. Not only will Ted never be lonely again, but once his new beaver shifter husband arrives, they'll build Ted's dream wilderness retreat together. Win-win. Quentin Bertrand-Harrington, scion of an incubus dynasty, has abstained from sex since nearly killing his last lover. When his family declares it's time for him to marry, Quentin decides the only way not to murder his partner is to pick someone who's already dead. Supernatural Selection finds him the ideal vampire, and Quentin signs the marriage agreement sight unseen. But a mix-up at Supernatural Selection contracts Quentin with Ted. What's Ted supposed to do with an art historian who knows more about salad forks than screwdrivers? And how can Quentin resist Ted's mouthwatering life force? Yet as they work together to untangle their inconvenient union, they begin to wonder if their unexpected match might be perfect after all.
Single White Incubus
Pairing: M-M
October 22, 2018
Word Count:
99000
Character Identities:
Bisexual, Pansexual, Polyamorous
Summary: All three titles in the first "Black Mountain Bears" trilogy are now available in one volume, PLUS a bonus epilogue. Gaia save the Queen… Emma Stonetree's father is missing. Worse yet, her uncle's gone too, leaving her and her two cousins, Jasper and Jade, floundering for an explanation. All Emma can think of are their fathers' stories—tall tales of magic, mystery, and a whole host of shifter races. Stories she might not have believed, if not for her own research into the matter—research that hardly prepares her for the trials of magic she and her cousins will endure as they set off that Midwinter's night to discover their roots. Nor does it prepare the three for what they find on the other side of the mystical portal their fathers disappeared into: the ursa, a fertility-focused race of bear shifters, with customs that defy their human sensibilities. Except the trio swiftly learn they aren't really human either, and once inside the ursa Sanctuary, they are just as bound by ursa laws as the earth is bound by the seasons. Emma and her cousins must make a choice: accept their legacies as ursa royalty, accept the love they find inside the sanctuary, or reject their passions and retreat to their safe, mundane lives, never to return to the realm they were meant to inherit. Publisher's Note: The "Black Mountain Bears" series is a parallel story to the "Sleeping Dragons" series by Ophelia Bell. You can read them independently, but the story will be enriched by reading them both.
Stonetree Trilogy
Pairing: M-M-F, 4+ or Other
August 29, 2016
Word Count:
65000
Character Identities:
Bisexual, Gay, Polyamorous, Straight
Summary: Continue to hide or help save the very kin she's hidden from? Welcome to SYN Consulting, the top business strategy consulting firm in Europe, home to a motley crew whose leader has a life changing secret. CEO, Danica Lestrange, is the first female dragon born in the last 800 years. Hidden from the rest of her kin and raised in the human world, she built a life that she would defend until her death. A devious plan is unearthed while working on a new business deal that could plunge the dragons into another war with the humans. The humans may have forgotten the last dragon-human war, but the dragons have not. Will the war reveal this hidden world to the humans, or will the clans come together to defeat their enemies and maintain their anonymity? Danica must gather her allies and help the very dragons she's hidden from her whole life. She can only hope that she'll be strong enough to protect her chosen family. This is the first book in a new series about dragons who want nothing more than to live in peace, but refuse to be subjugated. In war there's also love, and love is blind. Love doesn't care about gender, race, species (in this case), or sexuality. Warning: This book contains explicit sexual content between consenting adults. The sexual scenes are MM, MF, and MMF. There are romantic relationships depicted that are MM. There is also a high level of explicit language, snark, kink, and possibly bad puns and fart jokes. This book does end in a cliffhanger. Dragon War Chronicles is a continuous series. It is best read in order. SYN Consulting Secrets Revealed First Strike Dragon's Hoard
SYN Consulting
Pairing: M-F, M-M, M-M-F
August 17, 2018
Word Count:
32000
Character Identities:
Gay
Summary: Two omegas struggle with infertility, which leads to an alpha roommate who will rock their world. Sam and Charlie Dunlap have been mated for years. They both have secure jobs and live in Valleywood, the city where dreams come true. The only problem is their dream of starting a family has crashed and burned. They exhausted their meager savings with fertility treatments and are out of options. And then a sexy alpha bear shifter rents a room from them. Between him smelling like their mate and their new renter not wanting anything but a job, preferably in acting, things get complicated.
The Alpha's Role: A Paranormal Romance (Valleywood Series Book #7)
Pairing: M-M-M
September 22, 2021
Word Count:
12800
Character Identities:
Gay, Pansexual
Summary: York Winter and his packmates are attacked by a rivaling werewolf pack at a lumberyard. Injured and exhausted, York runs into a part of town he's not familiar with, and when the enemy is closing in, he takes his chances and escapes into a bear-owned bakery. Torbjorn Holt doesn't do people, and he doesn't do wolves no matter what the pull in his heart is trying to tell him. He's learned his lesson and will not have wolves in the bakery, and he'll definitely not mate one. Luckily, York isn't too badly injured, so Torbjorn doesn't feel bad about kicking him out into the rain. York can't believe what's happening. He's finally found his mate, but Torbjorn refuses to let him stay. Torbjorn will never trust a wolf again, and if York doesn't leave soon, he'll knock him out with a rolling pin and dump him in the alley. York has to make Torbjorn understand he means him no harm, but how will he do that when Torbjorn refuses to talk to him?
The Cake Shop
Pairing: M-M
April 9, 2022
Word Count: Information not available
Character Identities:
Gay
Summary: He can hold lightning in his hand, but will love slip through his fingers? Jude Sullivan has one more chance to prove he isn't a danger to the paranormal community. If he fails, he'll be stripped of his magic, a painful process to make a witch human. As a test, the Coven sends him to Mercy South, Colorado, to stop a creature that's been mutilating cows and scaring the locals. Jude hates cows and small towns. The Coven should've sent a nature witch. Rob Mackenzie is the local mechanic and bear shifter. If the locals knew his secret, they'd run him out of town. He wants someone to really know him and not be afraid. With several chewed-up cows and some other weird happenings, he's wondering if he's no longer the strangest creature in Mercy. After meeting Mack, Jude thinks he's found the cause of the trouble. But the trouble is only just getting started when Mack realizes he's Jude's fated mate. As the cow-mutilating creature starts hunting in town, Mack and Jude will have to quit fighting their attraction and each other, to stop the creature from killing again. For readers who love fated mates, bear shifters and small town gay romance.
The Witch's Familiar
Pairing: M-M
April 28, 2020
Word Count:
104780
Character Identities:
Gay
Summary: Joining the Council of Sorcery and Shifters was a simple decision for the ruler of the brown bears. Two centuries later, Artair Ursus Arctos is a successful leader with a loving family, and the only thing he wants is his mate. Artair is fascinated by magic and secretly hopes to find forever with a sorcerer. As a child, Lochlan Airle had privilege and wealth but lacked any control. He walked away from his prominent family at eighteen, only to get fired from countless jobs. Behind the scenes, his mother uses all her connections to break his spirit, but she will not deter him. After finally landing a job at the Circle of Mages, a matebond is the last thing on his mind. Twenty-six-year-old Riker McKenna has a hard-earned doctorate and enough magic to guarantee immortality. Although his brother's decision to stay with their wastrel parents broke his heart, Riker is determined to make the most of everything. When he qualifies for employment at the Circle of Mages, he does not know it will lead him to his mates. Within a week, the three men meet and must confront the poor odds of triple matebonds in the Council. To reach the affinity they desire, they will have to rapidly adjust to each other and all the surprises life has in store.
Triple Affinity (D'Vaire, Book 23)
Pairing: M-M-M
June 10, 2021