Word Count:
124,200
Character Identities:
Gay
Summary: For Wall McCormack, actions speak louder than words. He's giving and protective, loyal to his friends, and devoted to his job. While confident and powerful enough to conquer any challenge, his greatest strength lies in his calm nature. Until an unexpected assignment sends his world into a loud and colorful chaos he never could have anticipated. Rejection. It's something Dylan Vaughn has known his entire life. But he's a tough nut to crack and refuses to break. Armed with a sharp tongue and brutal honesty, he pushes through life and at anyone who attempts to take him on. Except for the quiet guardian who piques his interest and dares him to want…more. When Dylan's past comes back with a vengeance and jeopardizes their growing connection, Wall will stop at nothing to protect the younger man and remain by his side. But convincing Dylan that someone accepts the real man behind the cocky facade might prove to be Wall's greatest challenge yet. With his freedom on the line, Dylan must trust the strength of their bond and confront the forces threatening their future. Only then will he realize the dream of acceptance is real and finally have a place to call home.
A Chosen Man
Pairing: M-M
September 26, 2018
Word Count:
12079
Character Identities:
Gay
Summary: Guard your heart, or Jack Frost will freeze it. Jack Frost is all about the freezing cold, and he not only wants to freeze the earth, but he also wants to freeze people's hearts. When he sees two lovers kissing under the mistletoe, he vows to split them up. Teddy and his husband, Kirk, are still in love. Will they let a little frost come between them?
A Frostbite Christmas
Pairing: M-M
December 9, 2018
Word Count:
21000
Character Identities:
Gay
Summary: Ethan Carson can't bring his father back, but he can give his widowed mom a perfect Christmas. He's spent all his savings on her wish list and found an epic tree. But when he starts to decorate with the family heirlooms, he finds her favorite ornament, the one his father bought on their honeymoon, is broken. The last time glassblower, Nico Kazan celebrated Christmas his boyfriend died. He woke up in the hospital alone and guilt-ridden. When Ethan, the object of his secret crush, asks him to recreate a broken Murano ball, the last thing he wants is to recreate a symbol of love—not when he knows love doesn't last. With Christmas orders coming in, only Ethan can convince Nico there's more to life than money. And only the magic of Christmas can open a heart sealed up tight. It'll take more than skill to recreate the Murano ball. It'll take a Christmas miracle.
A Hundred Promises of Love
Pairing: M-M
December 8, 2017
Word Count:
20000
Character Identities:
Gay, Straight
Summary: Peter Warfield wanted a Christmas like none before. A celebration of putting the past behind them. Leaving Bradley Warfield and Moses Lee buried in the past. A new tradition of love and happiness for future generations. But, no one was cooperating. You are invited to celebrate the holidays with Peter, Sally and their daughter, Lily, at the Warfield Manor. There's no murder to solve or a criminal to catch, but there are secrets to be revealed. Justin Warfield and Marcus Drummond are speaking or telling anyone else what is going on. Damien Fitzgerald and Robert Wyler have been out of the country but is that really the truth. Sally's been trying to tell Peter something important for weeks but he's so wrapped up in Christmas, she can't get through to him. Catch up with the rest of the Warfield extended family: Richard Brooks, Daisy Lee and their son Alexander, Krystal Smith, Winnie, Michaels and all the rest. One thing's for sure, it will be a Christmas the Warfield's will never forget.
A Warfield Christmas
Pairing: M-F, M-M
December 7, 2017
Word Count:
76000
Character Identities:
Gay
Summary: For Andrew Tuttleman, sex is a means to an end. With a mother too sick to pay the bills on her own and college bills to pay, Drew has spent years resorting to sex with strangers to keep a roof over his mother's head and keep himself at school, far away from the hell where he grew up. This summer, his usual tricks are still paying the bills. But there's a new one, Grant, who never got the memo that a trick is a no-strings deal. Convinced that Drew is the answer to a hopeless prayer, Grant seems ready to pursue Drew to the ends of the earth. Drew, on the other hand, isn't so convinced. Grant comes with trouble in the form of a wife and three kids, not to mention a single and unwavering requirement: that Drew give up his livelihood. Grant's kiss makes Drew ache for more, a romance that he never dreamed possible. He finds himself unexpectedly willing to try. Can Drew weather Grant's angry father, wife, and a daughter determined to kick him in the shins so hard that he'll leave Grant's life forever? It all relies on Grant's faith in an impossible prayer.
Andrew's Prayer
Pairing: M-M
September 27, 2017
Word Count:
61725
Character Identities:
Bisexual, Gay
Summary: Just when Trevor accepts being bisexual, his life is turned upside down when he discovers he's a new dad. Two years after Peter lost his fiancée, he's convinced love isn't in his future. At least until sexy new father Trevor and his very opinionated infant son step into his life. As their relationship begins to blossom and grow, the baby's disapproving grandparents decide to intervene. Will Trevor and Peter have the strength to overcome the obstacles they face to have another chance with love?
Another Chance With Love
Pairing: M-M
July 31, 2020
Word Count:
96278
Character Identities:
Bisexual, Demisexual, Gay
Summary: Detective George Donavon doesn't plan to stay in Charleston long. Skeptical and by-the-book, he's on the fast track to the top, and he won't let anything derail his career. Especially not Andrew Hayes, his grumpy, awkward new partner—and not the chief's secret order to find out how said partner solves even the most difficult cases. George and Andi can't agree on anything except their mutual dislike, but when three dead girls turn up at a storage unit, they must put their differences aside before the suspected trafficking ring claims another victim. There is no crime without witnesses. Andi knows George suspects his always-right "hunches" point to corruption, but he doesn't care. All that matters is catching a killer… and keeping his secret. But with leads on this sprawling conspiracy drying up, he has no choice. He just can't let his partner find out how he's getting the information. Andi's on the verge of losing his life, his mind, and his career. He could take George down with him…. If the violent criminals who are always one step ahead don't get to them first.
Arthropoda
Pairing: M-M
March 2, 2021
Word Count:
25000
Character Identities:
Gay
Summary: From the outside looking in, John leads a boring life by day as a professor at a small liberal arts school in San Francisco. His nights are saucy, sinful even, when he services clients as a sex worker. He's damned good at it, too, for reasons far surpassing simple technique, whether he's entertaining super-hunky coeds or fulfilling the fantasies of married men on the down-low. Because John has a secret. It's not that he's thirty-five and feeling washed-up or that he's got a crush on one of his clients. His secret could be he's buried his rural, Southern roots, or that Paul, his first lover and preacher from back home, still preoccupies his thoughts. Maybe it's the terrors he faced in conversion therapy as a teenager…but it's none of those things. John's secret is the Fountain, a mysterious well of energy within him he cannot control. Paul knows about the Fountain. So do John's parents. Despite their best efforts to protect their dogma, it will all come out now that Paul has called John home to Georgia. To Bethesda.
Bethesda
Pairing: M-M
November 5, 2019
Word Count:
24000
Character Identities:
Gay, Transgender
Summary: I was a runner, I'd disappear for days and come back to work like nothing happened. As a Gargoyle, I liked to stay in the shadows. I was used to the stares and snickers. I knew I wasn't sought after like the rest of Bloody Knuckles Crew. Claws and wings, fangs, yeah, I wasn't pretty, but I was nice, or at least I thought so. But I played the game, and no one needed to know what I did on my time away from the bar and community of trailers we lived in. No one needed to know about her. She treated me like I was normal, but friends was all she'd offer and I could deal…maybe.
Clipping the Gargoyle's Wings
Pairing: M-F
November 15, 2018
Word Count:
53000
Character Identities:
Lesbian
Summary: A family forged in battle. Amora Medina-Jackyl knew one thing well—vengeance. She'd inflicted pain without mercy to those who deserved the punishment. She'd lived by one motto her entire existence-- family was to be protected above all else. An ancient cult murdered her parents and siblings when she was little more than a child. The Order of Angelus hadn't understood the Hell they'd brought down on themselves that one brutal night. Amora was many things in her four centuries. A daughter and a sister, a mother, yet she was best known as a killer. When she finally meets her end, Amora will have hundreds, maybe thousands of lives to answer for. Her only wish is to find one moment of peace. She denies her need as much as she fights to protect it. When the one woman who can bring her serenity comes into her life: can Amora destroy century old walls to let her in? Lies and conspiracies tear at the fabric of sanity—of what's right. Can truths come to light that change the reality of a family who's known only the taste of revenge and loss?
Club Revenge
Pairing: F-F
May 12, 2016
Word Count:
51700
Character Identities:
Gay
Summary: The Legend of the Ghost Train continues: 1930's Harlan County Kentucky Boone Douglas and Tucker Winchester are from different worlds, both knew that being homosexual could be a death sentence in this backwoods hell. Their love blossomed in spite of everything. Two men find love, during a difficult time for the Appalachian states, where many lived in poverty. They struggled, working long days in coal mines for pennies. There were also hostilities between mining companies and the unions who wanted to rally the mine workers. There's a reason it's called Bloody Harlan County. A greedy man, a cave full of miners, and two lovers suffered the worst fate imaginable. Present Craig Waterson, a descendant of Tucker, fell down an abandoned air shift leading to a caved in mine. He dreamed or walked through the past seeing Boone and Tucker fall in love, then lose everything. When he awoke, he discovered that Tucker's ghost had followed him to the present with a request. Craig, Tucker, and Doug Harper, Boone's great nephew, work together to recover the remains of the miners who were killed in the Copperhead Mining Accident. Many secrets have to be uncovered before Boone and Tucker can find peace or Craig and Doug can find their own happily ever after.
Coal Dust
SALE
Pairing: M-M
October 27, 2020
Word Count:
30331
Character Identities:
Bisexual, Gay
Summary: Phillip Hapner was smart and good looking. He just had one problem. He liked to gamble, trouble was he wasn't very good at it. Now, he was trying to stay alive and convince the leader of the underground gambling syndicate, that he didn't know who was in charge. Well, he did have one other problem, Malachi Brady. The cop who was protecting him. Phillip wanted him, even though he knew the man was straight. Malachi Brady had accepted that his brother was gay. He believed everyone was intitled to love whom they wanted. He knew he wasn't gay, but he was feeling things for Phillip Hapner he'd never felt before. When he was assigned to protect Phillip, the sexual tension between them exploded. Could he figure out what was going on in his head and his body and who was behind the gambling syndicate in Atlanta. The people who worked at the Knights Club are a family. And like any family, there are times when things just don't go right.
Coming Out
Pairing: M-M
December 18, 2018
Word Count: Information not available
Character Identities:
Gay
Summary: Welcome to Brawlers Bar… A quick pit stop for a comfortable bed to sleep turned into an eight-year stay. Vincent "Crave" Butler hit the road the day after college graduation and hadn't looked behind him since. He'd swore to never stop moving, but the night he drove into Powers, Georgia changed the course of his life. He'd hit a bar called Brawlers with its rundown exterior and pride flag beside the door, the next day he had a job. Second in command to the Head of Brawler security, Crave found the place he didn't have to run from. No one would call Crave sane. He lived to make people as uncomfortable as possible just for his own twisted amusement. That all changed when a certain cute as fuck bartender walked in for an interview. No one wanted Twitch Harrison around. He was small, femme and annoying on his best days, downright abhorrent on his bad ones. When college turned out to be a no-go, and the parents canceled his credit cards he'd needed a job. Walking into Brawlers, the roughest gay bar in his hometown, was like a game of pick the thing that didn't belong—him. The two owners, Scary and Tank, hired him on and four years later he was still that thing that didn't belong. No one made it more apparent than bouncer Crave Butler who didn't hide the fact he barely tolerated Twitch's presence. Crave threatened every man who thought they'd get the pretty Twitch but would Twitch rather be in their beds than his? Only one way to find out and he hoped Twitch was ready for forever because that's what Crave was determined to have.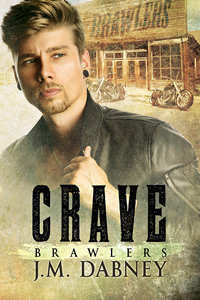 Crave
Pairing: M-M
March 21, 2017
Word Count:
80000
Character Identities:
Bisexual, Polyamorous
Summary: Note: These erotic novels were originally published with Samhain Publishing through my pen name, Dani Worth. Only the cover has changed. The content is the same. (Compilation of two books. Book one is MMF.) AFTER THE CRUX (Book One) Seventeen years after the Crux Virus wiped out most of the world's population, Ross is doing what he can to keep his small community in what was once New Mexico safe. He's made a habit of collecting survivors. They're all family, especially Jenna and Dorian. Now, at thirty, Ross hopes to find a love of his own on supply runs, but his heart has long been snagged by his two best friends. Alone with his tangled emotions, Ross is about to discover that his friends have their own ideas about their relationship…and everything is about to change. SOLE SURVIVORS (Book Two) Chase Hawthorne is on the run from a ghost. The shooting that took his little sister and scarred him left far deeper scars on his brother Tripp's soul. Driven to pull up stakes and head for the most haunted place in Louisiana, Chase hopes to prove to Tripp there is no ghost of their sister beckoning from the afterlife. When they come upon upon a young woman fighting off raiders, the Hawthornes don't hesitate to help the first female they've seen in years. Chase tries to ignore his instant attraction, hoping Tripp will feel something, too—and emerge from his frightening depression. Keera has been alone too long, and scarred, difficult Chase makes her feel things she never thought she'd feel again. Tripp may be the needier brother, but it's Chase she wants. Letting people too close comes with risks. Both Keera and Chase must accept the possibility that there's more to life—and love—than simple survival.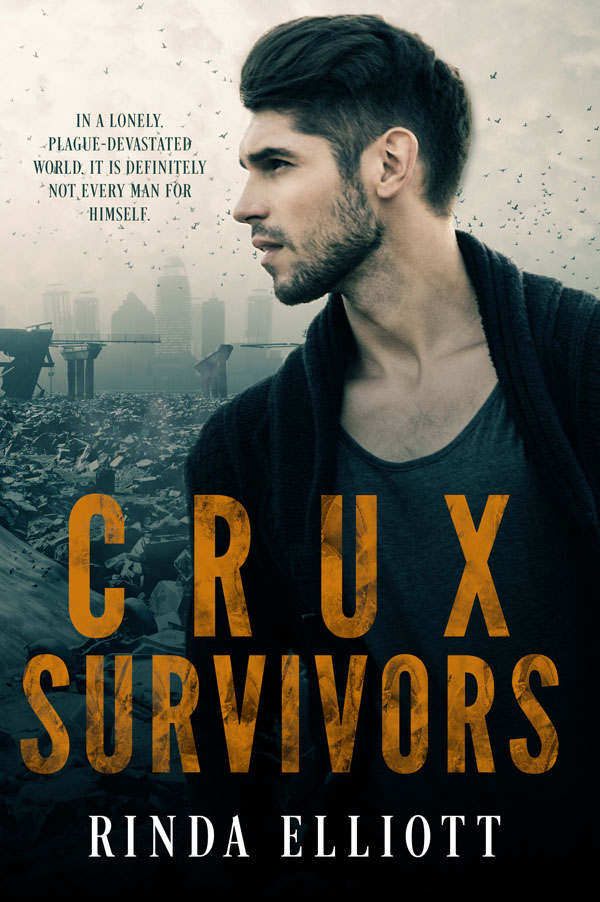 Crux Survivors
Pairing: M-M-F
May 30, 2017
Word Count:
67000
Character Identities:
Gay
Summary: WAR IS COMING… the angels of Osestra and the demons of Exilum are preparing for the final battle to be played out in Manna, the human realm, and one young man is caught in the middle. Vern Swain may be the key to everything… Vern is a country boy dreaming of seeing his name up in lights. He runs away to become a star. His journey is just beginning, but it takes him in unusual directions…right in the path of his guardian demon. Teague, son of Xaphan is a demon of Exilum charged with ruining Vern's life, but he just can't do it. He's confronted by his family, and forced to choose sides. War is coming, but who's fighting for Manna?
Demon or Angel
Pairing: M-M
April 22, 2019
Word Count:
58322
Character Identities:
Gay
Summary: Campbell Fain has been rebelling against his father, refusing to grow up for so long, he's not sure what his life really means anymore. When he meets the man that makes his heart melt, he lies to impress him. Unfortunately, facing the truth may turn out to be the least of his problems when he's forced to come face to face with the sins of his father. He was the quarterback in high school, all American sweetheart and solid guy, but Stone Medlock is just figuring out his life. When he meets Campbell Fain, it turns his world around and he just might be falling hard for the rebellious punk, but will he still be able to support and trust Campbell when the lies come out? Will Campbell's lies tear them apart before they even begin? Will they find the love behind the lies?
Evasive Maneuvers
Pairing: M-M
July 16, 2016
Word Count: Information not available
Character Identities:
Gay
Summary: Boston in 1888 is quite urbane, but unfortunately for Gil Porter, that isn't the same thing as being understanding. When his sexuality is exposed by the scandalous suicide of his lover, Gil is exiled to the small town of Mercy, Texas, by his domineering father, George, who believes life on Vernon Porter's ranch will cure Gil of his "unnatural" desires. Grieving and ashamed, Gil is determined to keep his distance from everyone until he can return home. To his surprise, he finds acceptance at Bent Oak Ranch, especially from Matt Grayson, the handsome son of the ranch foreman. Knowing he must fight his attraction to Matt, Gil courts a local girl, but an unexpected encounter with Matt leads to his discovery of Matt's feelings for him. Torn between Matt and his desire to be "normal," between returning to his old life and building a new one in Texas, Gil is faced with a choice—appeasing his father or becoming the man Matt knows he can be.
Finding Forgiveness
Pairing: M-M
September 24, 2014
Word Count:
26000
Character Identities:
Bisexual, Gay, Questioning, Straight
Summary: Xavier Knight lied and now his past was catching up to him. Sebastian Brady meant everything to him. Losing him wasn't an option Xavier was ready to accept. Ghosts from his past threaten to open up a secret that needs to stay hidden. He wasn't going to let Zach Brady or anyone else take his happiness away from him. Zachary Brady had lived in the shadow of his father his entire life. He'd lost his family, his job—everything. What happened between him and Xavier Knight was long ago and best forgotten. He wasn't going to allow it to sabotage his chance to be accepted by his brothers and sister as family again. Neither man realizes that they don't hold the key to their peace of mind. And when the truth is revealed, it will shake their worlds. Family isn't always the one you are born into, sometimes it's the one you create for yourself.
Finding Forgiveness
Pairing: M-M
February 6, 2019
Word Count:
54350
Character Identities:
Gay
Summary: A disgraced Scot... a misplaced Quaker (The Renegade and the Runaway 3) The story that began with Unkilted and Unbroken concludes in this novel. Gregory and David—a Highland Scot outlaw and a Quaker-trained Philadelphia native—are seeking a future together, in a place where they can live and love far from the censure of society. But the men learn that they cannot pull free from the forces that have shaped this new land called America, and from the past that has shaped each of them as individuals. A dissatisfied trainer of warriors and a would-be healer of men find more than they could ever have imagined—a famous trapper with a rifle and a guilty conscience… native Indians as complex as their enemies…a former slave who forgives his tormenters…a bounty hunter whose reward becomes more than money—all this and more, in the wilderness of America's blue-ridged mountains. Can two men who love each other be happy in a land where retribution and violence seem to be the answer to every unacceptable question? Frontier Highlanders and its two companion novels really tell a love story. You'll find explicit sex, adventure, humor, and a smattering of history—but above all you'll unravel a unique romance.
Frontier Highlanders
Pairing: M-M
January 1, 2021
Word Count:
108662
Character Identities:
Gay
Summary: Love doesn't always look like you expect. Russ Bishop and Stephen Parker have settled into wedded bliss. They've taken a new step forward, moving into a spacious new condo together. And not only have they found professional success, their connection in the bedroom is as sizzling as ever. Parenthood has never been a part of either of their plans for the future but when their volunteer work at the Open Doors Shelter makes them realize how many LGBTQ youth are in desperate need of a home, they begin to reconsider. After a snarky teenager named Austin comes into their lives, their future will never be the same.
Full Balance
Pairing: M-M
October 22, 2020