Word Count:
48870
Character Identities:
Gay
Summary: (Beginnings Book Three) In Haven, Montana, the shifters and their human allies are safe—for now. But that safety hinges on the town's location remaining a secret, and it's about to be compromised. Cougar shifter Travis Kuger spent the past several years alternating between craving revenge and wishing he could forget his painful past. Ever since the shifter-hating Knights blinded him and killed his family, Haven—and Sheriff Jack Ulger—have been Travis's refuge. Travis and Jack know their friendship could be much more, but Jack is part of Haven's ruling wolf shifter pack. If he takes a non-wolf mate, he could be banished forever. But when a knight infiltrates Haven, love becomes the least of their problems. Second Edition with updated and revised text.
Blind Devotion
Pairing: M-M
May 4, 2021
Word Count:
72683
Character Identities:
Gay
Summary: Brett Rocha retired from pro-hockey while still at the top of his game. Co-owner of a chain of restaurants and an inherited ice skating academy, he seems to have it all. Despite his fame, wealth, and good fortune, though, Brett suddenly finds himself painfully alone. Ex-Olympic figure skating star Rylan Hennessy transitioned to professional ice dancing with Celia, Brett's sister and Rylan's lifelong partner on the ice. Then tragedy strikes, and Rylan's world is turned upside down, too. With the unexpected death of Celia, Brett and Rylan are drawn together through their mutual grief. Their bond strengthens when Brett introduces Rylan to BDSM, a lifestyle Rylan has never experienced before. While the mystery of Celia's murder still needs to be solved, a second tragedy threatens to tear them apart. Will their relationship survive, or will love be enough to see them through this life altering, harrowing change?
Edge Jump
Pairing: M-M
June 16, 2018
Word Count:
65,000
Character Identities:
Gay
Summary: What if your life was a lie? From the outside Jay's life seems idyllic, a twenty-something, runs his family's business with high disposable income and freedom. The reality, is Jay's life is dictated by a bigoted, controlling, abusive father who insists Jay simply can't be gay. Jay yearns for his own life with a dominant man, but it's an out-of-reach pipe dream. When he meets trained Dom, Eric, the most Jay can hope for is the occasional one-night-stand or quick fling. Eric has his heart set on Jay, and not only for more than one night. Jay is the type of sub Eric could easily spend the rest of his life with, fall in love with. While trying to navigate winning Jay's love, Eric's life is further complicated by chasing down a killer who may be something other than human. When Jay is targeted, Eric wants only to protect him. Can he save Jay's life and win his heart as well?
For the Long Run
Pairing: M-M
May 19, 2020
Word Count:
20101
Character Identities:
Gay
Summary: (A Shifter Chronicles Story, Sequel to Blind Devotion) Wolf shifter Sheriff Jack Ulger and cougar shifter Travis Kuger protect the shifters and their human allies living in Haven, Montana. They have known each other for almost two decades but weren't always friends. One Halloween night, as teenagers, that changed when Travis saved them both from an abandoned mill and the ghosts haunting it. Years later, it's Halloween again, and Travis never shared the ghostly experience with anyone, least of all the skeptic Jack. But he soon regrets the omission when Jack becomes trapped in the same abandoned mill while trying to find two lost kids. Jack must now protect the children, fight off a spiritual attack, and find a way to freedom. Travis knows something is wrong and enlists the help of their friends, and he can only hope they'll be in time to save Jack from the dark entities. Second Edition with revised text.
Ghosts of Halloween Past
Pairing: M-M
November 23, 2021
Word Count:
100000
Character Identities:
Gay, Pansexual
Summary: "I break balls, rip hearts to shreds and fuck like a demon, but I don't do love. Never forget that."  Office worker Tino Santini is fearless about his sexuality, but he is terrified after being trapped overnight in an elevator with his firm's fearsome CEO. When awkward small talk turns into a sex and booze marathon, Tino hopes his stalled career is about to get a power boost. With a mobster past and a savage temper, Richard Mason has no time for love, yet nothing has prepared him for Tino Santini. Now that smart-mouthed, beautiful man is about to throw Richard's tightly controlled world upside down, and all because of Richard's new addiction to Tino's hot mouth. Neither Richard nor Tino expect their affair to be anything other than business, until a personal tragedy means Richard needs Tino more than ever. As they enjoy a hedonistic journey of of discovery, trouble with a business rival looms on the horizon, bringing mayhem and murder.
Going Down
Pairing: M-M
January 13, 2020
Word Count:
20055
Character Identities:
Gay
Summary: (A Shifter Chronicles story, sequel to Healing Minds) With the construction for their shifter rehabilitation clinic in Haven underway, wolf shifter Xavier and his mate Josh couldn't be happier, professionally. But their busy lives leave them little alone time. It's putting a strain on their relationship, and they still haven't had anything close to a honeymoon. Josh realizes Valentine's Day is just around the corner and sees an opportunity he can't let get away. But never having observed the holiday before, he has no idea what Xavier might want. All Xavier knows is that Josh wants to celebrate, but he has no clue how. Before either of them makes a concrete decision, a bear shifter attacks Haven and threatens to trample their romantic plans. Second Edition with revised text.
Hearts and Minds
Pairing: M-M
November 9, 2021
Word Count: Information not available
Character Identities:
Gay
Summary: (Beginnings Book Six) Just days after the Agency raided the headquarters of the Knights, an organization that killed, tortured, and experimented on shifters, Chief Anu sends Agent Poe on assignment: find Nordik, the powerful master bear shifter who guards Sanctuary, and offer alliance. Agent Poe already has his hands full with shifters who need help and a kidnapped agent who needs rescue. Poe has never failed a mission, but he finds members of the Knights inside Sanctuary, raising suspicions about Chief Anu. If that wasn't enough, Poe's goals change again when he discovers his attraction to Nordik is one he might not be able to resist. He becomes torn between his duty to the Agency and his need for Nordik as a mate. For his part, Nordik has no intention of letting Poe slip through his fingers. As Nordik and Poe battle wills, a new dawn is on the horizon, not only for them but for shifters, the Agency, and the world itself. Second Edition with updated and revised text.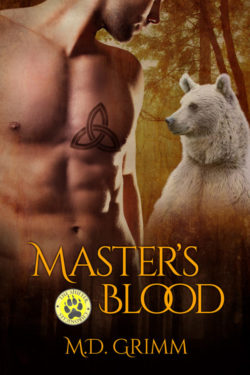 Master's Blood
Pairing: M-M
June 22, 2021
Word Count:
65,000
Character Identities:
Ace, Demisexual, Gay
Summary: (Blood Book Two) Raphael is no ordinary wolf shifter. Raphael knows he must be possessed by a demon. What else could explain the aggression, the physical, beastly transformations? To protect himself and others, his father locks him away. But when Raphael is nineteen, the demon gains full control and breaks free. Now Raphael is scared and desperate on the streets of El Paso, Texas, convinced he's cursed. Then a stray cat enters his life and everything changes. Ahmes is a cat shifter and knows there's something off about the young shifter he's encountered. It soon becomes apparent that the young man doesn't know what he is, and Ahmes is determined to help and care for him. But gaining the trust of not only the fearsome wolf but the scared young man will take all his persistence. Friendship, and the potential for more, grows between them as they travel to Haven, Montana—a town founded by shifters, for shifters, and home to a specialized counseling center, one that can help Raphael understand and accept who and what he truly is. If that wasn't enough, on their trail is the last person either expected—Gregor Whitefield, the commander of the Knights of the Dawn, which is an organization bent on the eradication of shapeshifters. Gregor enjoys the thrill of the hunt, determined to collect the unique blood that is crucial to Arcas's great plan. Raphael's blood.
Red Sun
Pairing: M-M
January 11, 2022
Word Count:
71000
Character Identities:
Bisexual, Gay
Summary: For a relationship to work, it is not just love which is demanded. Resolve is, too. Cole has his senior year of college and a photography business to worry about, so he could really do without the multiple sessions with physiotherapists his parents force him to go to. It leaves little room to consider romance as a choice for him. Pool instructor and avid swimmer Justin has always been his twin's shadow. Where Aaron goes, he follows. He may not have much of a social life outside of his twin, but he loves his job and all the extra swim time he gets. He doesn't think that he's lacking anything. Then Justin's booked for a photo shoot with Cole. Being together, as right as it feels, also means they'll have to come face to face with their belief systems. They must find the resolve to be their own person, or they could lose it all –themselves included. Resolve is the 2nd book of the Demands series. Although they can be read as stand-alones, characters from previous books will make multiple appearances throughout the series.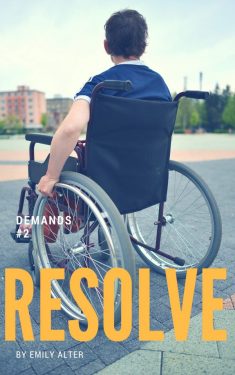 Resolve
Pairing: M-M
May 6, 2019
Word Count:
45000
Character Identities:
Bisexual, Gay, Genderqueer, Non Binary
Summary: Grey I was just a divorced, small town, hardware store owner, and the man most people considered a gentleman. A slip up in my strict routine would send the town gossips into a frenzy. Yet I'd grown up in that town and everyone knew everyone. No secrets were safe, but I carried one that would send my world into chaos if I let it. I was falling for a town transplant and one of my best friends, Sugar. He was everything I wasn't. Spontaneous, fun, and knew exactly who he was. What would he see in a boring man like me? Sugar (Shug) I was that fat, nonbinary person who hadn't known the inside of a closet in my life. With a mom like mine, she taught me to never live with regrets, but I had a massive one. I fell in love with my straight, gentlemanly best friend. Grey was everything I wasn't. Thankfully, he was clueless, but our shared friend group wasn't. How long could our friends stay silent in a town as small as ours?
Shug's Daddy
Pairing: M-NB
March 31, 2021
Word Count:
64000
Character Identities:
Gay
Summary: A scarred young man finds security in the arms of a sexy cowboy with a big heart. Kaden James has relied on dangerous coping mechanisms to quiet the horrific memories that led to his fear of large men. After struggling to hold down a job, he knows he can't refuse the offer to be a cook at a Montana ranch, even if it is temporary. He never imagined just how much that decision would change his life. Logan Michaels can sense the fear in his new cook as soon as they meet. Although he's always considered himself straight, there's something about the younger man that captivates him. He tries to fight the attraction, but even the memories that have kept him from finding love aren't enough to stop him from trying to earn Kaden's confidence. Will Logan find a way to break through the mistrust and fear Kaden carries as a shield? This is a re-release. Some content has been edited, but nothing regarding plot line been changed. Please note this book may contain content that is potentially difficult for some readers, but rest assured, Logan and Kaden will find their happily ever after!
Touch Me Gently
Pairing: M-M
August 25, 2020
Word Count:
20000
Character Identities:
Gay
Summary: Zeke is a hermit in his late forties who lives a quiet life in a small cabin in the Western Montana mountains, a few miles outside of Thompson Falls. He's gotten used to being alone since the end of the world, and has everything he needs. Everything but someone to talk to. Nathan is a younger man on a cross-country trek, searching the country for someone... anyone still alive. Saddled with a ghost from his old life and a case of OCD, he stumbles upon Thompson Falls and a pack of rabid dogs. Rescued by Zeke, he has to figure out how to be human again. And with Christmas just a week away, both men have to figure out if there's something left to be hopeful for, and if they might have a future together.
Wonderland
Pairing: M-M
December 2, 2020