Word Count:
31000
Character Identities:
Gay
Summary: Michelin Empyrean, a rare white raven, has lived for centuries and he's tired of loneliness. What makes life more burdensome is increasing responsibility and leadership of socially inclined corvid shifters. Preventing his kind, ravens, and especially crows, from robbing and menacing humans who remain unaware of their existence takes its toll. When one wayward creature's thieving antics come to his attention, Mich decides to personally take the man to task. Terrel Slade is a crow. Practically everything he owns is stolen. His stash of pretties, and the fact he's never been caught, makes him proud as a peacock. As much as he'd like to be the beautiful bird he struts around imitating, he believes his crow is sexier. Terre is no more than an omnivorous crow shifter with a penchant for shiny objects. A cunning bird, his existence is crammed with innovative ways to irritate his archenemy, the raven. That's about to change. When Michelin halts Terrel's lifestyle, more than sparks fly—the whole damn forest might burn to the ground. #darkfantasy #drama #enemiestolovers #gay #HEA #paranormal #religerotica #romance #shifters #travel #violence
A Silver Raven's Tale
Pairing: M-M
February 5, 2021
Word Count:
50655
Character Identities:
Gay
Summary: 'Old actors never die' shouldn't be literally true. Carrington Loveless III, skim-blood vampire and senior officer of Philly's paranormal police department, has long suspected that someone's targeting his squad. The increasingly bizarre and dangerous entities invading their city can't be a coincidence. So when a walking corpse spouting Oscar Wilde attacks one of his officers, Carrington's determined to uncover the evil mind behind it all. As a rare books librarian, Erasmus Graham thought he understood some of the stranger things in life. Sharing a life with Carrington has shown him he didn't know the half of it. They've survived attack books and deadly dust bunnies together and got through mostly unscathed. Now his world and his vampire's appear ready to collide again. Books are missing from the Rare Book collection—old tomes of magic containing dangerous summonings and necromancy. He's certain whoever has been stalking the Seventy-Seventh is composing their end game. It's going to take a consolidated effort from paranormal police, librarians and some not-quite-authorized civilians to head off the impending catastrophe.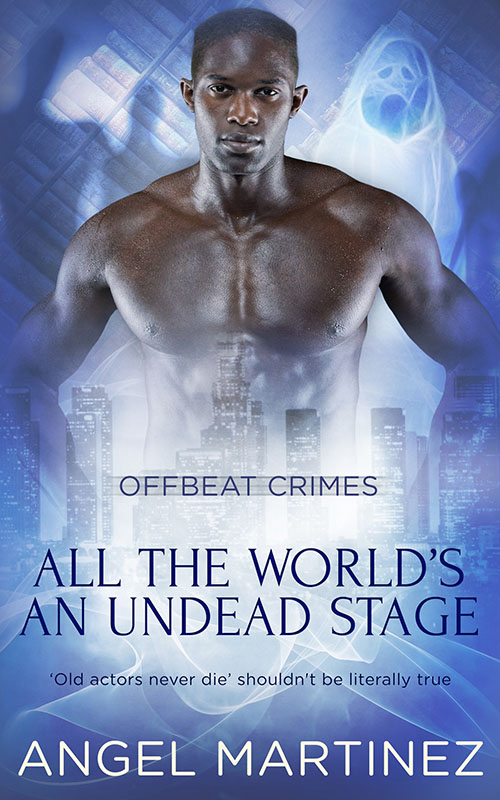 All The World's An Undead Stage
Pairing: M-M
January 2, 2018
Word Count:
14500
Character Identities:
Gay
Summary: Good and evil walk hand in hand. Hot, sexy times and instalove in mysterious places. Angels and demons love faster and harder for as long as they can because they know—a being more powerful can change their lives in the blink of an eye. Raziel Eden swiftly learns to blend in with humans and demons after being cast from Heaven by a stronger archangel who, for all his holiness, should reside in Hell. Raz's club, MystEden, is a den of iniquity frequented by beings from both realms. Earth has become his private playground and he delights in tasting its many fruits though Raziel would trade it all to travel heavenward. Then a monster from Hell walks into his club; a satanic minion who captivates Raz with beauty and innocence. Surge Oberon possesses knowledge of many enigmas but he yearns to sit at Lucifer's right hand wielding identical powers of an angelic counterpart, archangel Raziel, Heaven's excommunicated keeper of secrets. He must convince Raziel to trade one confidence, a tale Surge's master plans using to regain his throne in Heaven. What part will Surge play in Hell's hierarchy should Satan succeed? Two beings seeking a path home—only one can win their battle of wits. Contains religious themes some will find offensive. #drama #explicit #gay #HEA #instalove #lgbtq #paranormal #religerotica #shortstory #travel
Angel in Heat
Pairing: M-M
March 5, 2021
Word Count:
26000
Character Identities:
Gay
Summary: Joshua's spending more and more time at club Sub Rosa. It's time he emerges from the shadows to take a more active role. Pursuit of the aloof nightclub owner obsessed with voyeurism carries him over the edge. The stranger's scent awakens a desire Joshua has not felt in centuries. He vows to have the man. If it means bleeding dry everyone close to either of them, so be it. Mason Kildare, owner of Sub Rosa, doesn't play in his own backyard. Instead he frequents other night spots in search of fulfillment. A reserved disposition coupled with gray hair keeps most of the young men he finds attractive at arm's length, but not Joshua. Joshua storms Mason's defenses, breaking them down one by one. By the time he discovers Joshua's bloody secret, Mason has lost more than his body -- he's given away his soul.
Clandestine, Sanguine Blood Seekers 2, A Razor's Edge Vampire Erotica Short
Pairing: M-M
June 10, 2022
Word Count:
40671
Character Identities:
Bisexual, Gay, Transgender
Summary: Nick Fabian has settled into life in the small Maine town of Point Clear with his boyfriend Roy Constas, but work in the P.I. business is slow. Struggling for money and a sense of purpose, he considers working at the local laundry with Emily, but the news that his old crush Lieutenant Scott Mordis has been murdered in Philadelphia ignites a deep yearning he'd been trying to snuff out. With their last parting a bitter one, Nick is conflicted about returning to Philly, but is driven by the force of his emotions to obtain justice for Scott. Roy insists on tagging along for the ride, refusing to be left behind. He's jealous of Nick's affection for his former mentor and boss, and the two men face their first major hurdle as a couple. Nick's journey will plunge him back into a cold case—that of Aiden Winters, the murder that drove a wedge between him and Scott in the first place—and he'll unearth connections between the two cases better left buried in the past…
Cold Winters
Pairing: M-M
June 30, 2021
Word Count:
7000
Character Identities:
Gay
Summary: An angry, dead spirit is useless - until it becomes the living Haint in your bed! Warning: This is a Razor's Edge Monster Erotica Story. Expect limited plot and character development, and lots of paranormal heat. If you're looking for a lengthy plot driven erotic romance, this is not it! JD Tolliver begins research for his thesis on paranormal phenomena as a nonbeliever. He believes now. A ghost or angry spirit, a true haint, follows JD from Appalachia. His finding a suitable body so he can leave poses a problem -- $it has JD by the balls@! Coll Collins spent over a hundred years locked in silence. Suddenly freed, he discovers that gay hate crimes are not a thing of the past. The stranger he attaches himself to is sassy and, to Coll, sexy as hell. Never had the pleasure of a soft young man, and Coll plans to take advantage every single night until he returns home.
Haint's Alive
Pairing: M-M
January 28, 2022
Word Count:
8400
Character Identities:
Gay
Summary: Another Haint misbehaving! Warning: This is a Razor's Edge Paranormal Erotica Story. Expect limited plot and character development, and lots of paranormal heat. If you're looking for a lengthy plot driven erotic romance, this is not it! Only thing Russ Brakes enjoys more than cooking in his restaurant is laying sexy men who frequent his establishment. A visitor leaves a suitcase behind containing a box that breaks open and releases a spirit who calls himself a haint. Russ calls him dessert, and plans to have his fill. Oz Osborn finds a body to inhabit and takes over the kitchen in the restaurant he was found in. Happy to cook again, his concentration is stymied by desire to taste every part of the handsome playboy who frees him. #darkdesire #darkfantasy #gay #KU #paranormal
Haint's in the Kitchen (Haints Misbehaving 2)
Pairing: M-M
July 29, 2022
Word Count: Information not available
Character Identities:
Gay
Summary: Valentino Celestine, private detective and Human Consort, is going through some changes in his life. His best friend and Guardian is leaving Philadelphia to become the new faery queen, and her replacement is a vampire named Aladar, who Valentino loathes. In spite of his feelings toward Aladar, Valentino finds himself becoming close to the hot were-puma, Robert, who's one of Aladar's guards. Strange murders suddenly begin occurring around the city, and as the body count starts to rise, Valentino must use his wits and powers to find the murderer—or murderers—before it's too late. Between seduction and desire, light and darkness, a high price will be paid...a cost Valentino may never recover from.
Heart Of Darkness: A Valentino Celestine Mystery: Book One
Pairing: M-M
June 25, 2018
Word Count: Information not available
Character Identities:
Gay
Summary: After dealing with what seemed to be their biggest nemesis, Valentino and his crew land a brutal murder case that rocks the community. Worlds collide when an assassination attempt on Aladar leads them to more questions than answers. New alliances are forged, long-buried secrets resurface, and traitors abound. One can never be too sure when matters of the heart are involved.
Heart Of Ice: A Valentino Celestine Mystery: Book two
Pairing: M-M
June 20, 2021
Word Count:
28500
Character Identities:
Gay
Summary: Kamose, undead before he was pharaoh, has lived on fringes of the vampire realm for thousands of years. He feels no kinship to the bloody bastards. Against vampire laws, Kam kills his master, the only man who loved him. He pays for that atrocity every day. Allowing Kam's sarcophagus to be desecrated and tossed into a pile of trash as if he were truly dead, even God deserts Kamose. Until Matthias, the thirteenth apostle, crosses his path. Saint Matthias should have been one of the twelve apostles. Instead, he gains the position after Jesus' death. By then he's a monster subsisting on human blood. Every bite, every draw of sustenance fills him with guilt he can't assuage. The only time he experiences peace is in the arms of a much older creature. A vampire so vile and sacrilegious, Matthias fears he'll cause both their souls to burn in Hell!
Iniquitous, Sanguine Blood Seekers book 3 – A Razor's Edge Vampire Erotica
Pairing: M-M
September 2, 2022
Word Count:
57949
Character Identities:
Gay, Pansexual
Summary: Hoax animals and a consulting vampire on the prowl—Jason never thought having a cop boyfriend would be this hard. All Animal Control Officer Jason Shen ever wanted was a quiet life of rescuing lost kittens and helping animals in need. Having a paranormal cop boyfriend guarantees an end to the quiet part. What at first seems a random encounter with jackalopes in the park might be more than chance and when State Paranormal sends a handsome, charming vampire to consult with the Seventy-Seventh, he finds his relationship with Alex on shaky ground. Officer Alex Wolf hoped his humaning skills were improving but now he can't unravel the strange politics at State Paranormal or why Jason's family seems to hate him. There's no time to puzzle things out either. Bizarre animals are loose in the city, Jason's acting strange, and is the vampire captain from State flirting with him? Wolf's going to have to keep his head in the game if he's going to have any chance of putting the pieces together and keeping the city safe from the strange critters terrorizing its streets.
Jackalopes & Woofen-Poofs
Pairing: M-M
September 5, 2017
Word Count:
26700
Character Identities:
Gay
Summary: Owing the devil is an easier proposition. Micah Reeves knows criminal law. Clients pay through the nose to have him handle cases. Justice has never been blind and Micah takes pleasure in tipping scales on the side of right though it appears wrong. He never asks for payment up front but when it comes due, there is no excuse good enough not to have his money. One customer is getting ready to learn the hard way. Chase Van Zant needs money fast. A lawyer got his charge of breaking and entering with intent to commit a felony vacated. Didn't matter Chase aimed to retrieve property his ex had no right to take. Caught red handed, he's lucky to be free but now he owes an attorney he didn't hire. Known in the street as Reaver, he has a reputation of exacting payback. Chase has no doubt Micah Reeves will come. Question is when—and just how much will he take? Micah Reeves does not regret a horrible past, he's unapologetic, and he holds no remorse. Pay up before time runs out. Contains: #drama, #gayromance, #lgbtq, #maydecember, #murder, #shortstory, #violence Arrogant Bastards books can be read as standalones.
Real Arrogant Bastard
Pairing: M-M
August 16, 2019
Word Count: Information not available
Character Identities:
Gay
Summary: Ending a bad relationship is awful. Having to see their face everyday following that is worse. What better way to recharge the heart than a grand vacation to a mysterious Greek island? In a place where myths and legends are alive and well, David Angellus finds himself thrown through a gauntlet of godly games. Seduction, death, and rebirth are just the beginning of his odyssey
Spellbound : An Erotic Odyssey
Pairing: M-M
September 28, 2018
Word Count:
32000
Character Identities:
Gay
Summary: A soul hangs in the balance! The only one of his kind, Deacon recalls thousands of years existing yet he has no memory of why. He can't profess to living in seclusion because he greedily pursues pleasure in arms of so many men, he never lacks companionship. None feed his true desire. Deacon yearns for someone to make in his own image by introducing them to a hunger so vile, they will detest him forever. Father Merck Hallowell stands at a crossroad of conscience and faith. His convictions, no longer satisfying, leave him searching for reasons to persevere. Befriending a handsome but strange parishioner opens a doorway Merck longs to enter and explore. Discovering Deacon's secret, he realizes not only his life hangs in balance—so does his soul! ReligErotica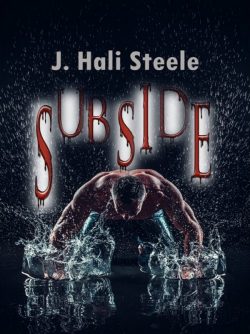 Subside
Pairing: M-M
October 1, 2018
Word Count:
182253
Character Identities:
Gay
Summary: A disgraced Scot...  A misplaced Quaker (3-novel box set) In this box set of three novels, two men meet in a travelers' stop in Scotland and end up as trainer and student (Unkilted) before crossing the ocean together as sailors (Unbroken) and then hitting the road on horseback to discover America's wild blue-ridged mountains (Frontier Highlanders). At first their relationship is oil poured on water. Gregory MacGregor, who goes by the name Grier Black when the novel begins, is a Highland clansman and outlaw hiding from his tragic past. He distrusts strangers, but he hates Campbells and British "Sassenachs" even more. David Campbell (David Adamson), the son of a Philadelphia Quaker printer who's been kidnapped by unscrupulous men, is a naive young man whom Grier dismisses as a weak bairn. Only when he begins to train David does he discover the hidden steel in the lad's character…and under his trousers…and at last, unfortunately, his detestable last name. Each novel runs together like the Shee Waters, the burn where their romance begins, to form a whole. In Unkilted, Grier learns how to love. But his own melancholy nature gets in the way of happiness as he and David part in anguished misunderstanding. The central novel Unbroken recounts the sea adventures of these two would-be lovers—plus the harrowing story of Grier's Uncle Iain and his own lost love. The final novel Frontier Highlanders is about discovery—of a  frontier father, a rough and wild territory, complex people whose skin is not white, and their own honest needs.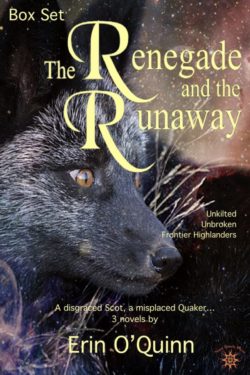 The Renegade and the Runaway: Box Set
Pairing: M-M
March 17, 2021
Word Count:
58960
Character Identities:
Bisexual, Gay
Summary: A pastry chef nursing a broken heart. A single dad who made the biggest mistake of his life. One guest room to sleep in. When Adrian Cobb arrives in New York to help his brother move, he comes face to face with the worst decision he's ever made—ghosting on a baking conference hookup a year ago. Now, he's sharing a guest room with Ajay Sunagar, who looks as tasty as the pastries he bakes, and Adrian desperately wants to prove he can handle the heat this time. But although the attraction's still there, Jay makes it clear he isn't ready to forgive and forget. As they spend more time together, Adrian begins to wonder if Jay would rather make him grovel or cover Adrian in frosting and lick him all over. Will Adrian's delicious treats and a little Valentine's Day magic be enough to sweeten Jay's mood and convince him he's worth a second chance? "The Cupcake Conundrum" is a sweet-treat story about a single dad, instant attraction, and falling in love all over again that takes place in the Williamsville Inn series world. It features characters from Brigham Vaughn's "Snowstorms and Second Chances", along with "Snowflakes and Song Lyrics" and "The Cupid Crawl" by Hank Edwards but can be read as a standalone story.
The Cupcake Conundrum
Pairing: M-M
May 19, 2020
Word Count:
25200
Character Identities:
Gay
Summary: Vampires are real! Sten Majkovic has lived longer than he ever dreamed possible. Among his kind it isn't easy having a slim, lithe build, but it does have advantages in the human world. He welcomes attention of men who appreciate his appearance. Their mistake is expecting to hold the upper hand. None ever do. And not a single one of them realizes his rabid need for blood -- until it's too late… Drew Riles' life is shitty. Mid-fifties, passed over for promotion, he struggles to stay afloat until, nearly beaten to death, he's rescued by a monster. Unsure how to survive, he flounders in unfamiliar territory. Anger soon replaces what little fear the beast allows as Drew comprehends the fiend has no intention of releasing him. Both emotions quickly evaporate as he watches the bloodthirsty creature use men in a way… God, I want to be those men!
Unsalvageable, Sanguine Blood Seekers 1, A Razor's Edge Vampire Erotica Novella
Pairing: M-M
March 4, 2022
Word Count:
10200
Character Identities:
Gay
Summary: Romantic tales are told about handsome, sexy undead. My kind use their name—vampire. We both live on blood. Zev Parish desires Victor Aldrich. He's sensitive, vulnerable, defenseless, all things Zev yearns for in a man; attributes that will eventually cause Victor to despise him. If keeping him means pretending to let him go, fine. If it means allowing him to break his body into pieces, fine. Whatever it takes, Zev will have him. The thing hunts humans for food. He returns invigorated and sex is freaking fantastic. Vic loathes himself for hoping it feeds well. Victor Aldrich chooses not to live with death he witnesses. He makes the choice to end his life not once, but twice. After almost succeeding, he decides to kill Zev. To accomplish that with a broken body, he must become what he loathes most and exactly what Zev is—a bloodthirsty parasite masquerading as a vampire. Aware Victor hates him, Zev turns him anyway. One fleeting sentiment gleaned along Victor's mental path shatters his cold heart; still, if necessary, Zev will end Victor's life. Successfully. Second edition contains revised and new scenes. Content/triggers: #drama #gay #horror #suicide #vampire #violence
You in My Blood
Pairing: M-M
March 23, 2020