Word Count:
110000
Character Identities:
Gay
Summary: XAVIER Former Navy SEAL Xavier Thierry knows he is good at his job… protect the client. You do the job but never get too close—that's his motto. When the friend he owes for saving his life asks for a favor, he doesn't hesitate to say yes, no questions asked. But babysitting some pampered brat is nowhere on his to-do list. Until he first lays eyes on him… Cris. And he's nothing like Xav expected. He wasn't sure when this man stopped being a job, but the rules blur once Cris ends up in his arms. How can Xavier let him go when he's the only one who chases away the darkness? CRIS Cris Whitcomb thought he finally found his happily ever after… But the fairytale soon became a nightmare, one that left him with only one choice—to push away those he loves to protect them. His chosen family refuses to be pushed away. Their solution, call in someone trusted to watch over and protect him… Xavier. But what happens when your future walks in on the worst day of your life? Maybe sometimes you have to go through the bad to get the best... One who knows the pain of loneliness, another haunted by memories he can't run away from... Maybe they are exactly what each other needs… TRIGGER WARNING: This book contains scenes of domestic violence in flashbacks.
A Family Of His Own
Pairing: M-M
July 28, 2019
Word Count:
37,000
Character Identities:
Gay
Summary: Sheriff Avery O'Rourke has tried to obey his strict Christian faith and lead a "normal" life. In 1923 in a rural East Texas town, "normal" means heterosexual. A cholera outbreak has made Avery a young widower, so he is married to his job. When a murder investigation forces him to confront his truth, will he finally be able to accept being gay? Veterinarian Garland Sands has returned from Europe to take over his father's practice. Struggling with shellshock (PTSD) and heartbroken by the suicide of his French lover, he resigns himself to a quiet, solitary life as a country vet. But the murder of the town doctor brings the sheriff to Garland's doorstep looking for help with the investigation. Seeing Avery awakens dormant feelings. Can he love a man who hates what he is? This isn't the lavish 1920s of The Great Gatsby. This is the flip side of that coin—rural East Texas. No electricity. No indoor plumbing. No flappers. In 1923, the timber barons have left and racism, homophobia, and sexism thrive. A Little Sin is a realistic mystery with unlikely heroes and a timeless romance between lovers caught in a world where their love is forbidden. This book contains steamy sex scenes and is intended for adults only.
A Little Sin
Pairing: M-M
February 24, 2018
Word Count:
145000
Character Identities:
Gay
Summary: A story of healing and confronting demons… Detective Aidan Calloway is rock-solid strong. He's a man of justice—loyal to his friends, family, and job—even if it requires bending a law…or two. He shields himself behind an abrasive, fearless facade, until a phone call one night chips his armor and throws his perfectly planned, hollow life into a tailspin. Jessie Vega is the epitome of optimism. His carefully crafted attitude of hope and positivity protects him from a past filled with too much pain. When a ghost from a dark time resurfaces and nearly breaks him, he must tap into his inner strength or risk losing everything he's worked so hard to build. But Jessie can't do it alone. He must fight to break through Aidan's ironclad defenses to reveal the heart of the man hiding beneath the tough surface and mend his damaged spirit. Only then can they truly heal and become strong enough to battle the demons that haunt them and threaten their chance to finally be together. ---------- ***This book contains scenes and subject matter some readers may find distressing. It is only intended for adult readers.*** Word count: 145K Although part of a series and events from prior stories are referenced, this book can be read as a stand-alone.
A Mended Man
Pairing: M-M
April 28, 2016
Word Count:
115,000
Character Identities:
Lesbian
Summary: Life hasn't been easy for Aeley since she arrested her brother, and her role as a political leader leaves her feeling isolated and lonely. Days before her brother's trial, she meets Lira, a quiet and modest scribe who makes Aeley want more than just a professional relationship. When she attends the trial and leaves with a marriage contract, Aeley doesn't know what to do. She must choose one of two brothers, marrying into a family she doesn't know. Then she discovers that Lira is part of the same family—a sister to Aeley's suitors and the family's disgrace. And not at all opposed to an intimate relationship. Except random acts of violence against her people test Aeley's ability as a leader, and a web of lies and deceit threaten not only her chance at happiness, but her life...
A Question of Counsel
Pairing: F-F
October 18, 2019
Word Count:
45,000
Character Identities: Information not available
Summary: A Dom learns to love while Scotland Yard claims his time and a sociopath lays a trap for his sub. This is book 2 Vasquez Inc, a spinoff series from the popular Vasquez and James series. Jackie Vasquez knows he needs to submit to a Dom he can trust—just as much as he needs to manage his own life. He found the right Dom in Brian Harrison, and then romance beckoned them both beyond bindings and safewords. They take the first steps toward a life together in London, where Brian is pursuing his dream career at Scotland Yard, and Jackie is working toward a master's degree. Their private hours deep in the night brim with both heat and beauty as Brian's artful vision for bondage makes a masterwork out of Jackie, body and soul. But time together becomes scarce as a series of horrific gaslight crimes keeps Brian at work and out of reach for Jackie much of the time. Though Jackie is faithful, he isn't the type to sit and wait for his lover's attentions. His self-assured ways and his geocaching hobby lead him to a dangerous discovery—all is not as it seems at the University. Trapped in the Gaslighter's web, he'll need to use every trick he knows to stay calm and buy time. But will Brian unravel the knot of mystery in time to save the man he loves?
A Shot of Fear
Pairing: M-M
November 21, 2019
Word Count:
45,000
Character Identities:
Gay
Summary: Gay American Dom with a fabulous sub juggles romance and bondage with Scotland Yard police work. Book 1 in the the Vasquez Inc series, spinoff from Vasquez and James. When Brian Harrison first met Jackie Vasquez at a Hawaiian wedding, Jackie was sixteen and troubled. Six years later they meet again; Brian's career at Scotland Yard is budding with promise, while Jackie's student days at the University of Nebraska are rolling toward a strong finish. Magnetic mutual attraction pulls them insistently toward one another, but the ocean separating their lives makes for a simmering romance. When the waiting ends and they get together for a weekend in Denver, Dom Brian and sub Jackie both know they've tapped into something scalding hot, and much deeper than sharing an artful session. Shibari, lust, and love are all on the agenda -- but for Brian, so is his police career, and a strange series of crimes seems poised to threaten their romance -- and maybe their lives.
A Shot of J&B
Pairing: M-M
November 1, 2019
Word Count:
48000
Character Identities:
Gay
Summary: Deep love, hot kink. Secrets call for a shot of trust when true danger lurks in LA's hidden places. __________ Brian Harrison wants to keep everyone safe -- especially his beloved sub, Jackie Vasquez -- and he's convinced the only way to do that is to dig ever deeper in a forbidden investigation. Keeping his activities secret from the State Department means keeping them from his own boss, Luki Vasquez, and keeping secrets from Luki means Jackie can't know either. Meanwhile, Jackie keeps his own secrets as his kind heart and indomitable spirit drive him to find and help a mysterious homeless woman, who may be connected to a kidnapping. Both men dance around dangers lurking in LA's hidden places. Love continues to grow, adventurous kink heats up, and a marriage proposal still hangs in the balance. Can a willing shot of trust keep them together and alive when secrets collide?
A Shot of Trust
Pairing: M-M
April 24, 2020
Word Count:
41591
Character Identities:
Gay
Summary: Opposites attract when the timid bar owner asks out the resident bad boy. Brad Flynn's reputation doesn't change just because he has. Prison might not have been fun, but he'd made the most of it. Since his release, he's tried to make the most out of his freedom as well. His handyperson business is taking off, but his clientele is in the nearby towns. When local bar owner, Kendrick Ashby, calls him to fix a leaky roof, he doesn't expect the attraction he feels to go anywhere. Kendrick's violent past doesn't make asking him out on a date a simple task. Can Brad be brave enough to start over?
A Tarnished Strength
Pairing: M-M
February 26, 2021
Word Count:
58000
Character Identities:
Gay
Summary: Devin Jace lives in a huge mansion together with six other people, five of them turn furry, and one needs to drink blood to survive. Sometimes, he suspects it\'s all a dream. Four years ago, he had no idea supernatural beings existed. It wasn't until he was snatched off the street and forced to live as a blood slave he realized vampires are real and don't sparkle. Three years ago, Mars O'Ceallaigh was part of the team who saved a badly scarred and severely traumatized Devin. As the only vampire on the team, he got to work undercover. To keep up the facade, he tasted Devin\'s blood. Not a day has gone by since without him thinking about it, both the taste of the blood and Devin. But he wants Devin to be happy, and since he knows vampires are his worst nightmare, he does his best to keep out of his way. When the team learns Devin\'s captor has escaped prison, Mars is convinced he will come for Devin. Devin might fear Mars, but there is someone he fears more, so when Mars swears to keep him safe, Devin trusts him. Mars more than enjoys being by Devin\'s side at all times, but will spending every minute of every day with him be enough to keep him safe?
A Vampire Chew Toy
SALE
Pairing: M-M
October 8, 2022
Word Count:
76071
Character Identities:
Gay
Summary: As construction on the Charm wraps up, multi-media artist Wyatt McBride creates special metal and glass designs to add the finishing touch. When his brother accepts an overseas military duty, he takes in his teenage nephew, Collin. Things go upside down when loses a dear friend to AIDS, has to deal with teenage angst, and loses his heart to a brilliant but shy teacher. To keep his mind out of the past, Keegan Donaghue comes to Shore Breeze to take a position as a high school science teacher and part-time forensics detective for the sheriff's department. A special student connects him to the local artist, but he's still running from his past. Addiction and abuse remain there, lurking in his mind, along with mild PTSD panic attacks. Cryptic troubling emails from his ex don't help the situation. Shy of relationships and opening their hearts to trust, these two men learn to weave their lives together amidst the turmoil of their daily lives. Neither one expects everything to go according to fate.
According to Design
Pairing: M-M
August 30, 2016
Word Count:
51000
Character Identities:
Bisexual, Gay
Summary:
Can a night of passion lead to a happily ever after?
Yakuza captain Hayato's life is a mess. His boyfriend broke up with him, changed the locks, and kept all his stuff. He can't crash at his brother's because his girlfriend is moving in. And just when Hayato thinks things can't get worse, he accidentally gets blackout drunk and wakes up in the arms of a clingy underling.
Masuo believes he and his boss made a deep connection, but when he's blown off the next morning, he feels lied to. Assigned to run a failing pachinko parlor, Masuo is determined to turn it around to prove himself to everyone…especially his sexy superior.
When Hayato realizes he's falling for the young parlor manager, he is more than ready for fun. But as Hayato's tragic past comes back to haunt him, Masuo wonders if he's ready to carry all Hayato's baggage.
Can the unlikely pair learn to accept each other and find their way to happiness even while new challenges arise, or is their love destined to fall like balls through a pachinko machine?
Buy Addicted to Lust to find love in crime today!
Addicted to Lust
Pairing: M-M
September 1, 2021
Word Count:
120000
Character Identities:
Gay
Summary: May-December love is sweet… but December doesn't last forever. Tim Davis always knew he'd likely outlive his older husband. He just thought they'd have more time. He also never imagined that their final years together would revolve around a grueling and protracted battle with cancer. Eighteen months later, he's still coming to terms with his loss and his new life. Where does he go from here? Alex Ouellette is drowning in grief and survivor's guilt, constantly reliving the moment his world stopped. Then a friend suggests that a change of scenery and the company of men who've been through similar losses could do him some good. Alex is dubious, but he agrees to go. Neither man has high hopes for this widowers' retreat. Grief and loneliness have been constant and unwelcome companions, though. At this point, they'll try anything. The last thing either anticipates when they get there? A powerful spark of attraction. Friendship blooms. Then more. They bond over their grief, but also find joy, laughter, and a connection neither expected to ever feel again. As their broken worlds collide, both Tim and Alex finally have unexpected hope that there's life after loss. But grief's dark clouds are never far behind, and the past could be the one thing standing in the way of a happy future. After December is a 120,000-word standalone gay romance novel.
After December
Pairing: M-M
October 19, 2022
Word Count:
90000
Character Identities:
Bisexual, Gay
Summary:
Dominic Blake spent his teen years being a punching bag for the school's leading athlete, Tristan Jones. That was years ago. He shut down his heart. Never letting anyone in. Only trauma and pain awaited anyone who made it past his icy exterior. With his wit and talent for electronics he rose through society to become a respected inventor. He hadn't heard or thought about his teenage tormentor since he graduated. - Tristan Jones had always been a top performer in any sport he attempted. It didn't matter what it was. If it used muscles, he excelled at it. Home life for him wasn't all peaches and cream, though. He threw himself into sports in order to spend as little time as possible at home. Being around so many who expected him to be manly meant doing what they thought he should. Even if it meant giving the school nerd the beating of a lifetime. When his teammates took it too far, Tristan left and never turned back. - What happens when Tristan falls right into Dominic's world in the most unexpected way?
All Things to Ashes
Pairing: M-M
January 6, 2022
Word Count:
12900
Character Identities:
Gay
Summary: As a soldier, Dustin Cooper survived his unit being blown up. His twin brother didn't survive the blast, and Dusty knows he's lucky just to be alive. He doesn't feel lucky. Crippled and scarred in the explosion, Dusty can't even go to the local grocery store without being called a monster by any kid who gets a good look at what's left of him. When Dusty collapses in the aisle, he wakes to an angel looking down on him. Benjamin Newell offers hope, offers help. That he's gorgeous only makes the whole situation more tense. But Dusty is determined to overcome his injuries and the trauma of the past without any charity from a stranger. There's only one thing he wants from his grocery store savior—a date.
American Pride
Pairing: M-M
March 1, 2017
Word Count:
Friday Harbor, Washington
Character Identities:
Gay, Non Binary
Summary: Graham Church began career as a police officer with a case so gruesome it sent many officers into early retirement. That day he helped save the lives of children and began a long crusade of protecting the residents of Friday Harbor from the worst of humanity. But brutal car accidents and the discovery of a dog fighting ring have taken their toll on Graham. Returning to an over-crowded apartment where his room is a closet, and working sixteen-hour shifts, have left him emotionally exhausted and in need of a quiet place to call home. Jason Wullcot is a horse breeder and a mystery to the island he lives on, but is in need of a roommate for human contact. His therapist recommends Graham Church, who also happens to have a "white knight" syndrome. When Graham discovers his new roommate was one of the children he helped save twelve-years prior, Graham's need to protect and save kicks into high gear. Only Jason has no interest in being saved. In fact, Graham realizes that Jason may not be the one in need of saving at all, but maybe, just maybe they can fill the broken pieces of each other.
An Arresting Ride
Pairing: M-M
March 1, 2017
Word Count: Information not available
Character Identities:
Bisexual, Polyamorous
Summary: The search for the swords brings Douglas and Margaret back to England, where Mystere has hidden the sword Almace -- his own sword. Four months pass with no signs of Mystere, and Douglas and Margaret start to make plans to go in search of him. Then they accidentally become the caretakers of an injured street urchin. The boy — a sweep's apprentice — tells them that there is something invisible haunting the rooftops of London, preying on the children who make their living there. In the absence of Mystere, Margaret insists that they need to help, but Douglas refuses. Margaret defies him and goes anyway, only to discover that what lurks on the rooftops is far worse than she had imagined -- Caedda has taken the rooftops of London as his domain. Worse, he has taken Mystere prisoner, he holds the sword Almace, and he knows that Margaret is there. Trapped on the roofs, unable to reach Douglas, Margaret has to rely on her wits and her memories in order to save Mystere, herself and her unborn child.
Ashes and Light (Swords of Charlemagne, Book 3)
Pairing: M-M-F, M-M-M
July 20, 2021
Word Count:
52000
Character Identities:
Gay
Summary:
What's the perfect recipe for an emotional MMM romance? One autistic coffee shop owner, one morose mug maker, and a mostly cheerful police detective. Fie Morogh Russell goes off to war with a broken heart and returns with a shattered spirit. He hermits away in Bideford, Devon, making mugs, with his service dog, Haggard, for company. Post-traumatic stress turns every memory into a minefield, and life is dismal with one or two rare exceptions. Davet Heuse drags his younger brother to Bideford for a new start. Both autistic, the two siblings have fought hard to enjoy freedom by the seaside. While Davet runs a coffee shop from his tiny house, his brother pursues his dream at university. Detective Sidney Little has transitioned from military service to the police force easily. His unrequited crushes and his estranged father are the only points of frustration in his life. He hasn't quite figured out how to deal with either problem. When a tragic accident brings Davet's world crashing down around him, can Fie and Sid help him through the pain of loss? In this May-December romance with a twist, three men struggle through one obstacle after the other to somehow find themselves in love on the other side.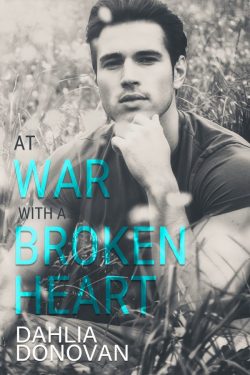 At War With A Broken Heart
Pairing: M-M-M
February 26, 2019
Word Count:
72579
Character Identities:
Bisexual, Gay, Non Binary
Summary:
A Dark Steamy Superhero Yaoi Romance
❤️former super-powered hotties returning to action!
❤️ second chance at love for a Hero and a Villain 
❤️ amazing secondary cast with their own love stories
BOOKS 1 - 6 NOW AVAILABLE ON AMAZON & KU
BOOK 7 - Series Finale - COMING IN APRIL 2021!
Several years past 50, Matt thought that his days as a Villain in the staged Chosen fights were long over.
But then his powers returned in the wake of a devastating attack that took the powers of all the active Chosen, perpetrated by a young Hero.
With no other choice, Matt goes to the one man who might understand what is happening to him - Colton. The man who was Matt's main rival back in the days of his fighting career. A man Matt hasn't seen since the day he burned out and walked away from the fights.
That would be complicated enough. But back then, they were also secret lovers. Matt walked away from that as well without a goodbye.
Now after nearly twenty five years, these two men are coming face to face for the first time. Can they handle their personal issues while trying to save the world from a Hero gone bad?
Trigger warnings for dub/noncon, super tragic backstories, explicit on page sex, angsty gay dudes, and cliffhangers.
Back Issues
Pairing: M-M
March 6, 2020
Word Count:
95000
Character Identities:
Gay
Summary: It's good to be the Boss. That's what I thought my whole life. Now I am the Boss. I'll shoulder that responsibility with my beloved husband beside me. As long as I have Finch, I can handle whatever life throws at me. But what they say is true: Be careful what you wish for. My Family has been decimated. My allies are few. I'm holding onto power by a thread. And the truth is, my husband is more vulnerable than ever. He's always been a lost soul, and now he's suffered yet another crushing loss. I can't protect him from Fate's cruel blows. But I'm determined to protect him from our enemies, no matter what it takes—as soon as I get my own house in order. Because I'm starting to wonder if there's a traitor in the Morelli Family… If I can't even trust my own men, how can I keep my beloved safe?
Beloved by the Boss
Pairing: M-M
August 26, 2020
Word Count:
92000
Character Identities:
Bisexual, Gay
Summary: In a world that is still getting used to shifters, where everyone thinks omegas are second class citizens, nature photographer and omega Braden Payne lets everyone think he's a beta. That way no one gives him a hard time and he doesn't have to live a repeat of his failed relationship. But when his car breaks down in the remote Blackwood forest in Western Australia, without the medication that lets him hide who he is, he's faced with what he fears most: an unmated alpha. Government forest guardian and alpha Coll MacDubhar is tired of illegal loggers, foolish tourists and people who underestimate the wilds of Western Australia. He discovers Braden lost and in need of medical assistance in the forest he protects and knows something's not right. But there's hidden depths to Braden that capture his interest, and no decent alpha would walk away when Braden's unwelcome past comes to visit.
Blackwood
Pairing: M-M
November 23, 2018