Word Count:
12000
Character Identities:
Gay
Summary: Can thirty minutes change your life? Maybe it can, or maybe it can't. Either way, if you had the chance to sit down with someone you thought hated you, do you think you could find common ground? Charlie and Aiden have known each other since the third grade, but both boys have very different memories of the moments they shared. While Aiden remembers love taps, Charlie remembers a bully who made his life even more miserable than it was and still does to this day. So why does Aiden pick on Charlie if he actually likes him? Maybe he just doesn't know any other way to show Charlie how he feels. Unfortunately, every action has a consequence and he's about to lose the best thing that's ever happened to him if Aiden doesn't change his ways. Join best selling author Daniel Elijah Sanderfer for this short, sweet, enemies to lovers story about two rival boys who find they may have something in common after all.
30 Minutes or Less
Pairing: M-M
August 7, 2020
Word Count:
56,025
Character Identities:
Bisexual, Lesbian
Summary:
Annie Slocum is a bisexual woman struggling to make a living as a freelance writer. Stuck in a rut, she feels bored with her career, her relationships—her life. A chance meeting with Siobhán at a gallery adds a bright spark to her dull life.
Siobhán Murray is a lesbian Irish painter living in Boston. She loves her career, loves her life, but she's missing the one piece that will make her life complete—a partner. She falls hard for Annie and is delighted to realize Annie inspires her work. But a string of failed relationships has left her wary of bisexual women and wondering if she can trust that Annie won't leave her.
When Siobhán's past comes back to haunt them, they'll have to decide if the new relationship is something that will burn bright and end quickly or if it's meant to last.
A Brighter Palette
Pairing: F-F
June 30, 2017
Word Count:
29200
Character Identities:
Bisexual, Gay, Polyamorous, Straight
Summary: A romance novella about what happens when meeting everyone's needs requires unconventional thinking. Janis Vaughn was doing all right with her music career. She was still young enough that spending most of her time teaching, and playing on other people's records, didn't look like 'gave up' or 'couldn't make it.' What she really couldn't make was 'up her mind.' Then her friend Victor asked a favor. It was something easy to do, that she was happy to do. But the reason he needed it made her take another hard look at her life. It was one thing to hold back when reaching out could literally cost you your career. It was quite another thing to hold back when the worst that could happen was 'well, I tried.' So she tried. The first album was a modest success, leading to a local tour. Janis was loving every minute of it. And when she met Stefan – another musician, another teacher, a guy the right age who was smart and sexy and understood what she needed (at least at the piano) – she thought she had it made. But it wasn't all good, and it got less so over time. When they were together, things were fine. There simply wasn't enough 'together.' If it hadn't been for her tour manager (and instant BFF) Niall, Janis would have been all alone for most of the year. Fortunately, they liked everything about each other. He was the man of her dreams, except for one thing: she was straight, and he wasn't. They each needed something the other couldn't provide, because there are some things you don't ask even your best friend to do. And then they met Geoffrey, a man who might be their missing link. Janis and Niall had to decide: what if the worst that could happen was 'well, we tried?'
A Secret Chord
SALE
Pairing: M-F, M-M-F
December 1, 2019
Word Count:
31000
Character Identities:
Gay
Summary: Michelin Empyrean, a rare white raven, has lived for centuries and he's tired of loneliness. What makes life more burdensome is increasing responsibility and leadership of socially inclined corvid shifters. Preventing his kind, ravens, and especially crows, from robbing and menacing humans who remain unaware of their existence takes its toll. When one wayward creature's thieving antics come to his attention, Mich decides to personally take the man to task. Terrel Slade is a crow. Practically everything he owns is stolen. His stash of pretties, and the fact he's never been caught, makes him proud as a peacock. As much as he'd like to be the beautiful bird he struts around imitating, he believes his crow is sexier. Terre is no more than an omnivorous crow shifter with a penchant for shiny objects. A cunning bird, his existence is crammed with innovative ways to irritate his archenemy, the raven. That's about to change. When Michelin halts Terrel's lifestyle, more than sparks fly—the whole damn forest might burn to the ground. #darkfantasy #drama #enemiestolovers #gay #HEA #paranormal #religerotica #romance #shifters #travel #violence
A Silver Raven's Tale
Pairing: M-M
February 5, 2021
Word Count:
149,000
Character Identities:
Bisexual, Gay
Summary: The star of the University of Virginia theater department, Aidan Emery is lusted after and admired for living out and proud. He uses his talent and good looks to his advantage and never sleeps with the same guy twice. But his glamorous patina has been carefully honed to hide the pain he carries inside. Aidan wasn't always such a player. He starts college naively romantic, hungry for the attention he can't get from his workaholic father and mentally ill mother. Unfortunately, that leaves him ripe pickings for predatory professor Rodney Montgomery. Rodney's flattering regard seduces Aidan into a dysfunctional relationship that destroys his innocence. Life looks up for Aidan when he finally breaks free of Rodney's pull and moves to New York City to make it as an actor. Meeting sweet fellow actor Patrick Jaymes seems like the start of a fairy tale. But before Aidan can rebuild his life into happily ever after, family secrets rip him wide open, leaving him easy prey when Rodney decides he's not willing to let Aidan go.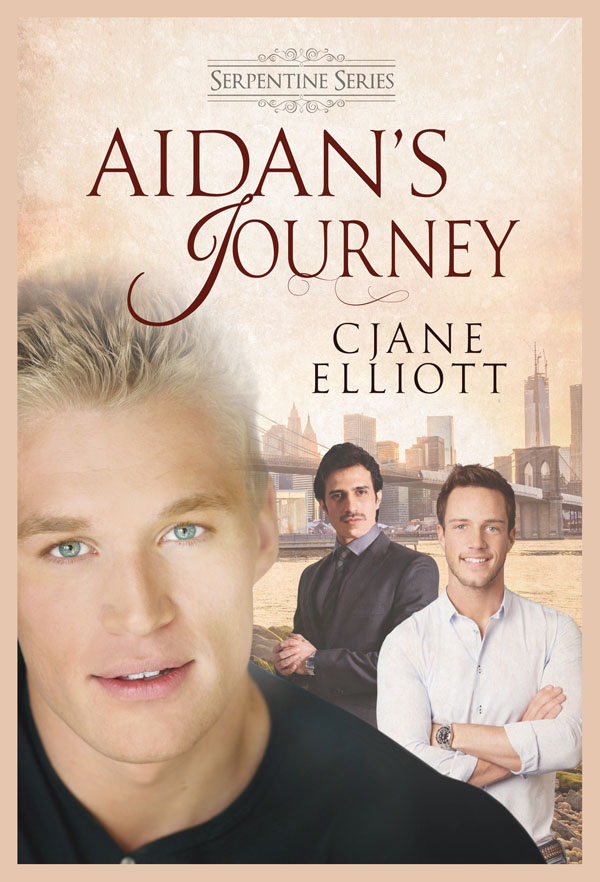 Aidan's Journey
Pairing: M-M
October 15, 2014
Word Count:
41,000
Character Identities:
Gay
Summary: What if you fell in love with your best friend? Ben Cooper has spent his life trying to make others happy and sacrificing his own dreams. When one fateful night with his best friend gives him a glimpse of what the future could be, he needs to find the courage to follow his heart. One night gives Spencer Henderson a tantalising taste of the man he loves. But he doesn't fit into Ben's future plans--Spence is a complication. Running may be the only option to protect his heart. With trouble escalating at home and Spence out of reach, Ben's life will finally spiral out of control. Always Been You is a standalone M/M romance between best friends who fear taking the next step in their relationship and need to find the courage to risk it all for their HEA. It features an emotional hurt/comfort theme. Note: This story has been previously published (as It's Not Easy). This edition has been revised, expanded, and re-edited, adding approximately 9k words, but the story largely remains unchanged. It is approximately 41k words.
Always Been You
Pairing: M-M
July 1, 2020
Word Count:
117000
Character Identities:
Gay, Polyamorous
Summary: A rookie, his teammate, and his best friend from a rival team. What could possibly go wrong? Seattle Snowhawks rookie Justin Reid has it bad for his teammate Shawn Kelleher. It's just his luck that Shawn's got a crush too… on Justin's best friend, Vancouver Narwhal center Keith Adams. When Shawn lets it slip at the worst possible moment that he wants Keith, Justin is hurt, but what can he do? He steers Keith in Shawn's direction and lets chemistry do the rest. What Justin doesn't know is that while Keith is into Shawn, he's also secretly wanted Justin since forever. After some stumbling, they realize there's something very hot and very mutual going on between all three of them. It's fantasies coming true left, right, and center, and it just doesn't get any better than this. Except this scorching hot triad is anything but simple. Not while the closeted son of a hockey legend is fighting to make his own name in the shadow of his deeply homophobic father's legacy. Not in the midst of grueling schedules and a team's fraternization rules. Throw in pesky emotions showing up where they aren't wanted, and it's a play that's doomed from the start. Shawn, Keith, and Justin all fought their way into professional hockey. Is what they have together worth fighting for too? Or will fear let heartache win this game? ASSIST is approximately 117,500 words. It's book 2 of the Pucks & Rainbows series, and can be read as a standalone.
Assist
Pairing: M-M, M-M-M
December 26, 2019
Word Count:
32723
Character Identities:
Gay
Summary: Bryce Harkless is unapologetic. He's raw, rude and arrogant but sweet, gentle and loving. He's a sexy college basketball player from Savannah, GA that everyone loves and wants to sleep with. His life, however, is full of conflicts. He is haunted by the past, yet afraid for the future. He loves his boyfriend, but hates him, too. To avoid facing his troubling past, he lies, cheats and engages in risky behavior. There are layers of pain inside of Bryce that are destined to destroy his life if he doesn't learn how to face them and move on. He was raised in the church, but he doesn't understand God's reasoning for treating him the way he does. He doesn't want to be gay, but women do nothing for him. In turn, he blames God for everything. He hates God. The month of March is the hardest time of the year for Bryce. During this time, he is forced to deal with an event from his past that shattered his young life into pieces. As if dealing with that situation isn't hard enough, an incident involving another man raises questions about his sexuality in the mind of his beloved auntie. However, everything comes to a screeching halt in just one phone call. There, he gets the news that undermines everything else. Come along for the ride in this novella, as the next few days are destined to turn Bryce's already rollercoaster life, even more upside down!
Bad Religion
Pairing: M-M
March 22, 2014
Word Count:
32518
Character Identities:
Gay
Summary: It's been three gut-wrenching days since Bryce received that life-changing phone call in Savannah. He has avoided dealing with the situation, but now that his spring break is ending, he has no choice but to attack and face his truth as he heads back to his college apartment in Atlanta. To Bryce, all of life's issues are hitting him at once. If dealing with the reality of that phone call wasn't bad enough, his closest family members are directly and indirectly questioning him about his sexuality. His conscience is eating him alive as a result of the decisions that he's making. To add insult to injury, his pastor accuses him of something unimaginable. All of this brings Bryce's internal conflict with God to an all-time high, leaving him at the point of no return—emotionally, mentally and physically.
Bad Religion 2: A Sinner's Denial
Pairing: M-M
August 23, 2014
Word Count:
46584
Character Identities:
Gay
Summary: It's summer 2016 and two years have passed since we've last seen Bryce Harkless. He has moved past that devastating but eventual false diagnosis, but has much changed in his life? Is he still doing the harmful things that caused that initial life-changing scare? As Bryce prepares to head into his senior year of college, he plans a relaxing vacation to travel up the east coast with his best friend. Something unexpected happens while on the trip, so they alter their plans and head to the Midwest. While on that journey, Bryce encounters another life-shattering event that will shake him to his core. This unforeseen circumstance will force Bryce into a decision that'll allow him the opportunity to seek vengeance for a previous wrong done to his family. Will Bryce do what his church upbringing taught him and leave it in God's hands, or will he go out and do his own thing? Where will his relationship with God stand when the dust clears? Jaxon Grant, author of the "Incidental Contact" and "Life of a College Bandsman" series, pens a masterfully woven tale of adventure, crime and consequence, lust, secrets, exploration, revenge and mind-blowing sex. In the final book of this trilogy, join Bryce on this two-week voyage as he learns the hard truth about himself—the truth that maybe he isn't even ready to discover.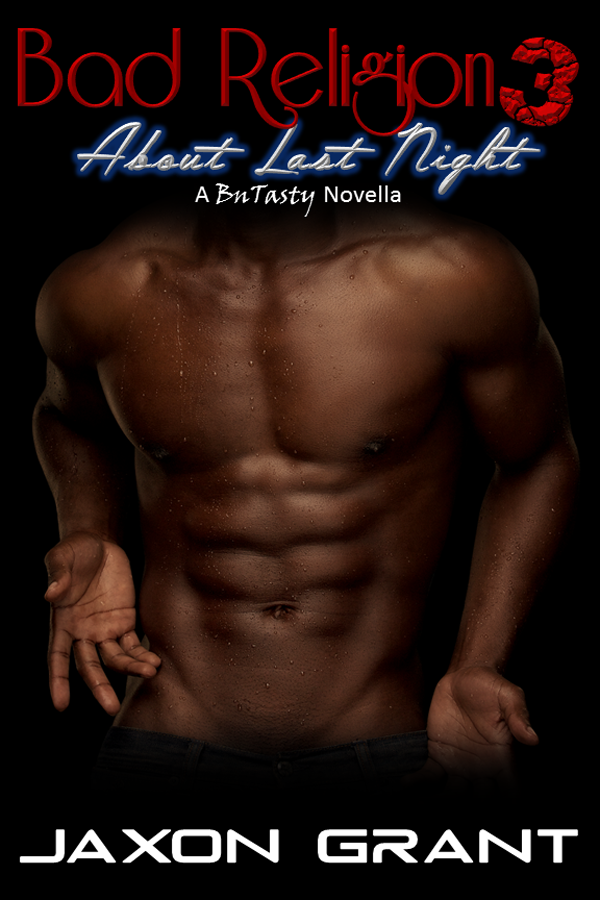 Bad Religion 3: About Last Night
Pairing: M-M
May 22, 2017
Word Count:
61000
Character Identities:
Gay
Summary: Is it possible for a demon to be a good man, or are all who have fallen for temptation evil at the core? Tristan, Machidiel and Alastor are bound together by love, but their lives are running far from smooth. Thanks to Tristan's demonic bargain with an incubus, they have no choice other than to accept that their lives are never going to be the same again. To fulfil his obligations to the demon Tristan has two choices—remain with the incubus as his trainee or find a mortal to take his place. Neither option is appealing. The three lovers struggle to release Tristan from his bargain, but find bigger problems on the horizon when a human caught up in the mess is taken prisoner by the Demon King himself. With no help forthcoming from either angels or demons, the three lovers are on their own with a seemingly impossible mission before them—rescue the mortal from the Underworld. Mac, meanwhile, has problems of his own. The archangels are voting on whether to ban relationships between angels and demons, and if the new law is passed he must choose between his wings and his lovers. The three of them believe their love is strong enough to see them through the hard times ahead, but if they aren't careful the repercussions of Tristan's bargain could tear their ménage apart forever.
Between Good & Evil
Pairing: M-M-M
November 28, 2014
Word Count:
71500
Character Identities:
Gay
Summary: When an angel and a demon fall for the same mortal man there is only one solution…share him. Halloween night at the Inferno club always draws a crowd. When Tristan spots a stunningly gorgeous man dressed as a demon across the dance floor he sets out to draw his attention, little realising he has already gained the notice of another. The demon disappears into the throng of revellers, but with the heavenly handsome Machidiel in his arms, Tristan doesn't mind. Even though Mac warns him they can never have more than a one-night stand, Tristan longs to see the man who gave him the best sexual experience of his life again. One year later, Tristan opens his door to find Alastor, the demon from the Inferno, who claims they have a date tonight. Alastor may be the one man who can make Tristan forget Mac. Little does he realise Mac isn't as far from his reach as he believes. When Mac reappears he has a proposition for Tristan and Alastor, one that means breaking rules and potentially getting him stripped of his wings. A ménage formed between an angel, a demon, and a human means the sex is hotter than hell itself, but only time will tell if the relationship they have forged together is made in Heaven or Hell.
Between Heaven & Hell
Pairing: M-M-M
October 31, 2014
Word Count:
63000
Character Identities:
Gay
Summary: With one of his lovers imprisoned in the Underworld, Mac has no choice except to go where most angels fear to tread. With Tristan imprisoned in the Underworld, the ménage is broken. Angels are forbidden to enter the demonic domain and while Mac has been breaking rules in recent months, he doesn't have the power to enter the Underworld. Alastor is still unsure about his position in the relationship following recent revelations, but he cannot walk away when he is the only real link between his two lovers. Splitting his time between Mac and Tristan, he hopes they can soon find a way to reunite the two men in his life. As time moves on, Alastor realizes he is struggling to satisfy Tristan's thirst for sex. His lover needs more than he can give him and craves Mac in his bed. Mac still believes he can complete his mission to save his two lovers, but with one of them out of his reach, it is going to be far from easy. During their time together they have made plenty of enemies, including one who would seek to separate them forever, even if it means biding his time until Alastor and Tristan are at their most vulnerable, when even the love of an angel can't save them.
Between Life & Death
Pairing: M-M-M
January 16, 2015
Word Count:
25,000
Character Identities:
Bisexual, Gay, Genderfluid
Summary: The ties that bind are made of blood Tobia and Gwin's afterlives have been varied and long. From their separate creations to being intertwined. But now everything is changing. And it's all because of Matthew, the lead singer for the band, Carolina Sky. They want him and will do whatever it takes... A serialized paranormal Rockstar romance with mythical beings and multiple pairings—including MM MF MFM FF. Tags: Vampires stalking the rocker, Rockers looking for fame, forbidden love, kidnapping, abduction, vampires are coming, women with fangs, prolific song writing, gay love, bi-sexual love, everybody wants the singer, angsty vampires
Blood Ties
Pairing: F-F, M-F, M-M, M-M-F
November 19, 2021
Word Count:
44764
Character Identities:
Gay
Summary: Nothing in life comes for free....Rey had never felt as if he fit in anywhere. Even learning he had two brothers didn't really change that. However, having Dustin and Winter brought into his life helped ease his loneliness. The day Rey was told that these two men were his life mates was scary, yet amazing. Finally he would not have to go through life only able to count on himself...he would have his hippo and shark shifter mates to help him every step of the way....but it would definitely come at a cost. Dustin hurt for his mate. He knew the little red panda shifter was sad and felt like an outcast in Haven. That couldn't be further from the truth, but he didn't know how to help him through it. Going to Winter, the two men came up with a plan. However soon that plan was put on hold. They had all been warned that it was up to them to help save the paranormal/shifter world. However, being forced to go to the one Island no one ever entered, was not something any of them had planned out or thought through. It was just a fact that there was no choice if their destiny was to be fulfilled. The question was would they even make it to the Island alive and even if they did, would they live to tell about it.
Blue Rey
Pairing: M-M-M
January 17, 2017
Word Count:
80000
Character Identities:
Gay
Summary: Every being has a true name, a name that must be held close with magic. To be born without magic means to lose one's name, and a person without a name can't survive: their soul splinters apart, piece by piece, until they die. The only salvation is servitude, hoping that a kind person will bestow a name and keep the Nameless soul in one piece—at the cost of freedom. How many names has he had now? Far too many to remember. His new saviors are his only hope. They give him a name and a home, but navigating a household where he needs to please two people instead of one is far more complicated than he expected. He knows how to look pretty and how to be enticing—but he doesn't know how to follow their contradictory orders and keep them both appeased. He doesn't know how to keep the jealousy from eating at him as he watches these two men who are so in love. All he can do is mold himself to fit their ideals for the smallest scraps of affection. If he doesn't figure it out fast, he'll die the same agonizing death that befalls any Nameless who is cast free for too long. This M/M/m novel contains dark themes; read at your own discretion
Blue Storm
Pairing: M-M, M-M-M
July 25, 2019
Word Count:
76000
Character Identities:
Bisexual, Gay
Summary: Xander Romano strives for harmony in his life. He's a set of contradictions: cruel but kind, famous but private, loving but merciless. He lives on the knife edge, and that's how he likes it. But he just asked his boyfriend for the one thing he swore he'd never want. And now Xander's perfect balance is starting to sway… Ben Ballard is coming into his own. His career is taking off, his talent is being recognized, and he's exploring a whole new power exchange with Xander. He followed the Big Bad Wolf right into the middle of the forest, and he did it willingly. But how much can Ben give to Xander before he starts to lose himself? And how black can things get before Ben finds the light in Xander's darkness? Break the Rules is the third part of the Rough Love series. Join Ben and Xander in their continuing odyssey of self-discovery, experimentation, and steamy fun as they work out the kinks together. Never fear: these two will get their HEA. It'll just take them some time to figure out what that happy ending looks like for them... Rough Love can be rough. Please proceed with caution if you have any triggers.
Break the Rules: Rough Love Part 3
Pairing: M-M
October 17, 2019
Word Count:
48027
Character Identities:
Gay
Summary: Double lives were just the way it was for a man like me. By day I was a man with a reputation above reproach. Even assassins needed backup plans. For fifteen years, life was going without a hitch until I had to take out a witness. When it was time to kill him, beautiful eyes filled with fear urged me to do something else. Yet, in order to do that, I had to break him, and by way of pain, my captive would experience pleasure he'd never dreamed. This book is part of CRIMINAL DELIGHTS. Each novel can be read as a standalone and contains a dark M/M romance. Warning: These books are for adult readers who enjoy stories where lines between right and wrong get blurry. High heat, twisted and tantalizing, these are not for the fainthearted. Trigger Warnings: Title contains the following possible triggers. Humiliation, Violence, Master/slave elements, Male Chastity, Murder, Imprisonment, Dub-Con, and Torture. Stockholm Syndrome. It is always by way of pain one arrives at pleasure. —Marquis De Sade (1740 - 1840)
By Way of Pain
Pairing: M-M
May 20, 2019
Word Count:
103,507
Character Identities:
Bisexual
Summary: A love worth the wait. When Riley Porter-Wright comes out as bisexual and confesses his feelings for Carter Hamilton, it severs their friendship. Carter's rejection forces Riley to move on and he's shocked to learn Carter's marriage has fallen apart. Overwhelmed by his failure as a husband and father, Carter misses Riley, but feels guilty for disappearing after Riley's coming out. After Riley extends an olive branch, the former friends agree to repair their relationship. Slowly, Carter pieces together a new life, admits his attraction to men and confesses his feelings for Riley. Leery of Carter's initial rejection, Riley turns his focus to a new man, Will Martin. Disappointed, Carter fosters new friendships with men like Jesse Murtagh and Kyle McKee, while also navigating new waters with his ex-wife, Kate, as their children learn their parents are dating other people. As they rebuild their friendship, both Carter and Riley draw strength from each other, hoping the choices they've made are for the best. Wake, the prequel to Calm, was published in May, 2017.
Calm
Pairing: M-M
September 12, 2017
Word Count:
66,000
Character Identities:
Demisexual, Gay
Summary: Cameron Hayes believed himself to be a dedicated friend and a good son but destined to be alone. Because in his twenty-one years, he'd never fallen for anyone. Dating never appealed to him when he would rather spend a night at home. Despite his friend's best intentions for Cameron to find a hookup for the night, he stayed at the bar as he nursed a beer. And that's when Cameron spotted him and everything he knew evaporated with one look. Rylan Ellis wanted one night out without complications. To forget about his overwhelming responsibilities and stress at home. He loved to lose himself in the music and ignore everyone around him. But when he happened a glance at the bar and spotted the tall, broad, and sexy-as-sin man, he felt drawn to him. Soon, Cameron and Rylan learn about each other and establish their lives together. They also have to deal with a group of well-meaning friends, loving parents, and unexpected friendships. But most of all, a dangerous threat that could tear their lives apart. Will a chance meeting turn into something more? This novel contains heavy attraction at first sight and first-time gay sex between two men. There is no cheating or cliffhangers and ends with a happily ever after. *Contains a brief mention of a prior sexual assault and violence in later scenes.
Cameron & Rylan
Pairing: M-M
March 26, 2019