Word Count:
47500
Character Identities:
Gay
Summary: Jason Gibbons: As an ace sports reporter, Jason is revving up for his next big story—Ryker Brennan, Supercross star, sexy and solid. He captivates Jason like no one else ever has. "Despite having told myself not to get worked up, I am. And it pisses me off. Ryker Brennan is under my skin, and nothing good is going to come from that." Ryker Brennan: Motorcycles are his passion. He's a little sweet and a heck of a lot of wild rolled into a 250 racer who's always primed for the next big win. Then Jason Gibbons rolls into Ryker's life, and now his wheels are spinning. "I fell and got a mouth full of dirt. That's racing. The bike just got away from me, kind of like Jason did after that kiss. So why was I still thinking about him?" When life gives them a gnarly track to follow, they have to get dialed in for the next jump. Will they accept the challenge?
Pairing: M-M
Word Count:
26000
Character Identities:
Gay
Summary: Aaron has spent the past ten months alone. When he meets a sad, yet strangely familiar man on a cold Halloween night, he impulsively invites him home. But the intimate connection they share lasts only until morning. Aaron wakes up alone—wracked with guilt and devastated to have lost his chance. Or so he thinks. Thanksgiving brings Aaron another shot at happiness, but letting go of an old love and accepting a new one isn't as easy as everyone keeps telling him. And by the time Christmas Eve rolls around, it becomes clear that Aaron's not the only one struggling to let himself love again. Christmas miracles are all well and good, but it's going to take more than the Holiday Spirit for Aaron to get his happy ever after. A story of grief, sadness, and letting it go; and finding love when you least expect it.
'Tis the Season
Pairing: M-M
October 20, 2016
Word Count:
69034
Character Identities:
Gay
Summary: Matthew Doner is starting over. After a five-year prison term that alters every aspect of his life, he receives a bequest from his aunt with the stipulation that he use the money to make things right. Breaking free of the long-standing role he's played and inspired by the few who support him, he decides to create a safe place where people like him can find purpose and start a new life. Julian Capeletti likes challenges. He is confident, brash, stubborn, and just what Matt needs. Desperate for work after a downturn of luck, he accepts the job to renovate Matt's crumbling building. Over the course of a year, romance simmers between them as they restore the house. But there's a bigger renovation that must take place in their hearts. To become better men, they need to learn to trust each other even with secrets and painful memories they fear may rip them apart.
-------------------------------------------------------------------------
69,034 words. 2nd edition. Revised and expanded.
A Better Man
Pairing: M-M
January 16, 2014
Word Count: Information not available
Character Identities:
Gay
Summary:
Three hundred years ago, a group of heroes imprisoned a dark god and his lieutenants in a hell dimension known as the Void.
Since then, the people of Maghe Sihre have lived in relative peace. Now, a secret war brews at the edge of civilization. Tadgh Dooley, a young man from Earth, is burdened with a dangerous and impossible power. He has the ability to warp the fabric of reality, to make his wishes come true. One wish binds him to the spirit of a demon cat. Now he is a shapeshifter, a werecat. The armies of evil see him as a weapon. They will not rest until they control him. A mysterious force transports Tadgh to Maghe Sihre and, in doing so, ruptures the Void. Worse, each time he uses his ability, the Void cracks open a little further. Prisoners start to escape. If Tadgh can't control his power, he risks shattering the Void completely, unleashing the dark god on an unprepared world.
A Fallen Hero Rises
Pairing: M-M
December 10, 2013
Word Count:
24000
Character Identities:
Bisexual, Demisexual, Gay
Summary: A HISTORY OF TROUBLE A Beacon Hill Sorcerer Collection A collection of brand-new short stories, featuring characters from The Beacon Hill Sorcerer Series by bestselling author SJ Himes. Red Wine and Blood The Blood Wars raged for centuries across Boston. Witness a brief glimpse into the brutal history of the Wars with Ignacio Salvatore and the vampire he loves, Ashwin Metcalfe, in 1897. A History of Trouble Angel was joking when he asked O'Malley if someone resurrected a mammoth. Little did he know that was exactly what someone did. Experience the untold story of what happened that unfortunate night at the Boston Public Museum. A Dragon in the City What happens when Eroch goes adventuring in Beacon Hill without Angel? Chaos, pure chaos. Fae's Gold Daniel is helping the newly-resurrected fae Ruairi Brennan become accustomed to modern-day living. A boring trip to the bank quickly escalates, and Daniel calls Angel for help. The day goes downhill from there but ends in a comfy meal in a pub for an ancient fae warrior and a necromancer's apprentice. This is an collection, featuring vignettes and short stories from the universe of The Beacon Hill Sorcerer series. For full enjoyment, the Beacon Hill Sorcerer Series Books 1 through 3 should be read before reading this collection.
A History of Trouble
Pairing: M-M
February 25, 2019
Word Count:
37,000
Character Identities:
Gay
Summary: Sheriff Avery O'Rourke has tried to obey his strict Christian faith and lead a "normal" life. In 1923 in a rural East Texas town, "normal" means heterosexual. A cholera outbreak has made Avery a young widower, so he is married to his job. When a murder investigation forces him to confront his truth, will he finally be able to accept being gay? Veterinarian Garland Sands has returned from Europe to take over his father's practice. Struggling with shellshock (PTSD) and heartbroken by the suicide of his French lover, he resigns himself to a quiet, solitary life as a country vet. But the murder of the town doctor brings the sheriff to Garland's doorstep looking for help with the investigation. Seeing Avery awakens dormant feelings. Can he love a man who hates what he is? This isn't the lavish 1920s of The Great Gatsby. This is the flip side of that coin—rural East Texas. No electricity. No indoor plumbing. No flappers. In 1923, the timber barons have left and racism, homophobia, and sexism thrive. A Little Sin is a realistic mystery with unlikely heroes and a timeless romance between lovers caught in a world where their love is forbidden. This book contains steamy sex scenes and is intended for adults only.
A Little Sin
Pairing: M-M
February 24, 2018
Word Count:
20043
Character Identities:
Bisexual, Lesbian
Summary: A New F/F Fantasy Romance from the author of Cynthia and Eve. Book 1 of 'The Fae Souls'. When I first arrived at the mansion, I couldn't remember anything. My name, how I'd got there or who the people were around me. I knew I was a woman, and the pink dress and brown ankle boots I wore felt vaguely familiar, but nothing more. It wasn't long before I was told my name was Celina. I was given a suite to stay in and encouraged to prepare for the mysterious Prince Eldran's masquerade party. I found everything I needed in my suite, other than the answers I sought. Fragments of memory hinted at dark experiences, at love and loss, but there was no context and I was uncertain about my history and what the future might hold for me. A stranger at the time, Sorcha found me alone as I sought solace in an empty room. I discovered she too had missing memories, and in her I found a person to talk to. A friend and more, but did we have a chance? A Masquerade in Time is a romantic novella of just over 20,000 words, which contains strong steamy content and language.
A Masquerade in Time
Pairing: F-F
June 26, 2017
Word Count:
20,000
Character Identities:
Bisexual, Gay
Summary: Can a man with a dark heart heal a man with a broken one? Logan Perry was offered a job caring for an elderly lady a thousand miles from his home in Iowa. Looking for a place to hide, it seems to be the perfect opportunity to escape. So Logan runs to Texas. All he wants is a roof over his head and food in his stomach. So moving into the amazing McFarren Manor he believes is all he needs. Bradley McFarren is only looking for someone to care for his aging grandmother. Too busy with the family multi-billion dollar real estate firm, he just doesn't have time. With no personal life to speak of, Bradley has kept his heart safe. As long as Gail, his beloved grandmother, is cared for, he thinks it's all he needs. But what both their hearts truly desire is a place to belong.
A Place to Belong
Pairing: M-M
June 26, 2018
Word Count:
14000
Character Identities:
Gay, Questioning
Summary: Jesse is a pastor just sent to a small town Bible college in the midwest. David is an in the closet Bible college student coming to terms with his sexuality.
When they meet, he finds that Pastor Jesse has a secret too. As Jesse helps him come to terms with his sexuality and comforts him after a series of horrible events, their feelings toward one another cannot be denied any longer. But when a former boyfriend turns up at David's in the middle of the night confessing his true love, he is left with an impossible decision. Pursue a relationship with the man who was there for him when he needed someone or run back into the arms of the boy he once loved. Join Daniel Elijah Sanderfer for the re-release of this inspirational tale of coming out and falling in love.
A Prayer For Love
Pairing: M-M
November 8, 2019
Word Count:
14000
Character Identities:
Gay
Summary: Reverend Jesse Dixon has always been "the helper." He's the living definition of the expression beauty for ashes. He's experienced a lot of heartbreak in his forty-some years on this earth, including the suicide of his first lover. But he didn't let it define his life or make him bitter. Steven is the exact opposite. Abandoned as a baby on the steps of a west-end church; he grew up in a house for orphan and wayward boys. When a tragic accident happens that takes the life of the home's overseeing Reverend, the church finds itself placing an ad for a new one. One who can handle the challenges of running the church and the boy's home. Steven is eighteen and the former Reverend and he had an arrangement that permitted him to keep living at the home, despite the fact he's too old to be adopted. However, that security come into question when he learns the church has hired a new Reverend, Jesse. At first, he doesn't know what to make of the man. But he decides for fun and games he'll make Jesse sweat a little by shamelessly flirting and teasing him. But Jesse resists his flirtations for the sake of his calling. The last thing on his mind is taking advantage of someone he's mentoring. But just how long can the good Reverend resist Steven's teasing before something happens between them? Join Daniel Elijah Sanderfer for the long-awaited sequel to his best-selling novella, A Prayer For Love.
A Prayer For Love 2
Pairing: M-M
May 1, 2020
Word Count:
115,000
Character Identities:
Lesbian
Summary: Life hasn't been easy for Aeley since she arrested her brother, and her role as a political leader leaves her feeling isolated and lonely. Days before her brother's trial, she meets Lira, a quiet and modest scribe who makes Aeley want more than just a professional relationship. When she attends the trial and leaves with a marriage contract, Aeley doesn't know what to do. She must choose one of two brothers, marrying into a family she doesn't know. Then she discovers that Lira is part of the same family—a sister to Aeley's suitors and the family's disgrace. And not at all opposed to an intimate relationship. Except random acts of violence against her people test Aeley's ability as a leader, and a web of lies and deceit threaten not only her chance at happiness, but her life...
A Question of Counsel
Pairing: F-F
October 18, 2019
Word Count:
117500
Character Identities:
Gay
Summary: Cole Renzo thinks his greatest challenge is to behave for the remainder of his term at Halfway House. Until he meets his new boss, Ty Calloway, a man who ticks off every box on Cole's list of interests. A sought-after restorer and customizer of exotic and collectible cars, Ty had enough confidence to command what he wanted in life, until one fateful night changed everything. Almost two years later, he's slowly rebuilding his life with great control. He's defied the odds and works tirelessly to be the man he once was—but he still feels broken. Cole's candor and unfiltered personality awaken Ty's barely-remembered desire to greet each new day with a smile, while Ty's unwavering acceptance of Cole's quirks and brash humor makes Cole feel as if he fits in for the first time in far too long. When a nemesis threatens Ty's personal restoration and the things he holds dear, Cole is determined to protect their relationship, even if that means sacrificing everything he's worked so hard to achieve. But Ty will have to let his guard down, surrender control, and admit he needs Cole first, even if that puts himself at risk of breaking beyond repair. ---- Word count: 117,600 This is book 3 in The Men of Halfway House series. Although part of a series, this book can be read as a stand-alone.
A Restored Man
Pairing: M-M
February 17, 2015
Word Count:
29200
Character Identities:
Bisexual, Gay, Polyamorous, Straight
Summary: A romance novella about what happens when meeting everyone's needs requires unconventional thinking. Janis Vaughn was doing all right with her music career. She was still young enough that spending most of her time teaching, and playing on other people's records, didn't look like 'gave up' or 'couldn't make it.' What she really couldn't make was 'up her mind.' Then her friend Victor asked a favor. It was something easy to do, that she was happy to do. But the reason he needed it made her take another hard look at her life. It was one thing to hold back when reaching out could literally cost you your career. It was quite another thing to hold back when the worst that could happen was 'well, I tried.' So she tried. The first album was a modest success, leading to a local tour. Janis was loving every minute of it. And when she met Stefan – another musician, another teacher, a guy the right age who was smart and sexy and understood what she needed (at least at the piano) – she thought she had it made. But it wasn't all good, and it got less so over time. When they were together, things were fine. There simply wasn't enough 'together.' If it hadn't been for her tour manager (and instant BFF) Niall, Janis would have been all alone for most of the year. Fortunately, they liked everything about each other. He was the man of her dreams, except for one thing: she was straight, and he wasn't. They each needed something the other couldn't provide, because there are some things you don't ask even your best friend to do. And then they met Geoffrey, a man who might be their missing link. Janis and Niall had to decide: what if the worst that could happen was 'well, we tried?'
A Secret Chord
SALE
Pairing: M-F, M-M-F
December 1, 2019
Word Count:
80,000
Character Identities:
Gay
Summary: Sparks fly when Chance meets tall, sexy Xav at a Wilmington bar and they have the hottest one-nighter of their lives. But Chance doesn't do repeats, Xav seems detached, and they go their separate ways without a word. Later, when closeted Assistant District Attorney C. Evan "Chance" Fairchild meets Dare's Landing's newest deputy sheriff, Xavier "Xav" Constantine, Evan isn't only wary. He's irritated as hell. Xavier is a former FBI agent turned deputy sheriff who is hot on the trail of a South American child prostitution ring. Evan is fighting to put an end to rampant cocaine trafficking and chafing under the thumb of an election-hungry boss. When someone tries to kill the eleven-year-old witness who holds the key to both their investigations, they're forced to work together as they put their lives on the line to protect him. As Chance and Xav collide in the heat of a sweltering North Carolina summer, dodging bullets and chasing bad guys isn't the only action going on.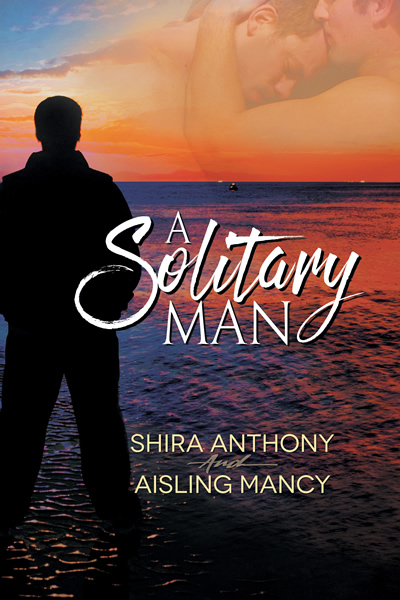 A Solitary Man
Pairing: M-M
November 6, 2015
Word Count:
57393
Character Identities:
Gay
Summary: Adam Draecon Who knew that a simple visit to Mom in Sedona would change a witch's life forever?  When I first saw Seth, it was love at first sight.  Nero and Zelda were delighted by our fated connection, and called his Sire Bart Magnus, a fact unknown to me at the time, to honor us.  Bart wanted to celebrate at his lodge near the Grand Canyon, but while on a nighttime photography shoot, ancient Arizona secrets are surfacing, and Craig suspects something astounding is coming. Seth Whittaker As I strolled into Zelda's house with Nero, I looked up and saw Adam.  I was stunned and could not breathe.  Within two hours we were on the huge Magnus chopper going to celebrate our fated soulmate connection, but Vito and Craig are not speaking.  I heard Craig did get out there this time, giving pilot Vito a rough landing instead of a happy ending. Craig Wainwright Vito finally got over himself, so now we are out with Adam who is teaching us nighttime photography.  Agnes suddenly appeared looking terrified and talking about finding ancient three thousand year old wards guarding something she felt was sinister.  When she mentioned wrapped up bodies, it sparked a distant memory and if I'm right, this could be beyond belief, and get me off the hot seat at least for a while. Agnes Granville  Zelda and I took a stroll while all the guys were having fun with their cameras, but as we neared the top of a hill, we noticed something extremely odd.  I waved my hand to clarify the shimmering situation, and a hidden cave appeared.  When the others arrived, we all used our witch senses to read the interior of the cave.  At first, we were thrilled, that is until something reached out to touch Nero's mind, demanding to know what a witch wants with him.
Adam Draecon Desert Witch
Pairing: M-M
February 1, 2021
Word Count:
51000
Character Identities:
Bisexual, Gay
Summary:
Can a night of passion lead to a happily ever after?
Yakuza captain Hayato's life is a mess. His boyfriend broke up with him, changed the locks, and kept all his stuff. He can't crash at his brother's because his girlfriend is moving in. And just when Hayato thinks things can't get worse, he accidentally gets blackout drunk and wakes up in the arms of a clingy underling.
Masuo believes he and his boss made a deep connection, but when he's blown off the next morning, he feels lied to. Assigned to run a failing pachinko parlor, Masuo is determined to turn it around to prove himself to everyone…especially his sexy superior.
When Hayato realizes he's falling for the young parlor manager, he is more than ready for fun. But as Hayato's tragic past comes back to haunt him, Masuo wonders if he's ready to carry all Hayato's baggage.
Can the unlikely pair learn to accept each other and find their way to happiness even while new challenges arise, or is their love destined to fall like balls through a pachinko machine?
Buy Addicted to Lust to find love in crime today!
Addicted to Lust
Pairing: M-M
September 1, 2021
Word Count: Information not available
Character Identities:
Bisexual, Gay
Summary: Getting involved with your dad's best friend is always off-limits.  Too bad Cooper has no problem pushing limits. Cooper Scott is a snarky twink with no filter. He has big plans for a successful future and falling for his dad's best friend is NOT on the agenda. No worries, they'll just keep it casual. Jesse Thompson is a widower and new father at the age of fifty. The offer of help from his best friend's son should have sent Jesse running. Instead, he finds himself in a predicament he's spent his life avoiding. Will Cooper and Jesse end up in a heartbroken crash-and-burn situation? Or can love overcome all and give them a happily ever after? **Adore is a steamy, age-gap, bi-awakening, dad's best friend M/M romance with a sassy smartass and a sexy silver fox. It's the first book in the Remington Place series and can be read as a stand-alone.**
Adore
Pairing: M-M
February 5, 2021
Word Count:
105,980
Character Identities:
Bisexual, Gay, Genderfluid, Questioning
Summary: Olympic-size dreams come at a price. Openly gay college swimmer Ian Harrington feels like he's fighting against a current of tragedy. He's grieving the loss of his parents and best friend, and now he's dealing with a toxic coach and judgmental brother. But he won't let that stop him from chasing his dream: Olympic gold. Ricky Chavez has just about everything he wants in life: a great career, a supportive family, and a side gig as drag queen Rosie Riveting. The only thing he's missing is a partner to share it all with. When the two men connect after Rosie's performance, they're immediately drawn to one another. But it's never that simple. Ricky isn't the type of man to hide, and with Ian's coach breathing down his neck, he can't openly love a drag queen without making waves. They'll have to brave deep waters to make it to the finish line.
Advance & Retreat: The Midwest Series Book 4 - Ian & Ricky)
Pairing: M-M
July 14, 2020
Word Count:
73,141
Character Identities:
Gay
Summary: Time travel. For mages, it violates their number one rule: what the Mother has written, let no one unwrite. The Mother writes the destinies of the creatures on the world of Karishian. If her writings were undone, it is feared that Creation itself could be undone. The dark mage Morgorth takes this rule to heart, but there are others who do not. Morgorth is about to claim a stone of power when it is stolen from him by a female mage he hasn't seen in decades. As they struggle for the stone, she activates it, and Morgorth is unwillingly plunged into another time and another place. It isn't long before he realizes what time he's found himself in and there are a few familiar faces. Most notable is a much younger version of Aishe. His mate. Living with a tribe who will be massacred, caring for a young lad who will become his mate, and fighting a battle against a mage who can travel from past to future at a whim—Morgorth's life has never been easy but now he must contend with the will of the Mother. Unable to change the future and the tragedies of Aishe's life, he must decide what his role in his mate's past will be, and ask himself one vital question: how does one defeat time?
Agate: Then and Now
SALE
Pairing: M-M
May 2, 2017
Word Count:
149,000
Character Identities:
Bisexual, Gay
Summary: The star of the University of Virginia theater department, Aidan Emery is lusted after and admired for living out and proud. He uses his talent and good looks to his advantage and never sleeps with the same guy twice. But his glamorous patina has been carefully honed to hide the pain he carries inside. Aidan wasn't always such a player. He starts college naively romantic, hungry for the attention he can't get from his workaholic father and mentally ill mother. Unfortunately, that leaves him ripe pickings for predatory professor Rodney Montgomery. Rodney's flattering regard seduces Aidan into a dysfunctional relationship that destroys his innocence. Life looks up for Aidan when he finally breaks free of Rodney's pull and moves to New York City to make it as an actor. Meeting sweet fellow actor Patrick Jaymes seems like the start of a fairy tale. But before Aidan can rebuild his life into happily ever after, family secrets rip him wide open, leaving him easy prey when Rodney decides he's not willing to let Aidan go.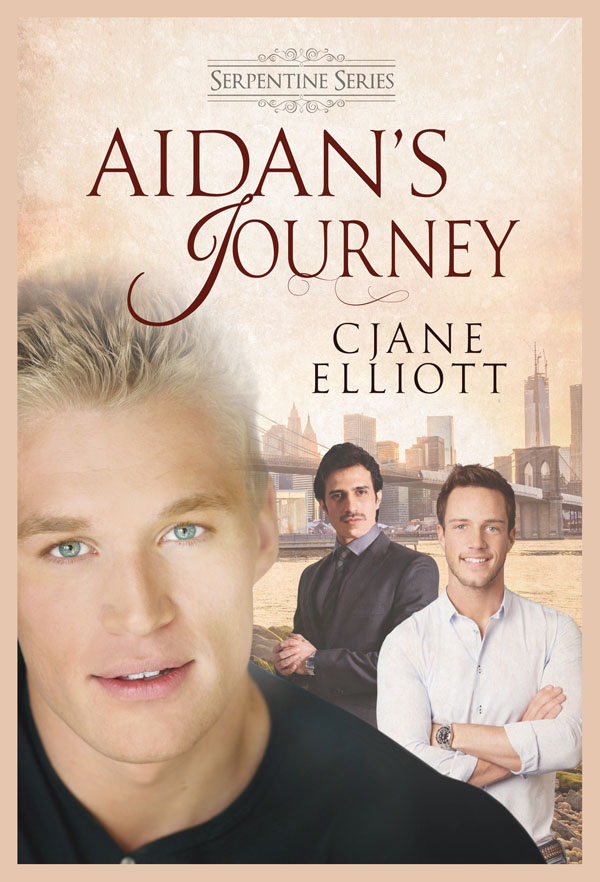 Aidan's Journey
Pairing: M-M
October 15, 2014