Word Count:
37500
Character Identities:
Gay
Summary: When a young girl implores Edgar Finch to marry her older brother because "Charlie is unhappy," Edgar is at first amused. But Charlie is nephew to the horribly abusive Lord Fitzhannon, whom Edgar has set himself against, and the lad is suffering under Fitzhannon's cruelty. Marriage is not in Edgar's plans, but he'll save the lad if he can—and marriage may be his one shot. Charlie is nineteen, wild and wounded, and extraordinarily beautiful. The marriage of convenience to Edgar is just what he needs to get free of his awful uncle, and to protect his innocent little sisters. A rocky alliance between Edgar and Charlie grows into something more companionable, from reluctantly relying on one another to trusting and warm. But Edgar's heart is set on revenge against Fitzhannon, who is responsible for the death of the only man he ever loved. Nothing must get in his way. He would rather not drag his young husband down with him, much less develop feelings for the brat. Now, if only Charlie would have the good sense not to fall in love with him...
37,500 words
A "Marrying Men" story. These pseudo-historical tales feature men marrying one another in various worlds and ways. Happy ending are to be expected.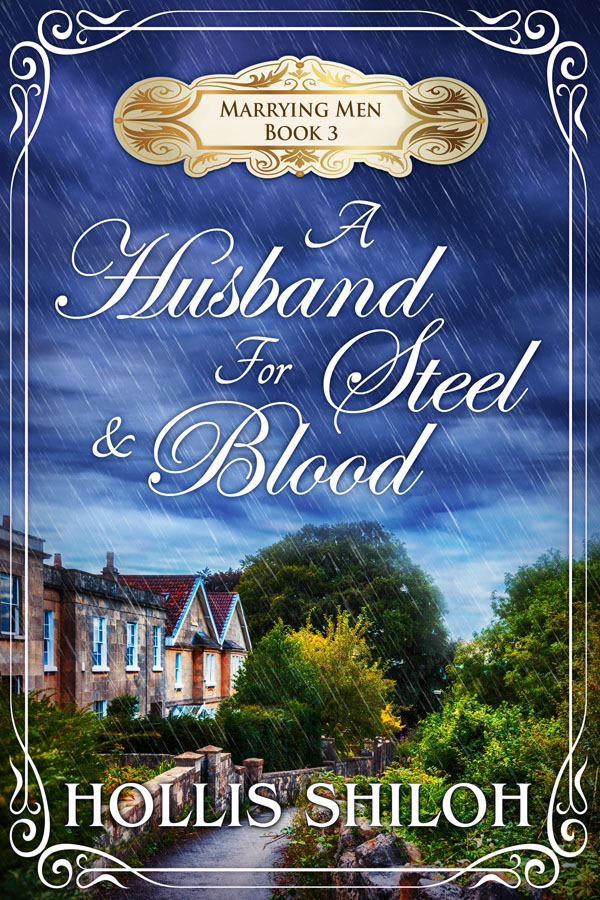 A Husband for Steel and Blood
Pairing: M-M
September 14, 2018
Word Count:
45,000
Character Identities:
Gay
Summary: Gay American Dom with a fabulous sub juggles romance and bondage with Scotland Yard police work. Book 1 in the the Vasquez Inc series, spinoff from Vasquez and James. When Brian Harrison first met Jackie Vasquez at a Hawaiian wedding, Jackie was sixteen and troubled. Six years later they meet again; Brian's career at Scotland Yard is budding with promise, while Jackie's student days at the University of Nebraska are rolling toward a strong finish. Magnetic mutual attraction pulls them insistently toward one another, but the ocean separating their lives makes for a simmering romance. When the waiting ends and they get together for a weekend in Denver, Dom Brian and sub Jackie both know they've tapped into something scalding hot, and much deeper than sharing an artful session. Shibari, lust, and love are all on the agenda -- but for Brian, so is his police career, and a strange series of crimes seems poised to threaten their romance -- and maybe their lives.
A Shot of J&B
Pairing: M-M
November 1, 2019
Word Count:
31000
Character Identities:
Gay
Summary: Michelin Empyrean, a rare white raven, has lived for centuries and he's tired of loneliness. What makes life more burdensome is increasing responsibility and leadership of socially inclined corvid shifters. Preventing his kind, ravens, and especially crows, from robbing and menacing humans who remain unaware of their existence takes its toll. When one wayward creature's thieving antics come to his attention, Mich decides to personally take the man to task. Terrel Slade is a crow. Practically everything he owns is stolen. His stash of pretties, and the fact he's never been caught, makes him proud as a peacock. As much as he'd like to be the beautiful bird he struts around imitating, he believes his crow is sexier. Terre is no more than an omnivorous crow shifter with a penchant for shiny objects. A cunning bird, his existence is crammed with innovative ways to irritate his archenemy, the raven. That's about to change. When Michelin halts Terrel's lifestyle, more than sparks fly—the whole damn forest might burn to the ground. #darkfantasy #drama #enemiestolovers #gay #HEA #paranormal #religerotica #romance #shifters #travel #violence
A Silver Raven's Tale
Pairing: M-M
February 5, 2021
Word Count:
70000
Character Identities:
Demisexual, Gay
Summary: Reed Matthews lives a quiet and structured life in the small town of Edgewood. Going on his sixth year as the principal of a Catholic high school, Reed thrives on routine, but one unplanned excursion for Chinese takeout is enough to send his meticulously-constructed world into a tailspin. After growing up in foster care, Dominic O'Halloran decided to enter seminary in his early twenties, and he's dedicated his adult life to creating space for the LGBT community. Weeks after answering the call from St. Paul's and moving to Edgewood, Dominic finds himself face-to-face with the one person he's never been able to leave in the past--his childhood best friend. Dominic and Reed find themselves entangled in decades old unresolved feelings and a complicated, new emotions. Reed is terrified of losing his soul, and Dominic is worried about losing his heart. But all it takes is one make-believe kiss for them to realize they'd throw everything away for another chance at happiness.
A Taste of Sin
Pairing: M-M
March 20, 2019
Word Count:
44000
Character Identities:
Gay
Summary: Addiction can destroy your life. But if you destroy addiction, can you get your life back? At twenty-eight, Owen Fredrikson is homeless, unemployed, and grappling with drug addiction. Before he let drugs take over his life, he had a pretty sweet job working the front desk of a fancy hotel, his boss was his best friend, and he had a loving fiancé. After three years together, thirty-three-year-old middle school math teacher Dex Atterbury could no longer ignore Owen's demons. Dex made the tough decision to part ways, leaving Owen destitute and Dex heartbroken. When tragedy befalls Owen and Dex is called to his side, Owen has some tough decisions to make. Both men must determine how far they are willing to go to rebuild the life they once shared. Can Owen conquer his addiction while facing his demons? And can Dex open his heart and trust Owen again? Content Warnings: Depictions of drug addiction, drug use and abuse, and drug withdrawal Scenes of violence
Addiction
Pairing: M-M
August 16, 2019
Word Count:
105,980
Character Identities:
Bisexual, Gay, Genderfluid, Questioning
Summary: Olympic-size dreams come at a price. Openly gay college swimmer Ian Harrington feels like he's fighting against a current of tragedy. He's grieving the loss of his parents and best friend, and now he's dealing with a toxic coach and judgmental brother. But he won't let that stop him from chasing his dream: Olympic gold. Ricky Chavez has just about everything he wants in life: a great career, a supportive family, and a side gig as drag queen Rosie Riveting. The only thing he's missing is a partner to share it all with. When the two men connect after Rosie's performance, they're immediately drawn to one another. But it's never that simple. Ricky isn't the type of man to hide, and with Ian's coach breathing down his neck, he can't openly love a drag queen without making waves. They'll have to brave deep waters to make it to the finish line.
Advance & Retreat: The Midwest Series Book 4 - Ian & Ricky)
Pairing: M-M
July 14, 2020
Word Count:
149,000
Character Identities:
Bisexual, Gay
Summary: The star of the University of Virginia theater department, Aidan Emery is lusted after and admired for living out and proud. He uses his talent and good looks to his advantage and never sleeps with the same guy twice. But his glamorous patina has been carefully honed to hide the pain he carries inside. Aidan wasn't always such a player. He starts college naively romantic, hungry for the attention he can't get from his workaholic father and mentally ill mother. Unfortunately, that leaves him ripe pickings for predatory professor Rodney Montgomery. Rodney's flattering regard seduces Aidan into a dysfunctional relationship that destroys his innocence. Life looks up for Aidan when he finally breaks free of Rodney's pull and moves to New York City to make it as an actor. Meeting sweet fellow actor Patrick Jaymes seems like the start of a fairy tale. But before Aidan can rebuild his life into happily ever after, family secrets rip him wide open, leaving him easy prey when Rodney decides he's not willing to let Aidan go.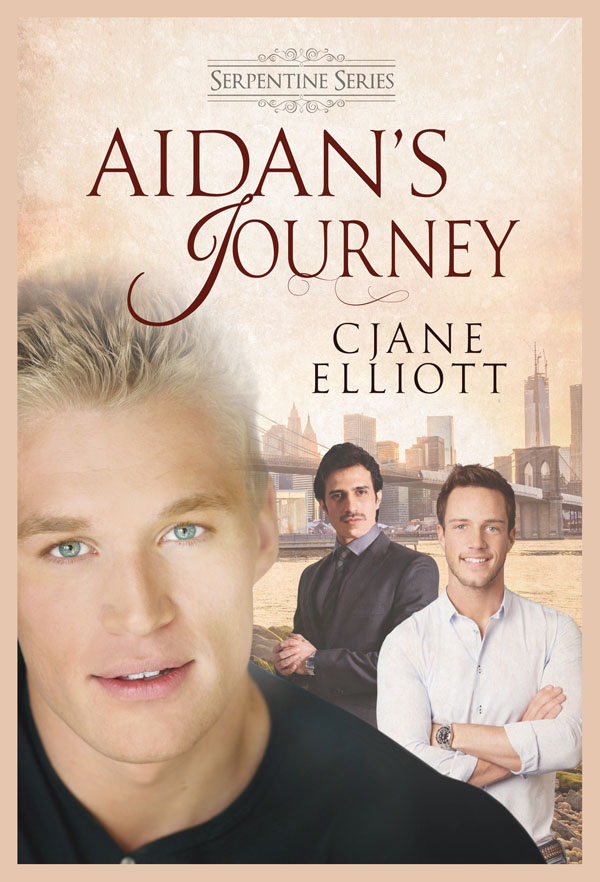 Aidan's Journey
Pairing: M-M
October 15, 2014
Word Count:
20,000
Character Identities:
Bisexual, Questioning, Polyamorous
Summary: On an alien world that crucifies men for prohibited desires, two boyhood best friends risk the ultimate punishment to explore a forbidden passion. Nero: Dex Draven's the most intimidating guy at our intergalactic next-gen leaders' camp, and his psycho galactic tyrant of a dad has a crucifixion fetish. Our two races are deadly enemies, but Dex was my boyhood best friend. Suddenly this summer, he's all grown up—and suddenly he can't seem to stop staring at me. I don't know whether to be afraid that it's all a figment of my telepathic imagination…or that every dangerous desire we're forbidden to acknowledge is real. Dex: I'm one combat-to-the-death away from the imperial command I've determined to achieve. All I need to do is keep my junk in my pants. Besides, Ben the most gorgeous, most maddeningly unattainable, most sought-after guy at leaders' camp. There's no way he'd ever look twice at a buttoned-tight, hypercompetitive, compulsive overachiever like me. Until the night I blunder in on Nero in the shower. Which is a total catastrophic mistake. Now I've heard how sounds moaning my name…how in blazes can I resist him? Because letting Ben Nero in close, the way I'm burning to do, means risking the ultimate punishment. For both of us. Anticipated Angel is a steamy, angsty, friends-to-lovers, first-time MM New Adult sci fi novella and the prequel to the award-winning Astral Heat Romance Series.
Anticipated Angel
Pairing: M-M, 4+ or Other
April 1, 2022
Word Count:
32723
Character Identities:
Gay
Summary: Bryce Harkless is unapologetic. He's raw, rude and arrogant but sweet, gentle and loving. He's a sexy college basketball player from Savannah, GA that everyone loves and wants to sleep with. His life, however, is full of conflicts. He is haunted by the past, yet afraid for the future. He loves his boyfriend, but hates him, too. To avoid facing his troubling past, he lies, cheats and engages in risky behavior. There are layers of pain inside of Bryce that are destined to destroy his life if he doesn't learn how to face them and move on. He was raised in the church, but he doesn't understand God's reasoning for treating him the way he does. He doesn't want to be gay, but women do nothing for him. In turn, he blames God for everything. He hates God. The month of March is the hardest time of the year for Bryce. During this time, he is forced to deal with an event from his past that shattered his young life into pieces. As if dealing with that situation isn't hard enough, an incident involving another man raises questions about his sexuality in the mind of his beloved auntie. However, everything comes to a screeching halt in just one phone call. There, he gets the news that undermines everything else. Come along for the ride in this novella, as the next few days are destined to turn Bryce's already rollercoaster life, even more upside down!
Bad Religion
Pairing: M-M
March 22, 2014
Word Count:
32518
Character Identities:
Gay
Summary: It's been three gut-wrenching days since Bryce received that life-changing phone call in Savannah. He has avoided dealing with the situation, but now that his spring break is ending, he has no choice but to attack and face his truth as he heads back to his college apartment in Atlanta. To Bryce, all of life's issues are hitting him at once. If dealing with the reality of that phone call wasn't bad enough, his closest family members are directly and indirectly questioning him about his sexuality. His conscience is eating him alive as a result of the decisions that he's making. To add insult to injury, his pastor accuses him of something unimaginable. All of this brings Bryce's internal conflict with God to an all-time high, leaving him at the point of no return—emotionally, mentally and physically.
Bad Religion 2: A Sinner's Denial
Pairing: M-M
August 23, 2014
Word Count:
46584
Character Identities:
Gay
Summary: It's summer 2016 and two years have passed since we've last seen Bryce Harkless. He has moved past that devastating but eventual false diagnosis, but has much changed in his life? Is he still doing the harmful things that caused that initial life-changing scare? As Bryce prepares to head into his senior year of college, he plans a relaxing vacation to travel up the east coast with his best friend. Something unexpected happens while on the trip, so they alter their plans and head to the Midwest. While on that journey, Bryce encounters another life-shattering event that will shake him to his core. This unforeseen circumstance will force Bryce into a decision that'll allow him the opportunity to seek vengeance for a previous wrong done to his family. Will Bryce do what his church upbringing taught him and leave it in God's hands, or will he go out and do his own thing? Where will his relationship with God stand when the dust clears? Jaxon Grant, author of the "Incidental Contact" and "Life of a College Bandsman" series, pens a masterfully woven tale of adventure, crime and consequence, lust, secrets, exploration, revenge and mind-blowing sex. In the final book of this trilogy, join Bryce on this two-week voyage as he learns the hard truth about himself—the truth that maybe he isn't even ready to discover.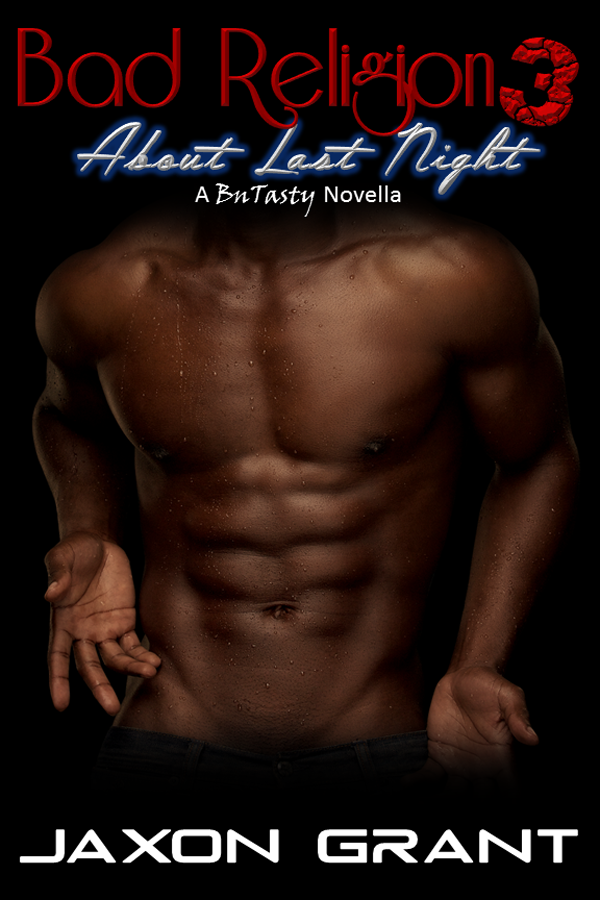 Bad Religion 3: About Last Night
Pairing: M-M
May 22, 2017
Word Count:
93000
Character Identities:
Genderfluid, Lesbian, Non Binary, Pansexual
Summary: When a change in collective conscious sends the Outsiders, a group of aliens, to the shadows below the city, humans reason that the demonization of their peers is simply more "humane." There's no question, nor doubt. Just acceptance. Lydia had embraced that sense of "truth" for as long as she can remember. The daughter of a powerful governor, she has been able to live her life with more comforts than most. Comforts can be suffocating, though, and when the opportunity to teach Outsider children in their private, "humane" community becomes available, she takes it. What she finds beneath the city is far from the truth she had grown to know. There she meets Alessia, an Outsider with the knowledge and will to shake the foundation of all those who walk above ground. The two find a new and unexpected connection despite a complete disconnect from the technological world. Or perhaps in spite of it. Still, it takes a lot more than an immutable connection to change the world. Lydia, Alessia, and a small group of Outsiders must navigate a system of corruption, falsehoods, and twists none of them ever saw coming, all while holding on to the hope to come out alive in the end. But it's a risk worth taking, and a future worth fighting for.
Beneath the Surface
Pairing: F-F, M-F, M-M
January 19, 2018
Word Count:
102700
Character Identities:
Bisexual, Lesbian, Questioning, Pansexual, Polyamorous, Straight
Summary: I never wanted to be queen. But I won't let just anyone take my place. Or my men. To defeat the Unseelie, our allies need their long-lost magic, and that means someone has to become queen. I had to leave both of my lovers behind in the human realm, and I can't return to them until I find someone worthy of the throne. Of course, nothing is ever easy, and I embark on a desperate plan to save the Fae by helping my fellow heir. Along the way, I'm drawn to another potential lover, even though we both know he should be off-limits. To become queen, Una needs one final consort, and she chooses one of my handsome, powerful guards. Suddenly, I'm not willing to surrender him. But who am I to stand in the way of our future queen? Note: 18+ only. In the six-book Our Fae Queen series, Glori will find limitless love with multiple Fae. Steamy group scenes in later books involve MFM, FMM, and MMFMMM. All intimate encounters are consensual. Mayhem. Magic. Romance. Expect unusual shapeshifters, new love and friendships, surprising betrayal, and two uncertain heirs finding their way in Bound to the Queen, the exciting third book of this new adult Why Choose romance and a turning point for Glori.
Bound to the Queen
Pairing: M-M-F, 4+ or Other
July 30, 2021
Word Count:
65000
Character Identities:
Gay
Summary: One has the golden touch. The other buys whatever he wants. When love races in, which man will end up on top? Twenty-six-year-old Silver Cruz loves working on fast cars, but finding the right boy to care for eludes him. When a handsome older man's performance ride breaks down nearby, the hunky mechanic is quick to bring his magic fingers to the rescue and get him going. However, the pushy snob's expectation of a casual quickie makes Silver put a speed bump between him and a sizzling jump between the sheets. Forty-two-year-old billionaire CEO Donovan Fonterra's only friend is his wealth. So after his hot rod malfunction attracts a ripped young dude with a take-charge attitude, he can't resist flashing the green light for some high-octane thrills. But even though the younger man slams on the brakes, Donovan goes in hard for the pursuit. As Silver struggles to fend off his persistent admirer, he discovers this is a man in need of a firm hand. And when Donovan finally succumbs to Silver's skillful bedroom tools, he might just be ready to surrender control to the sexy wrench-wielding hunk. Will Silver and Donovan discover the key that turns their uninhibited passions into a forever love? Boy Issues is the first book in the seductive Command & Care MM romance daddy/boy series. If you like lovers who almost become enemies, a stubborn boy, reverse age gap and racy action, then you'll adore Morticia Knight's drive on the wild side. Buy Boy Issues to hear love's engine roar today!
Boy Issues
Pairing: M-M
July 30, 2020
Word Count:
56000
Character Identities:
Bisexual
Summary: In a near-future United States where slavery is alive and controlled by an organization known as the Circle, Avery Tulano is up for sale yet again—and it might very well be his last time on the auction block. As a young man, he signed his life away in a contract willingly, driven by the desire to escape his life. Now, eight years later, he's broken, battered, and sick from a life of unspeakable horrors. When the bidding starts as low as $200, it may as well be a death warrant. Enter Conrad Fisher, a corrupt ex-cop discharged from the force who runs a failing private detective business. His wife died chasing one final high and he's been in a state of isolated depression ever since. He's only at the auction to help his journalist daughter Christina get a scoop on the Circle. When he sees Avery up for bid at such a low price, however, it's an offer he can't refuse and before he knows it, he's walking out of the auction house as Avery's new owner. It's a mistake. Slavery is wrong. Conrad can't afford to keep him anyway, no matter what strange connection they find in each other. But even if a real relationship was possible, a life of drugs, alcohol, and bad decisions is rapidly catching up with both of them—if the Circle doesn't kill them first.
Break The Chains
Pairing: M-M
March 27, 2019
Word Count:
76000
Character Identities:
Bisexual, Gay
Summary: Xander Romano strives for harmony in his life. He's a set of contradictions: cruel but kind, famous but private, loving but merciless. He lives on the knife edge, and that's how he likes it. But he just asked his boyfriend for the one thing he swore he'd never want. And now Xander's perfect balance is starting to sway… Ben Ballard is coming into his own. His career is taking off, his talent is being recognized, and he's exploring a whole new power exchange with Xander. He followed the Big Bad Wolf right into the middle of the forest, and he did it willingly. But how much can Ben give to Xander before he starts to lose himself? And how black can things get before Ben finds the light in Xander's darkness? Break the Rules is the third part of the Rough Love series. Join Ben and Xander in their continuing odyssey of self-discovery, experimentation, and steamy fun as they work out the kinks together. Never fear: these two will get their HEA. It'll just take them some time to figure out what that happy ending looks like for them... Rough Love can be rough. Please proceed with caution if you have any triggers.
Break the Rules: Rough Love Part 3
Pairing: M-M
October 17, 2019
Word Count:
60684
Character Identities:
Bisexual, Gay
Summary: It's time to leave college and the closet behind. Nathan Rhodes has put hockey first for most of his life, but as graduation looms, he has a different goal in mind. He needs to come out and reclaim his first love. If only Caleb will believe him... Theater geek Caleb Stockwell gave up on love when his boyfriend chose the closet over being with an openly bisexual guy. Now, he hides his heartbreak behind a string of casual hookups. He loves the drama on stage, but he's done with the drama of Nathan Rhodes. For good. Nathan is determined to right the wrongs of four years ago, but the clock is ticking. One month until he and Caleb go their separate ways. One month to take a final shot at winning Caleb's heart back. Win or lose, everything is on the line. NOTE: This is a second edition released June 2020 with an additional 18k words of brand new content, fresh edits, and a new cover.
Bully & Exit - Nathan and Caleb
Pairing: M-M
July 9, 2015
Word Count:
45873
Character Identities:
Gay
Summary: This is book 1 of the Eternal Flames series, Centuries ago the Phoenix and Dragons were a force no one could penetrate. They fought together, mated together, and worked side by side, and then all that changed. The children of the leaders were dead and war had practically destroyed them all. The fighting stopped and they both went their separate ways. Daytona was the Captain of the Crystal fire department. He loved his small town and he loved his job. However, what none of the small town knew was that he was also a dragon. Crystal was a small location just outside Denver, and it was also the home to the Phoenix. He had lived amongst them for years, hiding his scent, until the day came that he could no longer keep his secret. When a fire claims his mother's life, Ethan rushes home. Having your mother being a victim of an arson is not something he was prepared to face, but discovering he wouldn't have to do it alone, should have been a relief. The thing is...that relief came in the form of a dragon, and the town believes that his mate is the cause of all the fires around town. When the arsonist strikes close to home, Day knows he must clear his name and find the culprit that is now trying to kill his mate.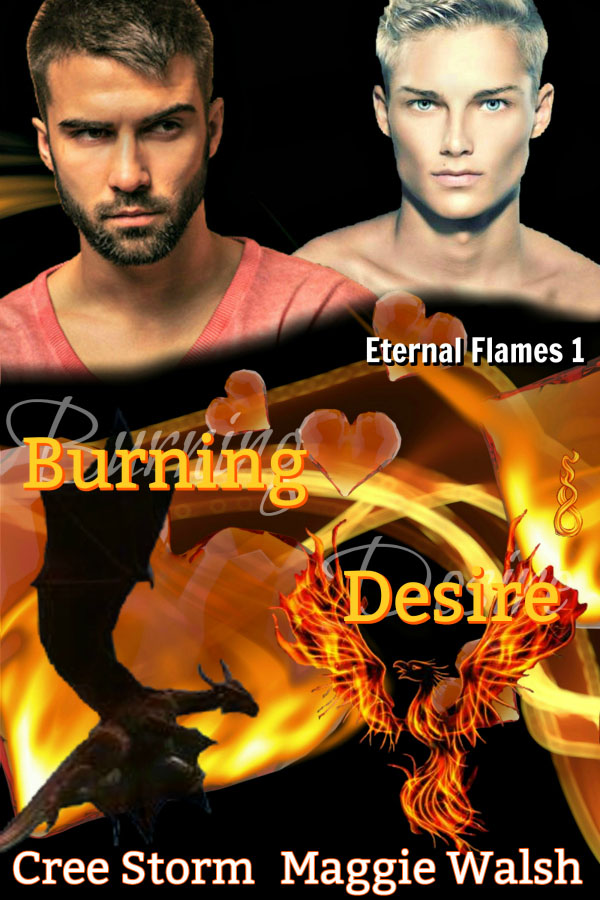 Burning Desire
Pairing: M-M
May 25, 2016
Word Count:
103,507
Character Identities:
Bisexual
Summary: A love worth the wait. When Riley Porter-Wright comes out as bisexual and confesses his feelings for Carter Hamilton, it severs their friendship. Carter's rejection forces Riley to move on and he's shocked to learn Carter's marriage has fallen apart. Overwhelmed by his failure as a husband and father, Carter misses Riley, but feels guilty for disappearing after Riley's coming out. After Riley extends an olive branch, the former friends agree to repair their relationship. Slowly, Carter pieces together a new life, admits his attraction to men and confesses his feelings for Riley. Leery of Carter's initial rejection, Riley turns his focus to a new man, Will Martin. Disappointed, Carter fosters new friendships with men like Jesse Murtagh and Kyle McKee, while also navigating new waters with his ex-wife, Kate, as their children learn their parents are dating other people. As they rebuild their friendship, both Carter and Riley draw strength from each other, hoping the choices they've made are for the best. Wake, the prequel to Calm, was published in May, 2017.
Calm
Pairing: M-M
September 12, 2017
Word Count:
80000+
Character Identities:
Gay
Summary: A True Mates Novel Can he let himself believe in true mates after his past has left more than one scar on him?  Wolf-shifter Seth moved to a small town to settle into a, hopefully, peaceful life, but that peace is short-lived after he meets the local sheriff. Kasey takes an immediate dislike to him and he wonders if he will ever find a real place to call home. When an accident exposes Seth's secret, Kasey insists they're fated to be together sending Seth running. Previous experience has shown him mates aren't all they're cracked up to be and he can't trust Kasey enough to change his mind. But Kasey isn't giving up and Seth finds his resolve weakening. How can he open his heart to someone again? Chasing Seth is the first in the True Mates series. Features slow burn MM romance with wolf shifters, rejected true mates, a determined alpha who won't give up easily, grown up content and a HEA. 
Chasing Seth
Pairing: M-M
September 15, 2020