Word Count:
59,000
Character Identities:
Gay
Summary: Twenty-one-year-old Noah Jeffries has a secret. He's putting himself through college under the rent boy name Max Wilde. He doesn't mind the sex, most of the time, and he sure doesn't mind the money. But when he falls hard for Carlos, a hot student activist, he's clobbered by a tough decision. Can he give up making big money for a chance at love? Will Carlos even want to be with him when he knows his secret? Meanwhile, being Max Wilde is getting complicated. A high paying client who's the provost of Noah's university wants Noah all for himself. There's danger as the guy gets more obsessive, and now it could spill out and impact Carlos as well. The first title in Romeo Preminger's Guilty Pleasures imprint of erotic thrillers.
Campus Call Boy
Pairing: M-M
February 1, 2020
Word Count: Information not available
Character Identities:
Bisexual, Gay, Transgender
Summary: What happens when you choose to throw fear aside and live unapologetically? I did just that and never looked back. Although, I'd thought I was content until my best friend asked for a favor, and it brought me face-to-face with a big, bearded bear of a man. It wasn't love at first sight, but it was something. I hadn't realized how overwhelming that feeling was until Anderson Mara wanted me to be his. This book was previously published in Dirty Daddies Anniversary Anthology 2020. This version only contains about 5k additional words.
Claiming Whisper
Pairing: M-M
August 19, 2021
Word Count:
52500
Character Identities:
Gay
Summary: Dear Santa, For Christmas this year, may I please get my very own Daddy who is looking for a boy to keep? Because I'm a little, I need lots of cuddles and attention. So, a Daddy who can only see me on occasion, or who's never been a Daddy before, probably won't want me. Maybe I need two Daddies? I promise I'll be the bestest boy ever! I pick up my toys, do my chores and take my naps without argument. And since I'm not little all the time, I can also keep my Daddy happy in other ways. I hope you can find me a Daddy who was meant for me. I haven't had anyone take care of me in a long time and I'm feeling lost. Santa, I've been a very good boy this year, so pretty please can you make my Christmas wish come true? Love, Eric Dear Daddy, Please Keep Me is part of the Naughty or Nice multi-author series. From this installment, you can expect a healthy dose of fluff, a large Squishmallow collection, inappropriate peppermint stick usage and two silver fox Daddies. Each book in the Naughty or Nice series can be read as a standalone, but there are so many boys hoping that holiday magic will bring them their perfect Daddy, why not grab them all?
Dear Daddy, Please Keep Me
Pairing: M-M-M
January 8, 2021
Word Count:
60000
Character Identities:
Bisexual, Gay
Summary: "All I want is a puppy for my baby boy. That's all. Just a good puppy for my boy. The better you behave, the happier you'll be." When Cammy's Daddy asked him if he wanted a puppy, he expected the fluffy, four-legged kind. Instead, he finds that his Daddy meant something else entirely... and he isn't sure what to think of the new addition to the household. Zay's life might not have been perfect, but it was still better than being kidnapped and sold into slavery. When his new Master tells him he's going to be Cammy's puppy, he has to decide just what he's going to do… Gilded Cages is not a romance. Please "look inside" for other tags.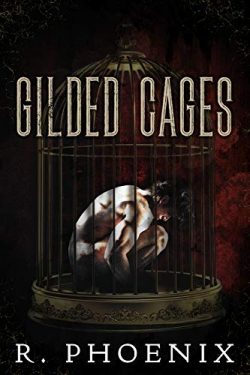 Gilded Cages
Pairing: M-M, M-M-M
October 18, 2019
Word Count:
75000
Character Identities:
Gay
Summary: Can forbidden love stand the test of time? Will its strength inspire lasting love in today's generation? There are not only heroes, but unlikely heroes, who are determined to see love win. Billy's life changes in a single day when he meets Daniel, who becomes the love of his life. Billy's ageing client Chuck has a dark and sad secret to reveal. As Billy and Daniel fight to help Chuck reunite with the love of his past, their own fledgling relationship is threatened. Who will remain the heroes in love?
Heroes in Love
Pairing: M-M
January 20, 2020
Word Count:
51400
Character Identities:
Gay
Summary: When a middle inherits a kink club, he's terrified. Can his dad's best friend rescue the business while also protecting him from danger? Unexpectedly losing his father is devastating, but when Noah's dad leaves him the wildly successful Club Playpen, it's more responsibility than he can face. Noah's business skills are nonexistent and his interest in taking charge is zilch. The pressure to keep the club open has him scrambling to find someone to take over, but who does he dare trust with his father's legacy? Sawyer is stunned by the death of his best friend. His heart also aches for Noah, who insists he can't handle the obligation of running his dad's popular club. When Noah begs him to take on the role of manager, Sawyer is faced with an uncomfortable dilemma. He's been attracted to Noah from the moment he laid eyes on him. However, his best friend made Sawyer promise he'd never cross that forbidden line. As Noah and Sawyer dance around their growing desire, Sawyer struggles to remain true to his vow.  Then outside forces interfere and threaten the future of the business, and Sawyer rushes in to keep Noah safe. Will Sawyer save the club before it's too late? And will he abandon his oath to his best friend and claim his boy?
His Middle
Pairing: M-M
February 23, 2021
Word Count:
71000
Character Identities:
Gay
Summary: Used to pretending he's someone he's not, twenty-one-year-old college student Micah has been hiding his true self. When a prank sends him into a bar on kink night, he finds something he never knew he needed: a world so strange, yet so alluring, where someone offers to take care of him... even though escaping all the pressure sounds too good to be true. But can he find something lasting with a Daddy who likes to pamper him? Can he trust Carter to be his first in so many ways? At forty, Carter is a widower. Though he's past the stages of grief, he's still completely lost without his late husband. There's a hole in his life he doesn't think he'll ever fill. But Micah doesn't only fit perfectly in Carter's lap -- he's also curious about all things related to age play. Can he coax Micah out of his shell so he can become the femme, carefree, happy little he's meant to be? 71k words. Tags: Daddy Kink, Age Play, ABDL, Panties/Manties, May/December, age gap, age difference, sweet, taboo, femme sub
It's Just Us
Pairing: M-M
April 28, 2019
Word Count: Information not available
Character Identities:
Bisexual, Lesbian, Questioning
Summary: When the perfect little stumbles into your life, what are you to do? Lindy Rubin performed every task per her strict routine. She was speeding towards forty and becoming bored with her orderly life. When she began to assess the emptiness of her personal life, she hadn't expected the surprise destined to arrive. Was it fate that brought her a beautiful girl with teary, azure eyes to her doorstep? If so, who was she to deny her Little Love help in her moment of need? Author's Note: This Lesbian Romance contains elements of Age Play and Domestic Discipline (D/s), if those are subjects you find objectionable please don't read.
Little Love
Pairing: F-F
November 12, 2019
Word Count: Information not available
Character Identities:
Gay
Summary: Former Federal Agent Yuri Sorenson had left the bureau behind to become a private investigator. A friend from his old life came to him with a favor, not knowing who else to trust. Yuri had always had a way of keeping his emotional distance from the people he protected, yet that changed the day Clarkson hesitantly limped into his life. What happens when love is confused with pain? That's the exact question Josh Clarkson had asked himself for years. He'd grown up in an overburdened foster care system, and from what he knew of love, he couldn't expect anything but to be something tolerated. Was he meant to be more than a plaything or a piece of scenery; he could hope. Two men who know nothing but being broken find that patience and acceptance are harder than losing hope. Is the leap of faith worth the reward of letting someone else in? Maybe they'll find the strength to find out before the danger of Josh's past tries to tear them apart.
Not Another Statistic
Pairing: M-M
September 24, 2019
Word Count:
82000
Character Identities:
Gay
Summary: ETHAN SHARPE is living every young Kiwi's dream—seeing the world for a couple of years while deciding what to do with his life. Then he gets a call.Two days later he's back in New Zealand. Six months later his mother is dead, his fifteen-year-old brother is going off the rails and the café he's inherited is failing. His life is a hot mess and the last thing he needs is another complication—like the man who just walked into his café, a much older… sinfully hot… EPIC complication. TANNER CARPENTER's time in Queenstown has an expiration date. He has a new branch of his business to get up and running, exorcise a few personal demons while he's at it, and then head back to Auckland to get on with his life. He isn't looking for a relationship especially with someone fifteen years his junior, but Ethan is gorgeous, troubled and in need of a friend. Tanner could be that for Ethan, right? He could brighten Ethan's day for a while, help him out, maybe even offer some… stress relief, no strings attached. It was a good plan, until it wasn't.
Powder and Pavlova
Pairing: M-M
January 23, 2020
Word Count:
55000
Character Identities:
Bisexual, Gay, Pansexual, Transgender
Summary: Can a chance encounter lead to true love? A one-night stand with the sexy plumber who saves me from a leaky toilet sounds more like the setup to a corny porno than the secret to a lasting romance. Still, I can't get Tate out of my head after he rocks my world. When he walks into my life again where I least expected to find him, it's got to mean something. I never planned to fall in love with the first guy I met when I moved to a new city, but Tate might be the perfect boy for me. The only catch is that his past makes him wary of relationships. Can I earn his trust and prove that some things are worth taking a leap? Service Call is a daddy kink M/M romance between Rory, a trans daddy who is new in town, and Tate, a dyslexic little who is used to guarding his heart after getting out of an unhealthy relationship with his ex. It's book three in the Summer of Adventures series and it includes age play/ABDL, caretaking, and tickling.
Service Call
Pairing: M-M
April 28, 2022
Word Count:
60000
Character Identities: Information not available
Summary: "He could have everything here, and the price is so small. Why would he want to go back out into that cold, unforgiving world?" It's simple, really. Zay has a roof over his head, food in his stomach, no bills or jobs to worry about, and he gets to lie around all day. It should be the perfect life for him, and it would be… if it wasn't for the fact that he has to play the role of a two-legged "puppy" for his captor and his captor's little. Zay's unwillingness to accept his new life breeds doubt and discontent in Cammy, who's longed for an end to his loneliness. Even though they should be bonding, the distance between them seems larger than ever. Cammy wants Zay to see how fortunate he is, but will it be Cammy who has his own revelations instead?
Tarnished Cages
Pairing: M-M, M-M-M
February 18, 2020
Word Count:
71000
Character Identities:
Gay
Summary: There's a murderer stalking the gay bars of Berlin. It's September, the time of Folsom Europe, the city's annual festival for gay men in leather. And Berlin's become a dangerous place for them. British lawyer, and part-time sleuth, Dominic Delingpole is in town. He's come to Berlin to visit Matty, the teenage son he first met only a year ago. When Matty is arrested for the attacks, Dominic teams up with German lawyer Johann Hartmann, a good-looking man with a seductive charm. As they battle to prove Matty's innocence, Dominic and Johann discover the attacks are linked to a sinister, Russian-backed experiment. But whose side is Hartmann really on?
The Foreign Affair
Pairing: M-M
September 8, 2020
Word Count:
42000
Character Identities:
Bisexual, Gay, Questioning, Straight
Summary: "Another fun and crazy tale." – Gay Book Reviews Experiencing Para-Hormonal Activity? Then Ethan & Justin Hard will be all over your case! Case #2. Mysteria is engulfed by power-outages and tumultuous weather. Ethan and Justin Hard must figure out what the cause is before the whole town is destroyed. But with the Hard boys' newly super-charged anatomies, they may very well be the culprits!
The Hard Boys Meet Dr. Frankenseed
Pairing: M-M
September 4, 2016
Word Count:
47,000
Character Identities:
Gay
Summary: Dan's got five days in Vegas, two guys chasing after him, and one big decision to make. Twenty-nine-year-old sales rep Dan is unlucky with love, but lucky with sex since he got cut at the gym and made up for lost time growing up as a skinny gay kid who got pushed around. All-American, Texan stud Bryce Landon is on Dan's A-list of hook-up buddies, but the guy's vibe is different when they get together at MDM-Con in Vegas this year. Does Bryce want something more? Dan can't do that. He's been burned by closeted, married guys before. While Dan sidesteps Bryce at the convention, he meets a smoking hot, local Daddy-type named Garth. Now he's caught between two guys who want to make him their boyfriend. It's not a bad place to be, but can he give love a try with a dude who's got drama written all over him or take a chance with an older man who buried his boyfriend of ten years?
Vegas
Pairing: M-M
July 11, 2019
Word Count:
32000
Character Identities:
Gay
Summary: What happens when your best friend's son comes home and he's all grown up? Devon Hoffman has a secret. He's wanted a Daddy all his own, but when you're pushing fifty, you're completely over the hill. Newly divorced and trying to be single again after an almost thirty-year relationship, he's lost and needs someone to ground him. Except he's anxious and his depression intensifies until Bern returns after leaving the service and the younger man suddenly takes an interest. Can he let his guard down and risk losing his best friend or should he do whatever is needed to keep his secret safe?
Waited So Long
Pairing: M-M
June 18, 2019
Word Count: Information not available
Character Identities: Information not available
Summary: For years, Rex Mirza has been controlling every aspect of his twin brother's life. Using the fact that Tavi is a magicless witch — a mere human — in a family of powerful witches, he has justified every harsh treatment. All of it is only for Tavi's own good, of course. How could a human possibly know what was best for him? When Tavi gets the chance to turn the tables on his brother, will he take it? Or will he take the punishment Rex says is due for trying to run away? *This is a dark taboo tale that contains several kinks that may offend or trigger some readers, including (but not limited to) age play, ABDL, and humiliation. Not every dynamic or element is 100% consensual.
Want: A Dark Taboo Tale
Pairing: M-M
May 23, 2018