Word Count: Information not available
Character Identities:
Gay
Summary: Any landing you can crawl away from is a good one. A data privateer crash-lands on a barely habitable moon where he's rescued by a research scientist who refuses to show his face. Though suspicious and paranoid by necessity, Rhodi finds himself drawn to the soft-spoken man behind the mask. Professor Covington prefers being isolated with his research. He has good reason to limit human contact, but he can't abandon anyone to the ravages of a fickle and dangerous environment. He knows Rhodi's hiding things. It's none of his business and his mysterious guest will leave once a nasty native virus has run its course. Strange how the thought makes him less happy by the hour.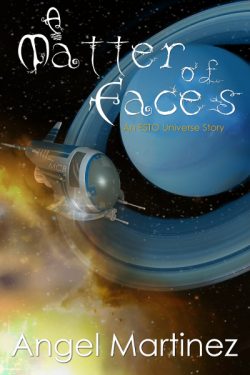 A Matter Of Faces
Pairing: M-M
October 26, 2013
Word Count:
7200
Character Identities:
Ace, Gay, Genderqueer
Summary: Part of the "A Holiday to Remember 2017 Series" On the colony planet Vega III, everyone knows Beck—outgoing, fabulous, and genderqueer—and nobody notices Anil, the quiet plant biologist. But when Anil finds Beck hiding in his greenhouse, lonely and missing Earth, it's Anil who is able to comfort Beck by letting them talk about what they miss most—the feeling that comes with celebrating the holidays with loved ones, especially New Year's Eve. ​The two of them are drawn to one another, but both of them are hiding secrets about their sexuality. With trust between them already on shaky ground, Anil's elaborate plans to cheer Beck may well backfire. A Holiday to Remember Freddy MacKay - Watermelon Kisses Foster Bridget Cassidy - But to Love More Toni Griffin - Corey's Christmas Bundle Angel Martinez - Safety Protocols for Human Holidays Nicole Dennis - Secrets & Silk Kassandra Lea - Winter Home Jill Wexler - The Christmas Eve Craigslist Killer Jayne Lockwood - New Beginnings Tray Ellis - A Piece of Ourselves J. Scott Coatsworth - I Only Want to Be With You Siri Paulson - A New Year on Vega III
A New Year on Vega III
Pairing: Includes NB
December 30, 2017
Word Count:
45,277
Character Identities:
Bisexual, Gay
Summary: Joe Markarian was sick of every decision being made for him, so he got out from under his father's thumb by joining the Air Force right after college. He's just five years from making his twenty when he gets word that his estranged father is in the hospital and needs his help. Riley McCoy is a genius – just ask him – who's been looking for love in all the wrong people. He has good friends, a niece he dotes on, and a sister who has the happy family he dreams of, but he yearns for a love of his own. If only he didn't keep moving too fast and scaring his partners off. Joe and Riley are surprised to see each other at Markarian Scientific the morning after their unconventional meeting the night before. Joe's taking care of his dad's business, and Riley is the chief scientist in charge of the project. Will they be able to keep things professional, or will a snarky AI change their lives forever? AI Think I Love You is the first full-length book in Walter Hopgood and Lisa Witte's Hart's Square series. Come find romance in our Portland Business Park.
AI Think I Love You
Pairing: M-M
May 20, 2021
Word Count: Information not available
Character Identities:
Gay
Summary: High Arcanist Delaney D'Vaire is the world's only dark wizard, something that has alienated him from his people since birth. Orphaned as a child, he is shuffled around until the Prism Wizard sees his potential, steps in, and enrolls him in school. Though he never truly feels like he belongs, Delaney excels. Graduating at sixteen, he applies to a unique sanctuary, and his life forever changes when he is accepted. Delaney has the family he's always wanted; surrounded by love and support, he's grown into a young man, giving everything to help the people who still scorn him, though he continues to doubt himself. All he needs now is his mate, but Delaney is skeptical that even Fate could come up with his perfect match. Vampyr Lord Grigori Volkov is the genius of his family. Numbers line up in his head, and he loses sight of the world around him. At fourteen, young Grigori creates a nearly synthetic version of blood to sustain his people, saving countless lives. Content to remain out of the spotlight, his involvement is kept from the general public. Since then, Grigori has spent most of his time alone in his lab, learning all he can and pushing his limits. At twenty-six, Grigori is content with his solitude and doesn't believe Fate has him in her sights. When the High Arcanist and the Vampyr Lord appear at the same event, they are stunned to find that Fate indeed has a plan for them. Reeling from their discovery, the mates set upon the task of getting to know each other. It does not take them long to find common ground, but as Delaney and Grigori build their life together, old foes will test them and their entire family. The path Fate has laid out for them is not simple, but they must be strong enough to trust in each other and stand together rather than alone to learn what it truly means to become D'Vaire.
Becoming D'Vaire (D'Vaire, Book 11)
Pairing: M-M
March 14, 2019
Word Count: Information not available
Character Identities:
Gay
Summary: Daryl Greer isn't a bodyguard. He's Hercules Security's "odd-job" specialist, as wild and dangerous as he is competent. Fiercely independent, he resents his older brother Matthew's view that he spends his life "playing G.I. Joe". When he's sent to rescue a kidnapped scientist, Dr. Emerson Winfield, from a terrorist organization, Daryl finds himself attracted to the snarky, outspoken man even though Emerson is the kind of rich, successful person Matthew claims could never be interested in a hick like Daryl. For his part, Emerson doesn't care about Daryl's lack of polish; he's more interested in the incredible chemistry between them. He sets out to prove to Daryl that they can make a relationship work despite their differences. But Daryl's defensiveness about his career drives a wedge between them -- and if he doesn't find a way to deal with his issues, Daryl might lose Emerson forever.
Bloody but Unbowed
Pairing: M-M
November 18, 2016
Word Count:
50630
Character Identities:
Gay
Summary: Even the best-planned experiment can have unpredictable consequences. Max Allenby loves his job as a chemist with Armacom, developing new protective materials. He harbours a secret crush for the CEO, the stern and distant Blake Winters, which makes dealing with his harridan of a boss, Dr. Ella Preston, bearable. Blake Winters is a lifestyle Dom. He spotted Max when he first joined Armacom, but has kept his distance from the talented, young scientist. When his Head of Security, who also happens to be Max's older brother, tells him about Max's feelings, Blake decides its time to make the pretty young man his. Blake proposes a dating experiment to Max. For three hours a night over five nights, Max will give Blake his complete submission. Max is conflicted but decides to take the plunge and get a taste of a lifestyle he secretly craves. Each date night introduces Max to a new level of submission. He loves every minute but is also conflicted—unable to believe a man like Blake wants him as anything more than a temporary plaything. Blake understands that experiments do not always turn out as expected. He takes steps to convince Max of his feelings and to reassure him that his submissive streak is a strength, not a weakness.
Chemical Bonds
Pairing: M-M
May 17, 2016
Word Count:
65000
Character Identities:
Bisexual, Gay
Summary: Lornyc is good at keeping secrets, because secrets can get you kicked out of College. Lornyc considers the undergraduate course, and most of the people on it, beneath him. He just needs to get through this year and then he can start his doctorate. Methian might be attractive enough, but he's an annoying, fat-headed, sloth toad, and Lornyc doesn't want him as a lab partner. In fact, Lornyc doesn't want anything to do with him. Prequel to the Reagalos novels: enemies to lovers, new adult, gay romance fantasy. A stand-alone novel in the Reagalos universe that charts how Lornyc and Methian got together, despite their best efforts not to.
College Days: Reagalos Prequel
Pairing: M-M
January 13, 2022
Word Count:
79802
Character Identities:
Demisexual, Gay, Straight
Summary: What if those who stand by you are the ones who betray you? France, 1944 Sometimes the most desperate struggles take place far from the battlefield, and what happens in secret can change the course of history. Victory is close at hand, but freedom remains frustratingly just beyond the grasp of German physicist Dr Kristopher Lehrer, Resistance fighter Michel, and the remaining members of the team sent by the Allies—Captain Matt Bryant, Sergeant Ken Lowe, and Dr Zhou Liang—as they fight to keep the atomic plans from the Nazis. The team reaches France and connects with members of Michel's French Resistance cell in Normandy. Allied troops are poised to liberate France, and rescue is supposedly at hand. However, Kristopher is no longer sure the information he carries in his memory is safe with either side. When Standartenführer Holm and his men finally catch up with their prey, the team is left with few options. With a traitor in their midst, who can they trust? Kristopher must become something he is not in order to save the man he loves. Death is biding his time, and sacrifices must be made for any of them to have the futures they want. Author's note: This is the second edition of Comes a Horseman. The first edition was released by another publishing house.  This story has been re-edited, and uses UK spelling to reflect its setting.
Comes a Horseman
Pairing: M-M
August 25, 2021
Word Count:
54000
Character Identities:
Gay
Summary: Arriving on an alien world to negotiate a trade deal, Shane discovers that Earth has another commodity that his hosts desperately crave... Drake throws a party for time-travelers: the invitations will only go out after the event. But then someone knocks on the door... Jac has two lovers, one a cop, one a criminal. Getting off the wretched outpost he calls home in the midst of a galactic war means leaving one of them behind... It all happens in Berlynn Wohl's second anthology of tantalizing sci-fi weirdness, Dreams and Machines. Experience thrilling tales of exotic aliens, fall in love with a mad scientist, and find yourself riveted by robotic passion. If you have a taste for the extraordinary and the extraterrestrial, you'll discover weird and wonderful fascination inside these pages.
Dreams and Machines
Pairing: M-M, M-M-M
October 26, 2018
Word Count: Information not available
Character Identities:
Gay
Summary: A werewolf and seven vampires are all that stand between the world and complete annihilation. When Kai Richter and Ori Bier met, sparks flew. Then a train blew up. Tracking an organism deadly to not only humans, but vampires and werewolves alike, brings Kai and Ori into The Vampire Guard. Decades later, they, along with Operative Team Jack Rabbit, come face to face with the horrors that same virus produces. Dead bodies are coming back to life, and rational people are becoming violent and brutal killers. A massacre is taking place nearly a mile under the Atlantic Ocean. Two teams of The Vampire Guard are in the thick of it, fighting to survive.
Endosymbiont
SALE
Pairing: M-M
May 4, 2022
Word Count:
96000
Character Identities:
Gay, Non Binary, Questioning, Straight
Summary: It might take the arrival of an alien being to remind an isolated man what it means to be human. With a stressful job, his boss breathing down his neck for profitable results, and an estranged wife and daughter, scientist Kurt Lomax doesn't think life can get much harder. Until a nonbinary extraterrestrial with an otherworldly beauty, captivating elegance, and a wicked sense of humor inconveniently shows up at his apartment. Vardam watched the destruction of their own world, and they don't want to see the same thing happen on Earth. They are lonely, and feelings soon develop between them and the supposedly straight scientist—feelings Kurt reciprocates, much to his confusion. The arrival of cheery interpreter Tom Soames—whose Goth appearance belies a gentle heart—is like a ray of sunshine in the somber lab. He acts as matchmaker for man and tentacled extraterrestrial, unwittingly instigating a national crisis when the news breaks out. But will a misunderstanding ruin Kurt and Vardam's chances for happiness together—along with the hope for peace between humanity and the Var?
Euphoria
Pairing: Includes NB
October 15, 2019
Word Count:
32850
Character Identities:
Bisexual, Demisexual, Gay
Summary:
One terrorist blast changed Master Tobias Zimmer's entire existence, relegating him to being nothing more than just a "Coppies" because of the metal replacing his flesh. As the once future Shogun of moon colony Orion 1, he now idles his time away keeping tabs on the Loyalists while his father and brother broker negotiations with the Earth Consortium.
A confrontation with his childhood enemy, Dr. Thorsten Nordenfelt, sets into motion events that cannot be undone and puts Tobias's sheltered heart at the center of the colony's attempts to free itself from the repressive Earth's rule.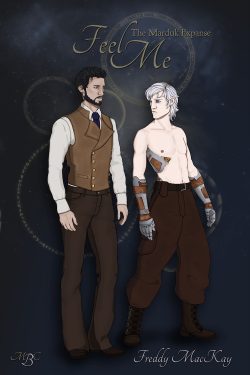 Feel Me
Pairing: M-M
June 7, 2014
Word Count:
75000
Character Identities:
Gay
Summary: Two assassins meet, don't kill each other, and fall in love. It's happily ever after, right? Not so fast. Reformed mercenaries Justin Mallory and Gabriel Prescott have taken the big leap of living together. They're even working together. But "one last job" has them taking a falsely accused man and his young son into their home for safe keeping. While dodging bullets and fellow hitmen out for the $27 million bounty, Justin and his G Love realize that falling in love was the easy part. Building a life together might be more than they bargained for. Join Justin and Gabriel for their final adventure as they protect an innocent man and uncover the missing piece to their forever.
Final Lover
Pairing: M-M
August 16, 2019
Word Count:
75000
Character Identities:
Gay
Summary: Devlin Relic was off limits. The sweet man had already lost a husband and nearly lost his life when someone put a contract on his head last year. He needed to focus on raising his adopted son and finding a nice, normal man. Kai was anything but nice and normal. He was an assassin, and that did not fit into Dev's neat and tidy life. But when a dead body mysteriously appears in Dev's bathtub, it looks like an assassin is exactly what he needs. Maybe this time Kai will be brave enough to fight for Devlin and finally put his exit strategy to use.
Forbidden Lover
Pairing: M-M
June 11, 2021
Word Count:
67,000
Character Identities:
Gay
Summary: A second chance for romance on a scuba diving vacation plunges Anthony and Walter into deep waters—will they use love's lifeline or go under alone? Party guy Anthony Vallen believes in happy endings—just not for himself. He hits Key West for a vacation with friends, ready for some fun in the sun. To his horror, the owner of the local scuba dive shop is Walter Elkins—former scientist, meticulous control freak, and the guy who broke Anthony's teenaged heart. Anthony throws up his shields with jokes and banter, but Walter draws him in by admiring him and listening to him like no one else has. Despite their painful past, Anthony's defenses soften and his reasons for shunning romance no longer hold much water. But whether Walter will come on board remains to be seen. Walter has never gotten over brilliant, fun-loving Anthony, but he's compelled to keep Anthony safe—not just from the ocean depths but from himself. Soon Anthony and Walter are in over their heads, their love as unstoppable as the hurricane they find themselves in the middle of. To prevent their fears from pulling them under, Anthony needs to get serious—about his worth and his heart's true desires, and Walter needs to trust—in himself, in fate, and in Anthony. 2nd in Series but can be read as a stand-alone. Second Edition, revised and expanded.
In Over Our Heads
Pairing: M-M
March 1, 2020
Word Count:
63000
Character Identities:
Gay
Summary: For Jacob and Daniel, two young gay men aboard a Navy ship in WWII, the risks were high. Not just the risks of injury and death from Japanese planes and submarines, but the risk of discovery, of discharge, imprisonment or worse. Only a special kind of love was worth taking that chance. But from the moment Daniel met Jacob's eyes across a battle-scarred deck, he knew he had to try. Being together required figuring out what it meant to be gay and in love with another man, in an era when they could be jailed or committed for admitting the desires of their hearts. On a ship at war, their relationship was measured in stolen moments and rare days of precious leave, with no guarantees there would be a tomorrow. And if they survived the war, they would need even more luck to keep their love alive through all the years to come. 63,300 words This story was written for a photo and story request letter as part of the Goodreads M/M Romance Group Love is Always Write event. This is a free download in ebook. The audio book, narrated by Kaleo Griffith, is Whispersync'd to the free book on Amazon.
Into Deep Waters
Pairing: M-M
May 8, 2012
Word Count:
112566
Character Identities:
Gay
Summary: David Knight has been plagued by dreams his entire life, only to have all memory of them vanish when he awakens. Now the dreams are coming with more frequency, and they seem to be drawing him to the Amazon. A scientist with a PhD in ichthyology and a dedication to learning all he can about lungfish, whose existence dates back to the Devonian era, David is determined to see what the Amazon holds. His hopes seem about to be answered when Dr. Carlos Avila contacts him. It seems the Brazilian archeologist discovered the remains of a previously undiscovered species on a tributary of the Amazon, and he'd like nothing better than for David to join the expedition to see if more of the creature can be found. Of course David leaps at the opportunity and flies to Pesadelo Bay to join the mismatched team. Once there, he discovers not only does Dr. Avila have his own agenda, but a former conquest as well as a friend who'd saved his life years before are part of the team and are engaged to be married. Meanwhile, the need to sail up the Amazon to find what… or who… is calling him there has become more and more pressing, and David must decide which is the most important—learning what Dr. Avila really is searching for or finding the answer to his dreams?
Lagoon of Dreams
Pairing: M-M
October 26, 2019
Word Count:
90000
Character Identities:
Gay
Summary: Biology professor Roman Janz was walking across campus and planning his next plant-collecting trip to Brazil, when something stung him on the neck. And now… now he's wandering in the dark, in the blue, floating, disembodied, and confused. There has to be a good explanation, if he can just find someone, anyone, he can actually talk to about it. Xavier Faulkner is intelligent, creative, and made millions when he sold his tech-security company. But all his wealth and skills couldn't keep his sister Tam from being poisoned by food contamination. She lived, but her health was damaged, and her job as a cop is gone. In the antebellum house he moved them to, Xavier hopes to find both a distraction and maybe a purpose for their lives. But the old house seems to come with strange noises, and odd blue lights, and maybe― if Xavier isn't just going crazy― a naked guy, walking away into the blue… This story was written as a part of the M/M Romance Group's "Love's Landscapes" event. Group members were asked to write a story prompt inspired by a photo of their choice. Authors of the group selected a photo and prompt that spoke to them and wrote a short story. Dear Author, I just moved into this old antebellum home I bought with the intentions of restoring. I often find myself awoken in the night by strange noises I cannot identify or hear during the day. At first, I think it's just a dream… this seemingly phantom always walking away. Who is he and how can I get him to finally turn around and see me? 79,000 words
Laser Visions
Pairing: M-M
July 12, 2014
Word Count:
76000
Character Identities:
Gay
Summary: Rhys and Jason are a newly married couple, enjoying their honeymoon in Hawaii when actions halfway around the globe bring crisis and change worldwide. Migration: Beginnings is the story of how Doctor Rhys Tambor and his husband Jason settle back into their lives in Portland, but soon find themselves embroiled in an adventure when evidence comes up that may prove an old legend from Jason's family has a basis in reality. As soon as they discover what an old metal beam uncovered in an ancient cave in Utah may actually be, it's a race against time for our heroes to find all pieces of the puzzle while avoiding a worldwide plot to stop them.
Migration: Beginnings
Pairing: M-M
November 15, 2016
Word Count:
27,000
Character Identities:
Gay
Summary: A hurricane, a cat, and a secret. Nelson Dunn's settled in his routines - a security job, days off for his therapy dogs, occasional club sex, and good books. So when Hurricane Lauris strands Caleb Robertson at his house, Nelson has mixed feelings about having an attractive guy in his space. Caleb's presence is a tease, a frustration, when nothing more can happen. But with the storm raging, trying to reassure three dogs and a very wet cat in a small space, it becomes hard to keep a logical distance from a kind, interesting guy like Caleb. Maybe it's time for something in Nelson's life to change. This is a rerelease of the MLR novella in the "Storming Love" series. A 27,000-word opposites- (and sometimes too-much-alikes-) attract story.
Nelson & Caleb
Pairing: M-M
August 31, 2021