Word Count:
68000
Character Identities:
Gay
Summary: Beto Hernandez isn't in town to make friends, much less fall in love. His objective: Break the human trafficking ring plaguing Skagit once and for all. When he crosses paths with an intriguing and handsome younger man, the first in years to spark Beto's interest, he knows the attraction can't go anywhere. Carsten Quinn wants nothing to do with the law. After surviving years in hell, Carsten has his own mission. The only problem is he's hiding, not living anything like a normal life. He doesn't trust anyone, especially not cops. The two try to stay away from each other, but their undeniable chemistry keeps them close. And when Carsten's past comes back with a vengeance, he has no one to turn to but Beto. Are Beto and Carsten too different and too broken to trust anyone, much less each other? Can they overcome the terrifying obstacles on their path to love? When it Rains is a dual POV about a tough loner with a tender side and a man who's done everything he had to in order to survive. An opposites attract romance with a happily ever after. The Shielded Hearts series follows a different couple in each book as they stop killers, unravel a human trafficking ring and fall in love. Not necessarily all at the same time.
Pairing: M-M
April 2, 2019
Word Count:
47, 083
Character Identities:
Gay
Summary: Warwick, whose name has a second W that's silent, also has a new neighbor who is anything but. The constant creak of bedsprings and headboard banging against the common wall has Warwick in 11-A wondering if the activity in 11-B is an occupation and not merely an enjoyable hobby. When Warwick finally meets noisy neighbor Dom, though fun, heat, and music ensue, uncertainty and questions remain. Some things are easily explained away by the sort of happenstance and misunderstanding silly sitcom plots are based on, but a painful past connection, a difficult future, and a lie in the present set up roadblocks Warwick and Dom struggle to get over. Can Warwick and Dom create a second verse to their love song, or will the tune end before it really begins?
11-B: The Noisy Neighbor
Pairing: M-M
July 3, 2021
Word Count:
11,948
Character Identities:
Gay
Summary: A superhero, a ghost, and an angel walk into a bar. Dario, the ghost, feels a sense of déjà vu. He died in a bar, and it seems like he might be reliving that terror over and over again. This time, however, there's an angel at his side, Dondre, and that brings some comfort. After a few too many drinks, Dwight, the superhero, reveals his animosity toward angels. He's angry angels get all the credit when someone survives a deadly incident. People think angels are real, while most believe superheroes are only found in fiction. When a wave of deadly crime sweeps across the country, Dario and Dondre become the prime suspects. Who is setting them up? All signs point to Dwight, the disgruntled superhero. Can the ghost and the angel prove themselves innocent? Will someone else die? And what of Dwight? Is he friend or foe?
3-D: Superhero, Angel, Ghost
Pairing: M-M
October 27, 2021
Word Count:
23235
Character Identities:
Gay
Summary: WiIl Six Days, Two Men, and One bet be enough to change Nick's heart? Any dreams bartender Nick Valentine had of 'Happily Ever Afters' were shredded long ago. In a perfect world, February 14th would be struck from the calendar, and the last thing Nick and his customers need is a bunch of happy loving couples rubbing it in their faces. Bouncer Davis 'FatBoy' Newman thinks he knows Nick's heart better than that, he's willing to wager it all he'll change Nick's mind about romance—before the holiday strikes. Too bad Nick's not going down without a fight.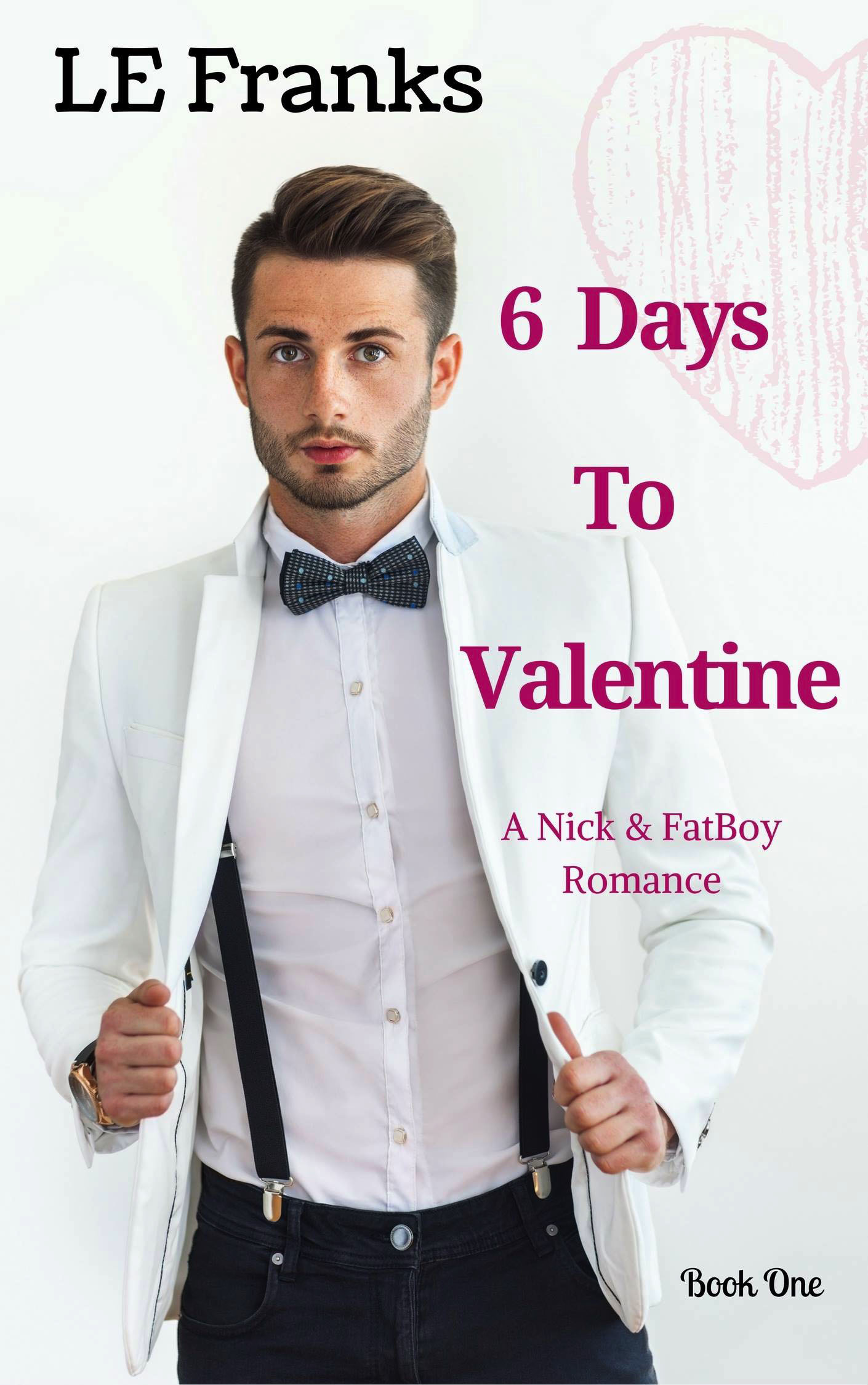 6 Days To Valentine
Pairing: M-M
February 14, 2018
Word Count:
72000
Character Identities:
Gay
Summary: 6 Days Series, Book Two Mixologist Nick Valentine never thought love was in the cards, but after a scorching Valentine's Day kiss from bouncer Davis "FatBoy" Newman, he's beginning to think it's possible. After four weeks of dry spell, Nick's losing patience—it's time FatBoy stop acting the gentleman and just throw him over the bar or Nick may just change his mind. All FatBoy wants is a shot at winning Nick's heart. As long as meddling bosses, an Irish hurling team and a bar riot don't ruin his chances forever, he might just get lucky and take the man of his dreams, home.
6 Days To Get Lucky
Pairing: M-M
March 9, 2018
Word Count:
33588
Character Identities:
Gay
Summary: Bain never thought he'd escape the prison he'd lived in for the last five years. He spent his days chained up like an animal, and his nights…they were better not spoken about. Until one day Antonio came stumbling into his darkness, lighting a fire in his soul and giving him a chance at a new life. Antonio loved his position as a Bellator, and he loved his brother Luc; it was Luc's friends he could do without. When he came upon an emaciated and beaten boy at his brother's best friend David's house, he knew he had to get him out of there. Risking his place on his team, his relationship with his brother, and even death was something he'd never regret. After all, Bain was Antonio's sodalis vitae, and soulmates were forever. The small problem of Bain being a member of the Tenebrix, the Bellators' mortal enemies, was nothing compared to what could happen if David found out where he was. But Antonio won't let anything—race, being hunted by his own kind, or Bain's fears—keep him from finally claiming his mate. This novella is a standalone in The Bearer of Truth world and takes place three years before Shadowing the Light. Antonio and Bain do appear in The BoT series as side characters, but you do not need to have read those books to read this one or vice versa.
A Blaze in the Dark
Pairing: M-M
February 7, 2019
Word Count:
124,200
Character Identities:
Gay
Summary: For Wall McCormack, actions speak louder than words. He's giving and protective, loyal to his friends, and devoted to his job. While confident and powerful enough to conquer any challenge, his greatest strength lies in his calm nature. Until an unexpected assignment sends his world into a loud and colorful chaos he never could have anticipated. Rejection. It's something Dylan Vaughn has known his entire life. But he's a tough nut to crack and refuses to break. Armed with a sharp tongue and brutal honesty, he pushes through life and at anyone who attempts to take him on. Except for the quiet guardian who piques his interest and dares him to want…more. When Dylan's past comes back with a vengeance and jeopardizes their growing connection, Wall will stop at nothing to protect the younger man and remain by his side. But convincing Dylan that someone accepts the real man behind the cocky facade might prove to be Wall's greatest challenge yet. With his freedom on the line, Dylan must trust the strength of their bond and confront the forces threatening their future. Only then will he realize the dream of acceptance is real and finally have a place to call home.
A Chosen Man
Pairing: M-M
September 26, 2018
Word Count:
33500
Character Identities:
Gay
Summary: The Christmas Eve Dance six years ago was the scene of angry words and heartbreak. This Christmas, it's time for forgiveness and second chances. Hunter Cavendish fled his hometown six years ago and has avoided returning ever since. Now an up-and-coming designer, he succumbs to family pressure and agrees to come home for Christmas. But the fates must be conspiring against him, because the very first person he runs into is Aaron McBride—the man he's never been able to resist. The man who broke his heart. Aaron McBride loves his small town, loves the gift store he owns, and absolutely adores Christmas—it's his favorite time of the year. That is, until this year. This year he's forced to work alongside the infuriating and entitled Hunter Cavendish on the Christmas Eve Dance decorating committee. There's no way he's going to fall under the spell of his charms again—absolutely not. But the Christmas spirit weaves its magic, bringing the two of them together and providing the perfect opportunity for apologies, fresh starts, and falling in love again. So long as they can put the past behind them… A Christmas Reunion is a cute, feel-good holiday romance featuring enemies-to-lovers, forced proximity, second chances, lots of Christmas sweetness, and a well-deserved happy ending.
A Christmas Reunion
Pairing: M-M
December 1, 2020
Word Count: Information not available
Character Identities:
Gay
Summary: Finally working for a man he can trust has given Bill a new purpose. His boss, Christopher Manos, commands respect and absolute loyalty, and Bill has proven himself worthy of a seat at Christopher's table. Becoming best friends with Christopher's husband, Snow, has further proven his allegiance and cements a place for him in the Manos family. When Snow's life is in danger, Christopher places his full trust in Bill to destroy anything and anyone that poses a threat to his husband. But hunting and wiping out the enemy for the safety of everyone Bill cares about means partnering with the one person he has vowed to never see again. Mace wears a mask of vain cockiness and uses his model good looks to his full advantage. Known to many as Without a Trace Mace, he's a deadly assassin well known for wiping out whole families and getting away without a trace. With a dangerous past and an unknown future, Mace uses his veil of conceit to keep others at a distance, rarely trusting anyone. When his boss, Black--the one man he trusts above all others—gives him his next assignment, he learns his newest partner is none other than Bill, the man he'd do anything to avoid. With the safety of the Manos family on the line at the hands of a brilliant maniac, Bill and Mace begrudgingly put their differences aside to ensure Snow, and his loved ones, are protected from harm. With their lives in grave danger and the clock ticking towards zero hour, they navigate deathly perilous situations and uncertain outcomes, hoping they survive long enough to keep the Manos family safe. Bill and Mace's traitorous hearts draw them closer together no matter how hard they fight the inevitable. With the lives of their loved ones hanging in the balance, they find themselves in the middle of a dangerous dance. But when the music stops, will they both be left standing?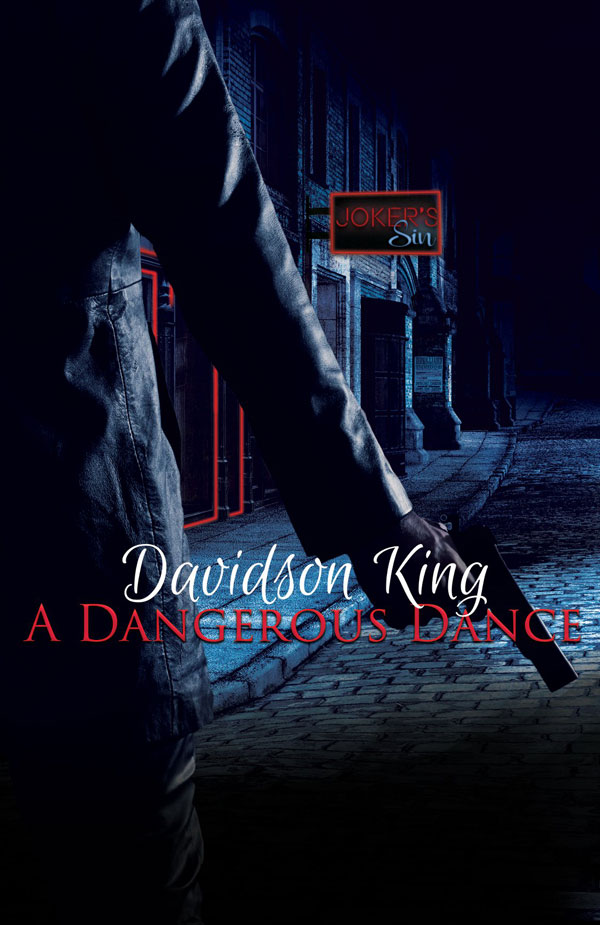 A Dangerous Dance
Pairing: M-M
July 15, 2018
Word Count:
71000
Character Identities:
Gay
Summary: Berlin 1933: When the parties stop...the dying begins The city that's been a beacon of liberation during the 1920s is about to become a city of deadly oppression. BBC foreign correspondent Simon Sampson risks his life in a bid to save thousands of gay men from the growing Nazi threat. This is the second in the Simon Sampson mystery series. The first, A Death in Bloomsbury, was hailed as 'a good old-fashioned John Buchan-esque mystery reworked for the twenty-first century'. Simon moves to Berlin where he meets British author Christopher Isherwood and his lover Heinz. He's also reunited with his banter-partner Florence Miles, better known to her friends as Bill. She's recruited him into the British intelligence services and he's got the task of hunting down communist spies. But when Simon is ordered to spy on an old college friend, his loyalties are brought into question. Who are his real enemies? And how much can he trust his masters?
A Death in Berlin
Pairing: M-M
September 28, 2022
Word Count:
311000
Character Identities:
Gay, Lesbian
Summary: Everyone has secrets… but some are fatal. 1932, London. Late one December night Simon Sampson stumbles across the body of a woman in an alleyway. Her death is linked to a plot by right-wing extremists to assassinate the King on Christmas Day. Simon resolves to do his patriotic duty and unmask the traitors. But Simon Sampson lives a double life. Not only is he a highly respected BBC radio announcer, but he's also a man who loves men, and as such must live a secret life. His investigation risks revealing his other life and with that imprisonment under Britain's draconian homophobic laws of the time. He faces a stark choice: his loyalty to the King or his freedom. This is the first in a new series from award-winning author David C. Dawson. A richly atmospheric novel set in the shadowy world of 1930s London, where secrets are commonplace, and no one is quite who they seem.
A Death in Bloomsbury
Pairing: F-F, M-M
November 10, 2021
Word Count: Information not available
Character Identities:
Lesbian
Summary: One ice queen who likes solitude. One firebrand crashing into her life. One snowstorm trapping them together. Ambitious journalist Amy Kelly has her big break at her fingertips. She's lined up an interview with Morgan Leithe—THE Morgan Leithe, the self-made billionaire who mysteriously vanished from the public eye three years ago. Amy only has to travel to the tiny New Zealand town Morgan's hiding in, nab that interview, and have it published before her big performance review. Wham, bam, thank you ma'am—that promotion is basically in the bag. But Amy didn't plan for the bone-chilling blizzard sweeping through the sleepy little town, and she definitely didn't plan to have to wait out a snowstorm with a woman whose piercing blue eyes seem to see right through her... Betrayed by those closest to her, brilliant philanthropist Morgan Leithe has made a new life for herself far away from the glitz and glamour. She'll keep everyone at arm's length to make sure that no-one can hurt her again. She's sworn off romance. All that she needs in life is a good book, her dogs by her side, and solitude. Life in her cosy mountain cottage is peaceful and quiet, just the way she wants it. But now a tenacious younger woman with sparkling eyes is awakening something in her that she's tried her hardest to bury. Four days. That's how long she'll have to wait before the snowstorm lifts and the stranger with the heart-stopping smile can leave for good. Four days of just the two of them, a crackling fire, and the wild New Zealand scenery around them. She can keep this professional, right?
A Dog Named Bella: A Lesbian Romance
Pairing: F-F
April 6, 2021
Word Count:
110000
Character Identities:
Gay
Summary: XAVIER Former Navy SEAL Xavier Thierry knows he is good at his job… protect the client. You do the job but never get too close—that's his motto. When the friend he owes for saving his life asks for a favor, he doesn't hesitate to say yes, no questions asked. But babysitting some pampered brat is nowhere on his to-do list. Until he first lays eyes on him… Cris. And he's nothing like Xav expected. He wasn't sure when this man stopped being a job, but the rules blur once Cris ends up in his arms. How can Xavier let him go when he's the only one who chases away the darkness? CRIS Cris Whitcomb thought he finally found his happily ever after… But the fairytale soon became a nightmare, one that left him with only one choice—to push away those he loves to protect them. His chosen family refuses to be pushed away. Their solution, call in someone trusted to watch over and protect him… Xavier. But what happens when your future walks in on the worst day of your life? Maybe sometimes you have to go through the bad to get the best... One who knows the pain of loneliness, another haunted by memories he can't run away from... Maybe they are exactly what each other needs… TRIGGER WARNING: This book contains scenes of domestic violence in flashbacks.
A Family Of His Own
Pairing: M-M
July 28, 2019
Word Count:
30000
Character Identities:
Gay, Transgender
Summary: Steffen is embarrassed about the top surgery scars bisecting his chest but wants to gain muscle. So why not lift in the middle of the night when the gym is empty? That's the plan, at least until a friendly, muscled gym bro, Ryan, shows up night after night, giving him training tips and advice. For Ryan, lifting weights started as a way to wind down from his mentally-taxing job. Now it's practically his religion and he spends more time at the gym than his house. Training Steffen is a great excuse to avoid going home. Not that he has anyone to go home to. A friendly wager between them sparks something more. But can each man bulk their heart up enough to embrace love? This 30,000 word novella is a low-stakes steamy M/M romance with a trans masc main character and a happily ever after. Each book in the T-Guides series stands alone and they can be read in any order.
A Gym Rat's Guide to Love
Pairing: M-M
October 1, 2021
Word Count:
24000
Character Identities:
Gay
Summary: What surprises await Vic and Kellan when their egg finally hatches? Kellan's new life in the magical town of Vale Valley is filled with more love and joy than he'd ever dared dream of. Even more thrilling is the new life growing inside the egg he and his Alpha wolf mate watch over night and day. When their hatchling still fails to appear after several weeks, Kellan fights his growing fears about the uncertainty of a swan mating with a wolf. All Vic wants is to keep his beautiful swan omega and their egg safe. He'd despaired of ever finding the one who was meant for him, and he'll do everything within his power to protect his true love and their baby. Vic might still be bewildered by nesting and swan cuisine, but whatever his omega wants, Vic makes sure he gets. As Valentine's Day draws near, Vic's plan to do something special for their first celebration of the holiday doesn't seem possible. The egg isn't showing any signs of hatching and no one—not even the avian fertility specialist—knows why. Then, the last person they want to see makes an unexpected appearance. Vic is about to discover how tough his sweet little swan truly is… Note: A Hatchling for Valentine's is the 8th book in Season Two of the multi-author series about Vale Valley, a small magical town open to everyone in need of love and a home. Each installment in the series can be read as a standalone, however, Kellan and Vic's story is a continuation from Season One's A Swan for Christmas. This mpreg romance novella features a swan and wolf who are fated mates and are anxiously awaiting the birth of their first tiny hatchling. So grab a box of chocolates, a glass of champagne and put your feet up and enjoy a sweet dose of smexy mpreg.
A Hatchling for Valentine's
Pairing: M-M
February 8, 2019
Word Count:
24000
Character Identities:
Bisexual, Demisexual, Gay
Summary: A HISTORY OF TROUBLE A Beacon Hill Sorcerer Collection A collection of brand-new short stories, featuring characters from The Beacon Hill Sorcerer Series by bestselling author SJ Himes. Red Wine and Blood The Blood Wars raged for centuries across Boston. Witness a brief glimpse into the brutal history of the Wars with Ignacio Salvatore and the vampire he loves, Ashwin Metcalfe, in 1897. A History of Trouble Angel was joking when he asked O'Malley if someone resurrected a mammoth. Little did he know that was exactly what someone did. Experience the untold story of what happened that unfortunate night at the Boston Public Museum. A Dragon in the City What happens when Eroch goes adventuring in Beacon Hill without Angel? Chaos, pure chaos. Fae's Gold Daniel is helping the newly-resurrected fae Ruairi Brennan become accustomed to modern-day living. A boring trip to the bank quickly escalates, and Daniel calls Angel for help. The day goes downhill from there but ends in a comfy meal in a pub for an ancient fae warrior and a necromancer's apprentice. This is an collection, featuring vignettes and short stories from the universe of The Beacon Hill Sorcerer series. For full enjoyment, the Beacon Hill Sorcerer Series Books 1 through 3 should be read before reading this collection.
A History of Trouble
Pairing: M-M
February 25, 2019
Word Count:
21534
Character Identities:
Bisexual, Gay
Summary: Josh has stepped back into the closet for a guy, but how long can he stay there? Life in a college town suits Josh Cassidy. He has good friends and neighbors, and the bookshop café he runs with his family is thriving. As the winter holidays begin, Josh finds himself enamored with police officer Alex Curiel, an old friend who has recently moved back to town. The trouble is, Alex isn't ready for the world to know he's attracted to men. At Alex's request, Josh agrees to closet their relationship, though the secrecy quickly becomes a burden. When Josh realizes he is falling for Alex, his ability to hide his feelings from the world begins to slip, and he's forced to decide if love is enough to keep him hiding behind closed doors. A Hometown Holiday is a 21.5K sex-buddies-to-lovers MM novella. It features a bookshop owner with a fondness for jazz music, a closeted cop who could be Mr. Right if only he'd give himself a chance, and the warm, fuzzy HEA that both guys deserve.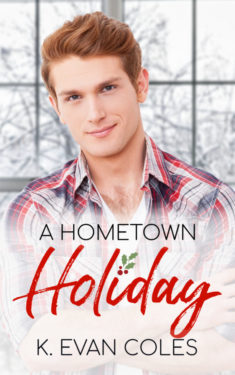 A Hometown Holiday
Pairing: M-M
December 12, 2018
Word Count:
12000
Character Identities:
Gay
Summary: ~~a short story~~ April 1185 Stephan l'Aigle is the third son of a Yorkshire baron with no hopes of inheriting land or titles, probably a good thing as he has no interest in women, nor any desire to marry or produce heirs. He finds pleasure in the arms of other men. At eighteen years old, Stephan has recently been knighted and must make his living on the tournament circuit or become a soldier for hire. His fortunes change when Richard, Duke of Aquitaine & son of King Henry II, sees his skills in battle. Stephan will hone his sword arm against Richard's enemies, and learn about comradeship, duty, and honor. Will his relationship with one of Richard's knights crack his hard-hearted armor? NOTE: this is not an HEA. It's rather bittersweet.
A Knight's Tale (Passages)
Pairing: M-M
August 6, 2019
Word Count:
37,000
Character Identities:
Gay
Summary: Sheriff Avery O'Rourke has tried to obey his strict Christian faith and lead a "normal" life. In 1923 in a rural East Texas town, "normal" means heterosexual. A cholera outbreak has made Avery a young widower, so he is married to his job. When a murder investigation forces him to confront his truth, will he finally be able to accept being gay? Veterinarian Garland Sands has returned from Europe to take over his father's practice. Struggling with shellshock (PTSD) and heartbroken by the suicide of his French lover, he resigns himself to a quiet, solitary life as a country vet. But the murder of the town doctor brings the sheriff to Garland's doorstep looking for help with the investigation. Seeing Avery awakens dormant feelings. Can he love a man who hates what he is? This isn't the lavish 1920s of The Great Gatsby. This is the flip side of that coin—rural East Texas. No electricity. No indoor plumbing. No flappers. In 1923, the timber barons have left and racism, homophobia, and sexism thrive. A Little Sin is a realistic mystery with unlikely heroes and a timeless romance between lovers caught in a world where their love is forbidden. This book contains steamy sex scenes and is intended for adults only.
A Little Sin
Pairing: M-M
February 24, 2018
Word Count:
47570
Character Identities:
Gay
Summary: Nigel wouldn't mind if Asher called him Daddy if the age-gap didn't bother him so much. Nigel Blackburn has lived a full like as a private investigator. His job means he travels solo a lot, which is something he enjoys. He's a grouchy, stubborn dragon shifter who is better off alone. The last thing he wants is a mate and certainly not one so young. It doesn't matter that he finds little bobcat shifter, Asher Burkhart, sexy. But all Nigel's dragon wants to do is protect, which is good because danger drives into town. A Little Unsteady (Wingspan #4) is a continuation of Solid Ground (Wingspan #3). For the best reading experience, read them in order.
A Little Unsteady (Wingspan 4)
Pairing: M-M
October 9, 2020