Word Count:
37000
Character Identities:
Gay
Summary: Jules Rose leads a quiet life working as a librarian. He's happy to spend his spare time reading books and talking to his homicidal cat. What more could he wish for? But when his cozy Friday night is shattered by a friend request on his book community app, politeness gives him little choice but to accept. Jules doesn't want to talk to anyone, but he can't be rude. Besides, if he had to talk about something, books is the topic he'd pick. Phoenix Ford is dyslexic and avoids everything that has to do with the written word, but when the colleague he's trying to impress calls him stupid, he decides to convince the other man, he's mistaken. All he needs is the right book to make him look smart, a perfect balance between intelligent and short. And who better to ask for help than a guy who loves books so much, he labeled one boner-worthy on a book app? When Jules finds out Phoenix never has read a book from start to finish, he's on a mission. He will find the right book, the book that will make Phoenix fall in love -- with reading. Phoenix's plan might have been to listen to the book Jules picked for him to impress his colleague, but that was before he got to know him. Talking about books is a sure way to Jules' heart, but is it enough for him to agree to go on a date?f
#PictaBook
Pairing: M-M
February 20, 2021
Word Count:
67500
Character Identities:
Gay
Summary: Silver fox Curtis is everything baker Andrew could want in a sub, and their chemistry is off the charts. But as a wealthy and successful gallery owner, Curtis intimidates Andrew and challenges his dominant nature. Can Andrew get used to a sub with a much higher social status? British noble Curtis Morris has all but given up on finding his perfect Dom when he walks into a bakery and meets Andrew Granger—smoldering hot, new to Miami, into the lifestyle, and with kinks that align perfectly with Curtis's own. Andrew grew up poor and doesn't know if he can handle a sub with so much more money, even if he's insanely attracted to Curtis. To make matters worse, Curtis's preferred club, Whisper, is far beyond Andrew's financial means. Still, Andrew doesn't want to lose Curtis to his own hang-ups, not when Curtis is far from the elitist snob Andrew expected. But Andrew keeps messing up, and with Curtis's rich ex visiting with the hopes of winning him back, he and Curtis will need all the help they can get to make their romance of opposites work out.
A Dom and His Gentleman
Pairing: M-M
June 24, 2019
Word Count:
64000
Character Identities:
Gay
Summary: Leeland Drake and Jonathan White are a committed BDSM couple and have just moved in together. Leeland has only one year left in college, and everything seems perfect… until Leeland's uncle asks him to stand in for an injured UFC fighter. Leeland wants to help his uncle, but he remembers all too well from his years competing in martial arts how strenuous life as an athlete can be. He doesn't want to risk his relationship with Jonathan. After some discussion, they decide Leeland will go pro for a year. As if the training and strict diet weren't bad enough, the pressure skyrockets when Leeland encounters homophobic fighter Tommy Adams—especially when they end up facing each other in the championship Between the bigoted rants of his opponent, the scrutiny of the media, the pressure from his sponsor, and a fire in his uncle's gym, Leeland is close to breaking down. Only Jonathan's support and love keep him focused enough to set foot in the octagon once more—and maybe even walk away a winner.
A Dom and His Warrior
Pairing: M-M
September 25, 2018
Word Count:
4500
Character Identities:
Gay, Pansexual
Summary: In love, time is relative, until they run out… Regulations limit time digger Ish and time cop Kabal, born years and worlds apart, to two dates a year, making every date precious. But when Kabal announces his retirement at their tenth anniversary, what should have been a happy occasion might be their last night together. ___________________________ Previously appeared in Storm Moon Press' Sweethearts & Seduction anthology
A Time Traveler's Valentine
Pairing: M-M
February 14, 2017
Word Count:
95900
Character Identities:
Bisexual, Gay, Polyamorous
Summary: "There is always a way." Kelnaht, Taruif, and Ianys are meant to be together, but old promises and the decree of the elders prevent them from claiming each other openly at Solstice. Kelnaht can investigate murder and foul play, but he can't see how he can keep both his lovers without breaking the rules. But if he believes in the guide's words and trusts his faith in Ma'terra, they will find a way to clear the fog and puddles from their paths. The Forester Kelnaht, a cloud elf, is a truth seeker caught between love and faith, when a murder reveals an illicit affair between two tree elves he desires more than he can admit. Kelnaht's former lover Ianys once betrayed him, and the shunned forester Taruif is not allowed to talk to anyone but the guide, their spiritual pathfinder. Lost and Found A stripling goes missing from the tribe, and heavy rainfall hides all traces of his whereabouts. With days creeping by without a lead, it's hard to keep the tribe's spirits up, more so when Kelnaht's own future depends on the elders. Taruif has been shunned for almost twenty turns, but now that a possible forester's apprentice is coming of age, the elders consider reducing his sentence. Taruif could be set free. Full Circle When several children fall ill with more than a summer bug, truth seeker Kelnaht is assigned to investigate. What he finds is deadly and threatens the life of every underage child in the tribe, including Ianys' daughter Atèn. Then a wounded traveller is found in the forest, left to die after a vicious attack.
A Triad in Three Acts
Pairing: M-M-M
August 15, 2016
Word Count:
58000
Character Identities:
Gay
Summary: Devin Jace lives in a huge mansion together with six other people, five of them turn furry, and one needs to drink blood to survive. Sometimes, he suspects it's all a dream. Four years ago, he had no idea supernatural beings existed. It wasn't until he was snatched off the street and forced to live as a blood slave he realized vampires are real and don't sparkle. Three years ago, Mars O'Ceallaigh was part of the team who saved a badly scarred and severely traumatized Devin. As the only vampire on the team, he got to work undercover. To keep up the facade, he tasted Devin's blood. Not a day has gone by since without him thinking about it, both the taste of the blood and Devin. But he wants Devin to be happy, and since he knows vampires are his worst nightmare, he does his best to keep out of his way. When the team learns Devin's captor has escaped prison, Mars is convinced he will come for Devin. Devin might fear Mars, but there is someone he fears more, so when Mars swears to keep him safe, Devin trusts him. Mars more than enjoys being by Devin's side at all times, but will spending every minute of every day with him be enough to keep him safe?
A Vampire Chew Toy
Pairing: M-M
October 8, 2022
Word Count:
73900
Character Identities:
Gay, Pansexual
Summary: "It's not all about serving coffee and typing reports." Working for a secret organisation specialising in alien cover-ups, Connor Smith is no stranger to the abnormal or dangerous. His love life on the other hand… not so exciting. Until he reluctantly agrees to a blind date and meets the perfect bloke, Jason. Things are finally falling into place for Connor, so of course that's when he attracts an alien stalker. Noah Jones, ex-alien, has been stranded on Earth and forced to live as a human since 1648. Alone and detached from the world around him, Noah has spent centuries observing and recording humankind. In all that time, he's only experienced a connection with a human once… until he finds Connor. Even knowing Connor is in a relationship, Noah can't ignore their potential bond, or stay away. While dealing with missing alien artefacts, a dangerous and shadowy group of collectors, and the ever-present Noah, Connor finds his orderly life crumbling around him. At least he still has the perfect boyfriend… When Noah goes missing, Connor is forced to face the feelings growing between them and the mounting evidence that Jason isn't who he says he is…
Aliens, Smith and Jones
Pairing: M-M
October 1, 2018
Word Count:
96278
Character Identities:
Bisexual, Demisexual, Gay
Summary: Detective George Donavon doesn't plan to stay in Charleston long. Skeptical and by-the-book, he's on the fast track to the top, and he won't let anything derail his career. Especially not Andrew Hayes, his grumpy, awkward new partner—and not the chief's secret order to find out how said partner solves even the most difficult cases. George and Andi can't agree on anything except their mutual dislike, but when three dead girls turn up at a storage unit, they must put their differences aside before the suspected trafficking ring claims another victim. There is no crime without witnesses. Andi knows George suspects his always-right "hunches" point to corruption, but he doesn't care. All that matters is catching a killer… and keeping his secret. But with leads on this sprawling conspiracy drying up, he has no choice. He just can't let his partner find out how he's getting the information. Andi's on the verge of losing his life, his mind, and his career. He could take George down with him…. If the violent criminals who are always one step ahead don't get to them first.
Arthropoda
Pairing: M-M
March 2, 2021
Word Count:
65266
Character Identities:
Gay
Summary: Orphan Jackson Murphy just staked his legacy on a bet. Holy shit, his impulsive ass is in trouble. Bring a guy to the fraternity formal? Pfft. Easy. Won't be him getting kicked out of the house. So what if his luck with guys on campus has been shitty? Ed Knowles is Jack's winning ticket. Tall, handsome, hardworking—and he doesn't go to Harrison. One serendipitous meeting, and sparks—and coffee cups—are flying. But with every stolen look, every secret kiss, every clandestine touch Ed becomes more than just an answer to a bet. And these cloak-and-dagger meetings that set Jack on fire? They mask one tiny, enormous obstacle: Ed's not out. What does Jack do now? Hold on to his legacy… or his heart? "Better Be Sure" is a sweet, slow burn M/M romance with a heart-pounding HEA. This New Adult, college, opposite sides of the tracks novel can be read as a standalone and in any order.
Better Be Sure
Pairing: M-M
June 1, 2020
Better Have Heart
Pairing: M-M
July 1, 2020
Word Count:
102716
Character Identities:
Bisexual, Gay
Summary: Though some struggles have ended in victory, ease and contentment are not the fate of the gods of war. Instead they must contemplate the sometimes terrible and frightening nature of their powers—and the effect those powers have on the people they love. After their campaign in Ummana, the gods of war return to the Valley with their ranks finally complete. Sic is the eighth Emeris to join Renaldo and Canubis in their war against the Good Mother. Even so, they must wait for their powers to manifest, and trials lay ahead. It is only when a tragedy befalls Aegid, Kalad, and Daran that Sic learns the extent of his abilities as a Luksari. What he achieves will change Daran forever—and set him up for trauma that leaves him doubting his relationship with Aegid and Kalad. Daran must affirm his commitment to his lovers and his new status among them through blood and violence. Even though Renaldo and Casto's relationship has improved, they're still struggling now and then, which could prove to be more dangerous than they think—because the Good Mother is already plotting her next move.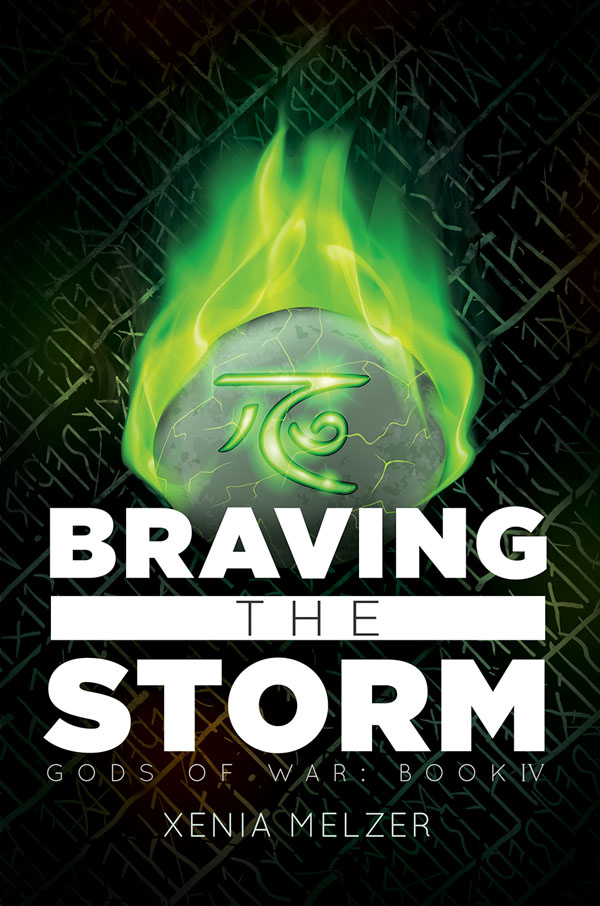 Braving the Storm
Pairing: M-M
November 21, 2017
Word Count:
108000
Character Identities:
Bisexual
Summary: Meet Ryan, aka, Joey Hole, disgraced former adult entertainer with more issues than he can keep track of. His boyfriend left him for an Instagram twink with 150K followers, his Mum wants him out of her spare room and then there's that idiot at college who just won't take no for an answer. Meet Luke. He was once the rich kid who'd just been gifted his first car, and now he doesn't even own a bike. He's also slumming it in a house full of ungrateful siblings and his first trip to the Food-bank gave him some goddamn emotional scars. Life is getting better though, and he's acing it at college, as well as making some brilliant new friends. Well except for that stuck up twatwaffle Ryan who won't talk to him and refuses to like his brilliant social media posts.... The first of Sophia Soames new London Series. This series will follow the ups and downs of three couples living extraordinary ordinary London lives.
BREATHE
Pairing: M-M
May 15, 2021
Word Count:
39000
Character Identities: Information not available
Summary: Their world was turned upside down... With booms, kabooms and bullets flying after a mad dash across continents on a rescue mission in a plane painted like Santa's sleigh. Join some friends old and new as they chase the enemy none of them ever wanted. One of their own. Find out who is on the Naughty List this year, in Christmas Panther Style.
Christmas Panther Style
Pairing: M-M, M-M-M
August 13, 2019
Word Count:
14000
Character Identities:
Gay
Summary:
All I want this Christmas is alone time with you
Eli and Cameron have plans to spend Christmas Day with Eli's family, but their enthusiasm is seriously lacking. They moved into their house in Podlington only two months earlier and, given the choice, they'd rather celebrate the holiday in private and create memories on their own. Too polite to cancel the get-together, Eli and Cameron don't mention their reluctance to each other. Their selflessness doesn't stop either of them from secretly wishing for a reason to stay in their new home for the day, though. Will Podlington's magic grant them another wish, or are they about to celebrate the Christmas they don't really want? Welcome to Podlington! The fictional English village where magic happens and dreams come true. This LGBTQ+ Christmas story is part of the Podlington Village Romance series and can be read as a standalone novel. Christmas Perfect features Eli and Cameron from Picture Perfect, a lot of snow, and dreams coming true. 14k words
Christmas Perfect
Pairing: M-M
December 24, 2021
Word Count:
7700
Character Identities:
Gay
Summary: A lion sleeps in the hearts of brave men. When Prince Theodorin refuses to wed the general's youngest son because he loves another, he is trapped on a cursed island. He spends his days trying to escape, his nights listening to his lover's soothing voice echoing through the forest. His attempts to escape only lead back to where he started… until an encounter with a lion reveals a crack in the illusion. Theo has to believe, or he may never find his way home. ___________________________ Previously appeared in Wilde City Press' Bedtime Stories anthology
Click Your Heels
Pairing: M-M
February 14, 2018
Word Count:
64000
Character Identities:
Lesbian
Summary: For a relationship to work, it is not just love which is demanded. Confidence is, too. Alexis is starting her first job. As someone who's always been shielded, and unlucky with partners that considered her too subdued, or even boring (that last comment, especially, would always sting the most), she doesn't really know what to expect when she first meets a captivating, and seemingly self-assured waitress. Sierra is a struggling artist who comes from a problematic household. With her father in prison, she is soon forced to gain independence. Working at a bakery with two owners who treat her like they would their own daughter, she can start to regain her sense of security. It's hard, though, when miscommunication and doubt get in the way. Confidence is the 3rd book of the Demands series. Although they can be read as stand-alones, characters from previous books will make multiple appearances throughout the series.
Confidence
Pairing: F-F
October 5, 2020
Word Count:
60000
Character Identities:
Gay
Summary: For a demon, finding a mate is a difficult, anxiety-inducing process. Or he might just accidentally bite his gaming buddy during a bout of experimental sex and bam—mate found! During a book club meeting where The Witcher is discussed in its entirety, meaning books, series and games, Barion again meets Jon, the zombie, who lives in Sammy's basement, and the two bond over their mutual love of the game. They begin gaming together, doing videos for Jon's YouTube channel where he tests games that are to be released to the public. During one of the videos, they are asked what their ideal game would look like, and the idea for Demon Wars is born. Working together on the game brings Barion and Jon closer together and their friendship deepens every day, which worries Jon's Grann, a zombie like himself and the witch queen of New Orleans. She wants Jon to come back home, while Jon realizes he loves spending time with Barion. After some friendly—and oh so subtle—prodding from friends and family, Barion and Jon decide to explore the potential of their relationship. They have sex, and Barion bites Jon in the heat of the moment, marking him as his mate. They're both over the moon, even though they now have to visit Grann in New Orleans because the family and the ancestors want to check Barion out. They quickly realize that something is wrong there, and it turns out Grann has been challenged by a voodoo priest who practices the blackest of magic. Barion will do his best to save the day, Grann—and his relationship.
Demon's Game
Pairing: M-M
January 25, 2022
Word Count:
54000
Character Identities:
Gay
Summary: Sammy is content with running his bookshop and leading a book club consisting solely of paranormal creatures. Despite the persistence of his friends, he has resolved himself to a life without romance, since he doesn't think anybody could find him and his tendency to spill useless knowledge whenever he gets nervous attractive. Dresalantion is a demon prince and slightly—make that majorly—annoyed when somebody persistently tries to summon him. He finally decides to show up and put the fear of Dresalantion into his summoners but finds himself rescuing their sacrifice instead. Sammy intrigues him from the get-go, and when Dre realizes that Sammy can get him the manga he's been hunting for months—not to mention that he refuses a wish he offered him—the sexy demon decides to get to know this fascinating man better. Much better.
Demon's Wish
Pairing: M-M
January 5, 2021
Word Count:
62000
Character Identities:
Bisexual, Gay
Summary: For a relationship to work, it is not just love which is demanded. Direction is, too. Garrett has never really settled. With loud opinions and a strong character, he makes people both admire and fear him in equal measure. Tim and Derrick weren't prepared for the hurricane they were letting into their home. Openly polyamorous, Garrett wouldn't be the first–nor the last–person they let into their bed. A relationship between a ballet dancer and two bakers with a past they thought they'd left behind could work, but only if they took the time to figure out what each of them needs. Direction is the 5th book of the Demands series. Although they can be read as stand-alones, characters from previous books will make multiple appearances throughout the series. Content Warning: This book includes mentions of eating disorders, physical parental abuse, and fatphobia.
Direction
Pairing: M-M, M-M-M, 4+ or Other
January 3, 2022
Word Count:
15207
Character Identities:
Bisexual, Gay
Summary: Can Sami and Joakim's relationship survive accusations of cheating, a thrown wineglass, and eight months of silence? Hurtful words and a thrown wineglass in a fit of jealousy tear Sami and Joakim apart; fiery tempers and stubbornness keep them from making up. But then, after eight months without a single word, just as Sami is about to make the first move, Joakim shows up, eager to make things right. Can they overcome accusations of cheating and eight months of silence? Are conversations, confessions, and planning for the future enough? Will the love they still share conquer all?
Eight Months Without You
Pairing: M-M
November 12, 2022